'No desire for any post': Sachin Pilot calls truce after meeting with Gandhis, says wanted self-respect to remain intact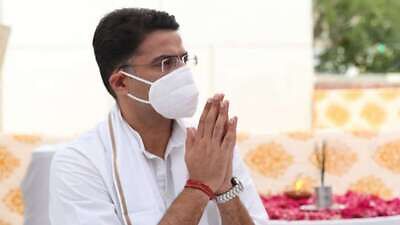 Former Rajasthan Deputy Chief Minister Sachin Pilot on Monday called truce with the Congress party after a month of high-pitched political drama that also played in the High Court and the Supreme Court. Pilot, who was sacked as deputy CM and as state unit chief, said he has no desire for any post and just wanted the self-respect to remain intact.

His statement came after a meeting with Rahul Gandhi and Priyanka Gandhi Vadra, and announcement of a three-member panel by party chief Sonia Gandhi.

"Since past some time some MLAs were in Delhi, there were some issues which we wanted to highlight. I did that. I had been saying since the beginning that all these things were based on principle. I always thought these things are essential to be raised in party's interest," Pilot told reporters after a series of meetings with top leadership in Delhi.

"Several things were said, I heard a lot of things. I was surprised by a few things that were said. I think we should always maintain restraint and humility. There is no place for personal malice in politics. We had formed government in Rajasthan after 5 years of hard work," he said, indirectly referring to some remarks made by Chief Minister Ashok Gehlot.

"Sonia Gandhi Ji heard all our concerns and the governance issues that we raised. Formation of the 3-member committee by the Congress President is a welcome step. I think all the issues will be resolved," Pilot said.

On the issue of party posts, Pilot said, "Party gives us post and can also take it back. I've no desire for any post but I wanted our self-respect to remain intact. I've contributed to the party for 18-20 years now. We've always attempted to ensure the participation of people who worked hard to form the government."

The political crisis in Rajasthan resulted from differences between Pilot and Gehlot coming out in the open. Pilot was removed as the Deputy Chief Minister and as the state chief of the party on July 14 after his open rebellion. They were sacked after Pilot and 18 MLAs loyal to him did not attend meetings of the Congress Legislature Party. The Assembly Speaker had also issued disqualification notices to them which were challenged by them in court.

Pilot was reportedly miffed after a Special Operation Group of the Rajasthan Police sent him a notice to record his statement in a case of alleged poaching of Congress MLAs in the state.

Earlier on Monday, Pilot met with Rahul and Priyanka to sort out the differences in the state leadership.

The Congress has also announced a three-member committee to address the issues raised by Sachin Pilot and aggrieved MLAs, and arrive at an appropriate resolution thereof, the party said in a statement.

Priyanka Gandhi, Ahmed Patel and KC Venugopal are part of the panel, and held a meeting Pilot and MLAs supporting him.

"Sachin Pilot has met with former Congress President Rahul Gandhi and expressed his grievances in detail. They have had a frank, open and conclusive discussion. Sachin Pilot has committed to working in the interest of the Congress party and the Congress government in Rajasthan," a statement issued by party general secretary KC Venugopal said.

"Following this meeting, Congress President Sonia Gandhi has decided that the AICC will constitute a three-member committee to address the issues raised by Sachin Pilot and the aggrieved MLA and arrive at an appropriate resolution thereof," it said.

Venugopal said that both Pilot and Gehlot were happy.

"Mr Pilot is also happy and our Chief Minister is also happy. This is a direct slap on BJP`s anti-democratic face. They are the people doing such horse-trading and sabotaging democratically elected government. This is actually a message to BJP`s wrong-doings," Venugopal told ANI.