YES Bank declines for second straight day, slips 17% on heavy volumes
Posted on 13th July 2020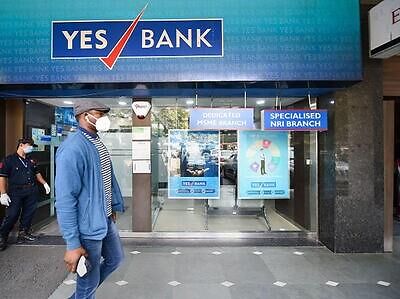 Shares of YES Bank extended their decline itnto second straight day, down 17 per cent to Rs 21.20 in the intra-day trade, on the BSE on Monday on the back of heavy volumes after the bank on Friday fixed floor price for its proposed follow-on public offer (FPO) at Rs 12 per share and a cap of Rs 13 per unit. In the past two trading days, the stock has tanked 20 per cent from a level of Rs 26.65 on the BSE.

At 10:15 am, YES Bank was trading 11 per cent lower at Rs 22.75 on the BSE, as against 0.79 per cent rise in the S&P BSE Sensex. A combined 32 million equity shares had changed hands on the counter on the NSE and BSE till the time of writing of this report.

The fundraising is important for the bank to boost its capital base, especially after it announced last month that it has failed to make interest payments on its bonds, after the RBI said its capital adequacy ratio was below regulatory ratio.

On a reported book value basis, YES Bank's FPO is priced below its FY20 book value and the 50 per cent discount to current market price seems to partly capture the future pain. However, on adjusted book value basis (book value minus net NPAs), the FPO is priced at above 1x, analysts say.

According to a Business Standard report, though the discount suggests that there could some short-term gains, valuations are not significantly attractive. Also, YES Bank's asset quality concern, which could aggravate due to Covid-19-led economic disruptions, offer little comfort, say analysts.

Meanwhile, the market regulator Securities and Exchange Board of India (Sebi) may look into a large amount of share transaction of YES Bank under the Securities Lending and Borrowing Mechanism (SLBM) on July 9, Moneycontrol reported quoting sources. These transactions took place a day prior to the announcement of the bank's floor price for its FPO.
Day after resigning as J&K L-G, GC Murmu appointed as next CAG
Posted on 7th August 2020
Former Jammu and Kashmir Lieutenant Governor Girish Chandra Murmu was on Thursday appointed the Comptroller and Auditor General of India (CAG), a day after he resigned as first LG of the newly carved out Union Territory.

The President has been pleased to appoint Girish Chandra Murmu to be the Comptroller and Auditor General of India with effect from the date he assumes charge of his office, a government order said.
---
PM to deliver inaugural address at conclave on Higher Education under NEP2020
Posted on 7th August 2020
Prime Minister Narendra Modi will deliver the inaugural address at the 'Conclave on Transformational Reforms in Higher Education under National Education Policy' on Friday through video conference.

The conclave is being organised by the Ministry of Human Resource Development (MHRD) and University Grants Commission (UGC).
---
Accused in rape of 12-year-old girl in Pashchim Vihar arrested, says Delhi Police
Posted on 7th August 2020
Delhi Police on Thursday said it has arrested the accused in the case of sexual assault of a 12-year-old girl in Pashchim Vihar area on Tuesday.

Earlier, cops said they were questioning the neighbours and scanning CCTV footage of the nearby area to identify the accused.

The city police are yet to reveal more information about the accused.
---
Sushant Singh Rajput death: Rhea Chakraborty, who once called for CBI probe, now questions FIR by probe agency
Posted on 7th August 2020
Rhea Chakraborty was the one who on July 16 had asked for a CBI enquiry in the Sushant Singh Rajput death case. Now, after CBI filed an FIR against her and 6 others, Rhea's lawyer Satish Maneshinde has said that CBI filing an FIR is illegal.

In a statement, Maneshinde said, The Bihar Government transferred a case with which it had NO Jurisdiction to investigate, to CBI instead of The Mumbai Police, which is the legal position.
---
Andhra government gears up to open colleges from October 15
Posted on 7th August 2020
Andhra Pradesh is gearing up to reopen colleges from October 15. In a review meeting at his camp office, Chief Minister YS Jagan Mohan Reddy has framed a set of guidelines and sought views from the officials of the higher education department.

Schools, colleges, and other educational institutions remained closed since March to contain the spread of COVID-19.
---
Be the first person to write a business review for YES Bank declines for second straight day, slips 17% on heavy volumes