China has caused great damage to the US, rest of the world: Trump
Posted on 7th July 2020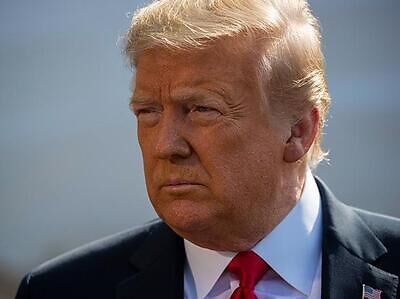 China has caused great damage to the US and the rest of the world, President Donald Trump said on Monday.

Over the last few months, Trump has been holding China responsible for the spread of deadly coronavirus across the world.

The coronavirus has so far claimed the lives of 533,000 people globally with the US topping the chart with 132,000 fatalities. Over 11.4 million people globally and nearly three million in the US -- the highest in the world -- have tested positive for the viral infection so far.

"China has caused great damage to the United States and the rest of the World!," Trump tweeted.

The coronavirus pandemic has brought the economies of the countries, including that of the US, entire Europe and India, to a standstill.

Trump had questioned why China did not report about the Covid-19 outbreak in early stages and let the virus spread across the world.

In an interview to Fox News, White House Chief of Staff Mark Meadows hinted that the President might sign an executive order that relates to China, among other issues.

"I'll give you a couple of hints, all right. So, a sneak preview here. We're going to be looking at how we make sure that China is addressed, how we bring manufacturing back from overseas to make sure the American worker is supported, he said.

We're also going to look at a number of issues as it relates to immigration. We're going to look at a number of issues as it relates to prescription drug prices and we're going to get them done when Congress couldn't get them done, Meadows said.

China lied and people died, Congressman Paul Gosar said in a tweet.

Meanwhile, state department spokesperson Morgan Ortagus on Monday tweeted that many products made in China are made by slave labour.

Every business should scrub its supply chain to ensure it's not profiting from the Chinese Communist Party's human rights abuse of Uyghurs in Xinjiang, she said.

The story of what has happened to the Uyghur people over the past few years is one of the most disturbing in the world this is potentially one of the worst crimes that we have seen since the Holocaust, Ortagus said.

According to Daniel Twining, president of the International Republican Institute, the last six months have revealed more about China under President Xi Jinping than the previous six years. China is overplaying its hand and giving western leaders no option but to stand up to it, he tweeted.
Noida gets 400-bed Covid-19 hospital, CM Yogi Adityanath reviews facilities
Posted on 8th August 2020
Uttar Pradesh Chief Minister Yogi Adityanath on Saturday inaugurated a dedicated 400-bed government hospital for COVID-19 patients in Noida.

The facility is located in Sector 39 of the city and has come up in association with the Tata Trusts and the Bill and Melinda Gates Foundation, according to officials.
---
Gold price today at Rs 56,050 per 10 g; silver at record Rs 76,510 a kg
Posted on 8th August 2020
Gold prices today jumped to Rs 56,050 from Rs 55,350 per 10 gram, while silver climbed to Rs 76,510 from Rs 73,500 per kg, according to Good Returns website.

Gold jewellery prices vary across India, the second-largest consumer of the metal, due to excise duty, state taxes, and making charges.
---
US election: China would love to have me lose to 'sleepy' Biden, says Trump
Posted on 8th August 2020
US President Donald Trump on Friday (local time) said that China would love to have an election if he lost to his sleepy Democrat presidential candidate Joe Biden.

China would love for us to have an election where Donald Trump lost to sleepy Joe Biden. They would dream (that) they would own our country. If Joe Biden was president, China would rule our country, he told reporters here.
---
Facebook builds 600 affordable homes to address housing crisis in US
Posted on 8th August 2020
Facebook has produced and preserved approximately 600 affordable homes near its headquarters in Menlo Park, California, of which roughly 70 per cent are reserved for extremely low and very low-income residents.

The company said it is on track to creating approximately 750 affordable homes by 2022.
---
Amazon, Flipkart set to witness business worth $600 mn during sale events
Posted on 8th August 2020
E-commerce companies Amazon and Flipkart are expecting to witness a total business of about $600 million during their ongoing sale events. This is at least 25 per cent higher in terms of sales compared to the business these firms would have generated for such small scale events during pre-Covid times, according to the industry insiders and analysts. They are also witnessing an increase in volumes (number of orders) which is 40 per cent higher than the normal times. Walmart-owned Flipkart is running the 5-day 'Big Saving Days' sale till Monday, coinciding with Amazon's 48-hour Prime Day sale which ended on Friday night.
---
Be the first person to write a business review for China has caused great damage to the US, rest of the world: Trump