New swine flu virus with pandemic potential discovered in China
Posted on 30th June 2020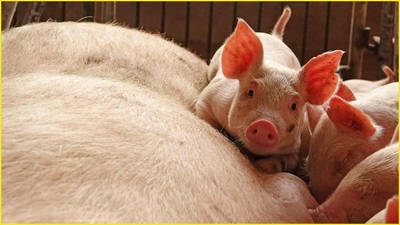 While the entire world is still fighting the outbreak of the novel coronavirus, a new swine flu type virus with the potential of triggering a pandemic has been discovered in China.

According to a study published on Monday in the US science journal PNAS, the virus named "G4" genetically descended from the H1N1 strain, which caused a pandemic back in 2009.

It contains "all the essential hallmarks of being highly adapted to infect humans," the authors and scientists at Chinese universities and China's Center for Disease Control and Prevention were quoted as saying.

Between 2011 and 2018, analysts took nearly 30,000 nasal swabs from pigs in slaughterhouses across 10 Chinese provinces, providing them to segregate 179 swine flu viruses.

The majority of which were of a new form of virus which has been dominant among pigs since 2016.

The researchers found the G4 to be very infectious, which replicates in human cells and causes more severe symptoms in ferrets than any other virus.

Tests further revealed that any kind of immunity that humans gain from the exposure to seasonal flu does not give any protection from G4.

As per the blood tests, results showed antibodies created by exposure to the G4, 10.4% of the swine workers had already been infected with it.

The tests also revealed that 4.4% of the general population also have been exposed to this virus.

This means the highly contagious G4 virus has already passed on to humans from animals, however, there is still no evidence that it can be passed on from human to human.

"It is of concern that human infection of G4 virus will further human adaptation and increase the risk of a human pandemic," the researchers claimed.

"The work comes as a salutary reminder that we are constantly at risk of new emergence of zoonotic pathogens and that farmed animals, with which humans have greater contact than with wildlife, may act as the source for important pandemic viruses," the head of the department of veterinary medicine at Cambridge University, James Wood said.
Noida gets 400-bed Covid-19 hospital, CM Yogi Adityanath reviews facilities
Posted on 8th August 2020
Uttar Pradesh Chief Minister Yogi Adityanath on Saturday inaugurated a dedicated 400-bed government hospital for COVID-19 patients in Noida.

The facility is located in Sector 39 of the city and has come up in association with the Tata Trusts and the Bill and Melinda Gates Foundation, according to officials.
---
Gold price today at Rs 56,050 per 10 g; silver at record Rs 76,510 a kg
Posted on 8th August 2020
Gold prices today jumped to Rs 56,050 from Rs 55,350 per 10 gram, while silver climbed to Rs 76,510 from Rs 73,500 per kg, according to Good Returns website.

Gold jewellery prices vary across India, the second-largest consumer of the metal, due to excise duty, state taxes, and making charges.
---
US election: China would love to have me lose to 'sleepy' Biden, says Trump
Posted on 8th August 2020
US President Donald Trump on Friday (local time) said that China would love to have an election if he lost to his sleepy Democrat presidential candidate Joe Biden.

China would love for us to have an election where Donald Trump lost to sleepy Joe Biden. They would dream (that) they would own our country. If Joe Biden was president, China would rule our country, he told reporters here.
---
Facebook builds 600 affordable homes to address housing crisis in US
Posted on 8th August 2020
Facebook has produced and preserved approximately 600 affordable homes near its headquarters in Menlo Park, California, of which roughly 70 per cent are reserved for extremely low and very low-income residents.

The company said it is on track to creating approximately 750 affordable homes by 2022.
---
Amazon, Flipkart set to witness business worth $600 mn during sale events
Posted on 8th August 2020
E-commerce companies Amazon and Flipkart are expecting to witness a total business of about $600 million during their ongoing sale events. This is at least 25 per cent higher in terms of sales compared to the business these firms would have generated for such small scale events during pre-Covid times, according to the industry insiders and analysts. They are also witnessing an increase in volumes (number of orders) which is 40 per cent higher than the normal times. Walmart-owned Flipkart is running the 5-day 'Big Saving Days' sale till Monday, coinciding with Amazon's 48-hour Prime Day sale which ended on Friday night.
---
Be the first person to write a business review for New swine flu virus with pandemic potential discovered in China