Drug combination of HCQ and azithromycin lethal for COVID-19 patients with cancer: Study
Posted on 29th May 2020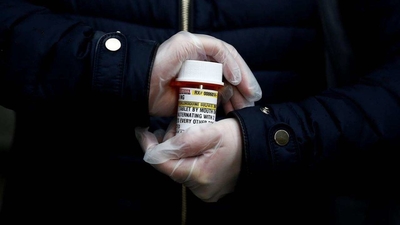 Cancer patients suffering from coronavirus who are being administered a drug combination of hydroxychloroquine with the antibiotic azithromycin to counter the infection are more likely to die within 30 days than those who infecteed patients who got either drug alone.

"Treatment with hydroxychloroquine and azithromycin were strongly associated with increased risk of death," Dr. Howard Burris, president of the American Society of Clinical Oncology (ASCO) stated in a press conference.

"Taking the combination gives three times increased risk of dying within 30 days of any cause," Dr. Jeremy Warner of Vanderbilt University Medical System reported to the media.

According to the research done by Dr Warner and his colleagues, out of the 925 patients with cancer who became infected with the coronavirus between March and April, 13% of patients died within 30 days of the diagnosis of the virus being made.

In the study, 180 patients were taking hydroxychloroquine in combination with azithromycin, and 90 were only taking hydroxychloroquine.

The study further showed that those who had the COVID-19 infection and had cancer actively progressing at the time of infection were five times more likely to die within 30 days than those who were in remission.

The preliminary findings is likely to be presented at this week's ASCO`s virtual scientific meeting.

In a notable development, the World Health Organisation (WHO) has now banned the trial of the hydroxychloroquine and chloroquine drugs on coronavirus disease (COVID-19)-affected patients, citing a study by The Lancet journal which reports that the drugs might lead to an increased risk of death and the extent of their potential benefit or harm is yet to be completely understood.

The WHO, in an official press release, stated that the observational study by The Lancet noted the effects of hydroxychloroquine and chloroquine on COVID-19 patients that have been hospitalised. During the study, "the authors reported that among patients receiving the drug, when used alone or with a macrolide, they estimated a higher mortality rate," the WHO release elaborated.

In view of this, the Executive Group of the Solidarity Trial has implemented a 'temporary pause' on the trial of the hydroxychloroquine arm, while agreeing to review a comprehensive analysis and critical appraisal of all evidence available globally. The safety data will be reviewed by the Data Safety Monitoring Board.

Last month, the Food and Drug Administration (FDA) already warned against the usage of the pill outside of a hospital setting, just seven days after it approved an emergency use authorisation for the drug.

Notably, India was also involved in this study, and the drug, which had been termed a 'game-changer' by India earlier, had been supplied to several foreign nations, including the US, Japan, Spain, Germany, and Brazil since it was in high demand globally.

Trump had told the media in a press conference that he has been taking the hydroxychloroquine for almost a week-and-half along with zinc. However, the drug was not explicitly recommended to him by them since he has not been tested positive for the virus.
United Airlines sending layoff notices to nearly half of its US employees
Posted on 9th July 2020
United Airlines will send layoff warnings to 36,000 employees - nearly half its US staff - in the clearest signal yet of how deeply the virus outbreak is hurting the airline industry.

The outlook for a recovery in air travel has dimmed in just the past two weeks, as infection rates rise in much of the US and some states imposed new quarantine requirements.
---
Veteran actor and Jaaved Jaaferi's father Jagdeep passes away at 81
Posted on 9th July 2020
Veteran actor Syed Ishtiaq Ahmed Jafri, popularly known by his stage name Jagdeep, passed away at the age of 81 on Wednesday.

He is survived by his two sons Jaaved Jaaferi and Naved Jafri.

In his career of more than six decades, Jagdeep acted in over 400 films and was a part of several hit Hindi films including 1975 blockbuster Sholay in which he played the character of Soorma Bhopali.
---
Gold price today at Rs 48,700 per 10 gm, silver climbs to Rs 50,000 a kg
Posted on 9th July 2020
Gold prices on Thursday jumped to Rs 48,700 from Rs 48,450 per 10 gram, while silver climbed to Rs 50,020 from Rs 49,200 per kilogram, according to Good Returns website.

Gold jewellery prices vary across India, the second-largest consumer of the metal, due to excise duty, state taxes, and making charges.
---
IRB Infra Developers hits 52-week high; stock zooms 84% in one month
Posted on 9th July 2020
Shares of IRB Infrastructure Developers gained 3 per cent and hit a 52-week high of Rs 121.50 on the BSE on Thursday on expectations that earnings may improve going forward as road traffic reaches over 80 per cent of pre-Covid level.

The stock of the company, which is the largest private roads and highways infrastructure developer in India, has surpassed its previous 52-week high of Rs 119.70 touched on January 21, 2020.
---
Breaking: UP Gangster Vikas Dubey nabbed from Madhya Pradesh's Ujjain
Posted on 9th July 2020
After days of intensified manhunt, the Uttar Pradesh Police has managed to nab gangster Vikas Dubey, news agency ANI quoted sources as saying.

It is being said that he was nabbed from Madhya Pradesh's Ujjain on Thursday where he had gone to offer prayers at the Mahakaal temple. He was detained by the guard.
---
Be the first person to write a business review for Drug combination of HCQ and azithromycin lethal for COVID-19 patients with cancer: Study