Lockdown helps faster delivery of foodgrain by Food Corporation of India
Posted on 4th April 2020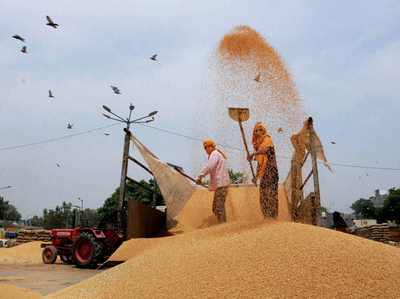 Since a day before the nationwide lockdown, the Food Corporation of India (FCI) has delivered 1.16 million tonnes (mt) foodgrain to several states, including Uttar Pradesh, Bihar, and West Bengal. According to a senior FCI official, this is nearly three times what the corporation had delivered during the corresponding period last year.

The FCI is also looking at moving 6 mt foodgrain this month alone, nearly 2.5 times what it had delivered in April last year, the official said.

Since March 24, a day before the 21-day lockdown was imposed, around 1.33 mt of wheat and rice were loaded from producing states, such as Punjab and Haryana, of which around 1.16 mt have reached designated states until Friday. The remaining is in transit.

A near-absence of passenger traffic on the railway network through which more than 85 per cent of the foodgrain is moved out annually from producing states and easy availability of rakes facilitated this movement of foodgrain. "Goods trains are mainly carrying FCI's foodgrain," the official said.

The FCI's responsibility is to deliver the goods at its designated depots within a state, and thereafter it is the state's responsibility to transport it further right up to ration shops. Identification of beneficiaries, issuance of ration cards, and supervision and monitoring of ration shops —all fall within the purview of the state administration. "We are planning to move out around 6 mt of foodgrain this month from producing states. In April last year, we had moved around 2.6 mt," the FCI official said.

The movement of such a large quantity is necessitated as the Centre has decided to give 5 kg of wheat and rice extra to all the beneficiaries (around 820 million people) under the National Food Security Act. As of April 1, the FCI had a foodgrain stock of 56.24 mt, of which rice was 31.64 mt and wheat 24.60 mt.

Besides, helping the distribution of foodgrain through ration, the FCI is offloading surplus stock to bulk users under the open market sales scheme (OMSS) through e-auction. This will enable private flour millers to process the same into atta and other eatables ahead of the arrival of the new crop.

So far, the FCI has received bids for the purchase of 0.14 mt of wheat and 77,000 tonnes of rice from private traders and food processing companies. Because of the Covid-19 pandemic, the FCI has allowed states to lift a fixed quota of grain at a reserve price under the OMSS, without participating in the e-auction.
---
Coronavirus Outbreak: In highest spike yet, India's COVID-19 tally crosses 1.90 lakh cases; 5,394 deaths
Posted on 1st June 2020
The total number of confirmed cases of COVID-19 infection in India crossed the 1.90 lakh-mark on Monday, while the death toll has topped the 5,300-mark as well. At 9:30 AM on this day, the COVID-19 tally in the country has reached 1,90,535 cases, which includes 93,322 active cases; 91,819 cured, discharged, or migrated patients, and 5,394 deaths.
---
Online classes 'First Bell' for Kerala school students begins today
Posted on 1st June 2020
The new academic year begins today in Kerala. The Kerala government will begin virtual classes for school students from today, in an effort to ensure that they do not miss out on lessons due to COVID-19 induced lockdown.

More than 45 lakh students will be part of this online initiative.
---
Power bill over Rs 100,000? Now it's must to file income-tax return
Posted on 1st June 2020
The government has notified new income-tax return forms for 2019-20, making it mandatory for high spenders to file ITR and allowing assesses to avail benefits of extended timelines in view of Covid-19.

People incurring large spending will not be able to escape paying taxes, with the government making filing mandatory in specific cases even in their income is below the taxable limit.
---
Wajid Khan, of music composer duo Sajid-Wajid dies at 42
Posted on 1st June 2020
Wajid Khan, of music composer duo Sajid-Wajid, died at the age of 42. The news was confirmed by singer Sonu Nigam, who posted a picture on Instagram and wrote, My brother Wajid left us.

Speaking about his health condition, music composer Salim Merchant told PTI, He had multiple issues. He had a kidney issue and had a transplant a while ago. But recently he got to know about kidney infection... He was on the ventilator for the last four days, after his situation started getting worse. Kidney infection was the beginning and then he got critical.
---
Be the first person to write a business review for Lockdown helps faster delivery of foodgrain by Food Corporation of India