Telcos gain on report evaluation of their AGR math may take 6 months
Posted on 11th March 2020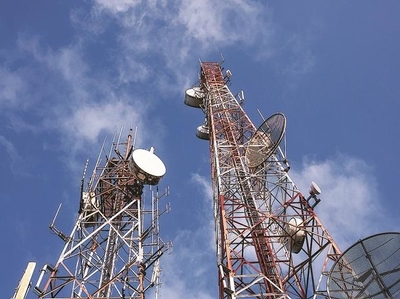 Shares of telecom companies gained on Wednesday on report that it would take at least six months to evaluate the companies' self-assessment of dues linked to adjusted gross revenue (AGR).

Among individual stocks, Vodafone Idea surged as much as 23.5 per cent to Rs 4.94 on the BSE while Bharti Airtel was up 2.46 per cent to Rs 508.5. In comparison, the benchmark S&P BSE Sensex was trading 0.1 per cent higher at 10 AM.

So far, telcos including Bharti Airtel, Vodafone Idea and Tata Teleservices have assessed their dues as a fraction of what the government had estimated.

According to this Business Standard report, the financially stressed telecom industry could get a breather as it would take time to evaulate the companies' self-assessment. The report quoted an official with the Department of Telecommunications (DoT), saying that numerous documents for multiple years have to be evaluated and cross-checked, making it a lengthy process.

After telcos had made part payment of the dues recently, the government, last week, asked them to settle the AGR bill fully without further delay. In October 2019, the Supreme Court had asked telecom operators to pay up their pending licence fees and spectrum usage charges along with penalties and interest, while upholding the DoT definition of AGR. The total dues for the telecom industry was estimated at Rs 1.47 trillion. The DoT had written to all telcos asking them to pay the balance dues "without delay" and submit detailed bifurcation of payments (explanation of self-assessed amounts), which it said was necessary for proper reconciliation of legitimate AGR dues.

The Supreme Court last month rejected a plea by Airtel and Vodafone Idea for extension in the payment schedule and asked firms to deposit their past dues for spectrum and licences.

Vodafone Idea pegged its total dues to the government at Rs 21,533 crore — less than half of what the DoT had estimated at more than Rs 50,000 crore. The company has so far paid Rs 3,500 crore out of the "self-assessed" liability of Rs 21,533 crore.

On a similar self-assessment pattern, Airtel paid Rs 13,004 crore to the government in two instalments, while depositing an additional Rs 5,000 crore as an adhoc payment to cover any reconciliation differences.

According to the government estimates, it owed Rs 35,500 crore in AGR dues to the government. Similarly, Tata Teleservices paid Rs 2,197 crore in AGR dues, followed by an additional Rs 2,000 crore to cover reconciliation differences, against DoT expectation of Rs 14,000 crore.

In 2020 so far, Bharti Airtel has gained 9.47 per cent, thus outperforming the S&P BSE Sensex which was down 13.72 per cent. Vodafone Idea tumbled 34.5 per cent and Reliance Industries slipped 26 per cent in the same period.
ICICI Bank shares gain 3% after setting floor price for QIP issue
Posted on 11th August 2020
Shares of ICICI Bank gained as much as 3 per cent to Rs 374.15 on the BSE on Tuesday after the private lender launched its qualified institutional placement (QIP), setting the floor price at Rs 351.36 per share.

The bank plans to raise up to Rs 15,000 crore to support business growth and create a buffer to absorb any shock from the economic disruption caused by the coronavirus pandemic.
---
Axis Bank raises Rs 10,000 cr via allotment of equity shares to QIBs
Posted on 11th August 2020
Private sector lender Axis Bank on Tuesday said it has raised Rs 10,000 crore through allotment of equity shares to qualified institutional buyers (QIB).

Last week, Axis Bank had set a floor price of Rs 442.19 per equity share for its proposed Rs 15,000-crore qualified institutional placement (QIP).
---
JSW Steel production rises 9% in July at 1.2 million tonnes
Posted on 11th August 2020
JSW Steel, the flagship business of 12 billion dollar JSW Group, on Tuesday reported crude steel production of 12.46 lakh tonnes in July, up 9 per cent from 11.44 lakh tonnes in the previous month.

In July last year, however, it had recorded crude steel production of 13.17 lakh tonnes, it said in a statement. The average capacity utilisation was 83 per cent as against 76 per cent in June.
---
Hyundai Creta's sales milestone, crosses 500,000 mark in domestic market
Posted on 11th August 2020
Hyundai Creta's sales number has touched 5,00,000-mark in the domestic market, the company announced on Tuesday.

Hyundai Creta has been the blockbuster model in the Indian Automobile industry ever since its launch in 2015. Redefining the SUV landscape in India, Creta's supremacy transpires from Hyundai's technological prowess and innovation, outperforming the industry benchmarks in all aspects, said Tarun Garg, Director (Sales, Marketing & Service), Hyundai Motor India Ltd.
---
Dr Reddy's Laboratories launches drug to treat infections in US market
Posted on 11th August 2020
Dr Reddys Laboratories Ltd on Tuesday announced the launch of a generic version of Ciprodex (ciprofloxacin 0.3% and dexamethasone 0.1%) Otic Suspension in the American market, following approval from the US Food and Drug Administration (USFDA).

Ciprodexis used in adults and children 6 months of age or older to treat certain types of infections caused by certain germs called bacteria.
---
Be the first person to write a business review for Telcos gain on report evaluation of their AGR math may take 6 months