M&M hits 52-week low after February auto sales numbers, recovers later
Posted on 2nd March 2020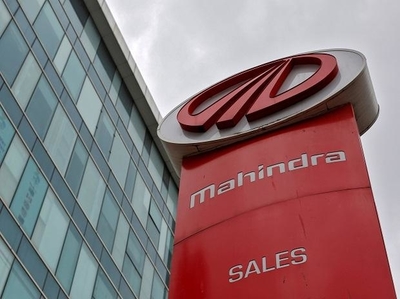 Shares of car-maker Mahindra and Mahindra hit a fresh 52-week low of Rs 444.6, down 2.5 per cent on the BSE on Monday, in an otherwise strong market, after the company's total sales in February plunged 42 per cent year-on-year (YoY). The sales stood at 32,476 units in the previous month, as against 56,005 units sold in the same month last year, M&M said in a statement.

In the passenger vehicles segment, which includes utility vehicles, cars and vans, M&M sold 10,938 vehicles in February this year as against 26,109 vehicles in the same month last year, a decline of 58 per cent. Commercial vehicles sales fell 25 per cent to 15,856 units as against 21,154 units a year ago.

"The ramp-down of BS-IV vehicle production has been in line with our plan for February. However, because of the unforeseeable challenges on the parts-supply from China, our BS VI ramp-up has been affected," Veejay Ram Nakra, Chief of Sales and Marketing, Automotive Division, M&M Ltd said, adding, "This has resulted in a high de-growth in billing volume for February and dealer inventory is now under 10 days".

The stock, however, recovered its early morning losses to hit an intra-day high of Rs 467.95, up 2.5 per cent, on the BSE following the company's disclosure that its Farm Equipment Sector grew by 21 per cent in the domestic market during February 2020.

In an exchange filing, the automaker said its domestic sales in February 2020 were at 21,877 units, as against 18,105 units sold in the year-ago period, thereby registering a growth of 21 per cent. The total tractor sales (inclusive of exports), on the otherhand, were at 22,561 units, up 19 per cent, from 18,978 units for the same period last year. Total exports for the month stood at 684 units.

"The tractor demand trend is expected to strengthen on the back of a robust Rabi output and the prevailing crop prices. Going forward, the increase in rural and agri-spending on core schemes by the Government should augur well for the industry," said Rajesh Jejurikar, President - Farm Equipment Sector, Mahindra & Mahindra.

At 10:17 am, the stock was trading 1 per cent higher at Rs 461.5 per share, as against a 1.15 per cent, or 440 points, rise in the benchmark S&P BSE Sensex. Nearly 4.84 million shares have changed hands on the NSE and BSE so far.

For the December quarter, home-grown auto major had reported a 73 per cent decline in the consolidated net profit at Rs 380 crore due to sluggish vehicle sales. The company had posted a profit after tax (PAT) of Rs 1,396 crore for the same quarter last fiscal.

"The results of Q3 FY20 includes a net loss on account of exceptional and one-off items of Rs 554 crore as compared to a net gain on account of exceptional and one-off items of Rs 519 crore in Q3 F2019," it had said in a statement. Its revenue also moderated to Rs 12,120 crore in the quarter under review, as against Rs 12,893 crore in the same period last fiscal.
---
Consumer confidence collapsed to historic low in May, says RBI survey
Posted on 5th June 2020
As the coronavirus pandemic continues to trouble India's economy, the consumer confidence has collapsed to a historic low, a survey by the Reserve Bank of India has showed.

Consumer confidence collapsed in May 2020, with the Current Situation Index (CSI) touching historic low and the one year ahead Future Expectations Index (FEI) also recording a sharp fall, entering the zone of pessimism, said RBI's Consumer Confidence Survey (CCS).
---
Maharashtra CM Uddhav Thackeray to visit Raigad to take stock of damages caused by Cyclone Nisarga
Posted on 5th June 2020
Two days after cyclone Nisarga made a landfall in Raigad district's Alibaug of Maharashtra, state chief minister Uddhav Thackeray will visit the affected areas on Friday to take a stock of the damages.

The visit comes a day after the CM held a video conference with the authorities to monitor the situation in the aftermath of the cyclone and asked the authorities to complete the 'panchnamas' or inspection and submit a report on the damages caused by Nisarga withing two days.
---
Abu Dhabi-based Mubadala to invest over Rs 9000 crore in Jio Platforms
Posted on 5th June 2020
Abu Dhabi-based investor Mubadala will buy a 1.85% stake in Jio Platforms for 9,093.6 crores.

Mubadala Investment Company (Mubadala) will invest Rs 9,093.60 crore in Jio Platforms at an equity value of Rs 4.91 lakh crore and an enterprise value of Rs 5.16 lakh crore. Mubadala's investment will translate into a 1.85% equity stake in Jio Platforms on a fully diluted basis, Reliance Industries Limited (RIL) said in a statement on Friday.
---
COVID-19 patient dies a day before hearing of his plea for bed in Delhi High Court
Posted on 5th June 2020
A petition moved by an 80-year-old COVID-19 patient in Delhi, praying for a bed in some government hospital with a ventilator facility, has been listed for hearing in the Delhi High Court on Friday. Ironically, before the court could pass any order, the patient succumbed to his illness on Thursday.

In his plea, the patient alleged that he fell ill on May 25 and was taken to a private hospital. There he was kept adjacent to a coronavirus patient and caught infection allegedly due to the negligence of the said hospital. He was then put on the ventilator.
---
Be the first person to write a business review for M&M hits 52-week low after February auto sales numbers, recovers later