Delhi Deputy CM Manish Sisodia gets clean chit over Jamia violence tweet
Posted on 25th February 2020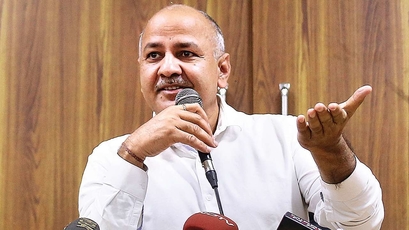 The Deputy Chief Minister of Delhi, Manish Sisodia got a clean chit from the Delhi Police for his tweet that accused police personnel of setting DTC buses of fire during the violence that broke out in and around the Jamia Milia Islamia university in December last year.

In its Action Taken Report (ATR), the Delhi police stated that no cognizable offence is made out against Sisodia. "No cognizable offense is made out against Sisodia from the contents of his tweet. Sisodia only tweet his opinion on a video clip that was running on news channels", the ATR said.

"From the perusal of complaint, it is revealed that the tweets are mere allegation against police and no offence under sections 153, 153-A, 504 and 505 IPC is made out," the ATR says.

Earlier, a court had asked the police to submit an ATR after a complaint was filed by Supreme Court lawyer Alakh Alok Srivastav seeking registration of FIR against Sisodia for spreading fake news during Jamia violence.

The complainant argued that in December month, after CAA passed, there was violence and unrest in South Delhi. DTC buses were found burning and there were pictures of the police officials pouring some liquid. Sisodia, despite holding a responsible position, took to Twitter and without verifying it accused Delhi police personnel of setting a fire.

A criminal complaint was then filed in the special MP/MLA magistrate court in Delhi against Sisodia.

Three DTC buses were set ablazr in the Bharat Nagar area on December 15 after a protest against the Citizenship Amendment Act (CAA) turned violent in the area.
Oil prices skids after Saudi-Russia talks, stocks jump on Covid-19 slowdown
Posted on 6th April 2020
Oil prices skidded on Monday after Saudi-Russian negotiations to cut output were delayed, keeping oversupply concerns alive, while stocks jumped as investors were encouraged by a slowdown in coronavirus-related deaths and new cases.

In currency markets, sterling fell after the British Prime Minister was admitted to the hospital following persistent coronavirus symptoms as the pandemic rapidly spreads.
---
Coronavirus outbreak: Govt gives approval to 13 states to procure pulses
Posted on 6th April 2020
The Central government has given a blanket approval to 13 states to immediately start procuring chana (gram) and masoor (lentil), the two big pulses grown during the rabi season. The Centre has also cleared Rs 1,250 crore for purchasing around 258,000 tonnes of both the pulses.

These 13 states won't require any formal approval from the Centre before starting procurement. The states can start procuring up to 25 per cent of the produce immediately, without waiting for a formal clearance of their proposal from the Centre.
---
UNSC likely to discuss coronavirus crisis this week after 9 members call for meet
Posted on 6th April 2020
A pandemic that has so far claimed nearly 70,000 lives and has affected over 12.7 lakh people globally, putting almost half of the world's population under lockdown, is yet to be discussed by the United Nations in what is seen as a failure of the world body in a time of such an unprecedented crisis. This may, however, change soon with the United Nations Security Council (UNSC) likely to discuss the novel coronavirus outbreak this week.

The UNSC in its release on the this week's agenda has said that it could discuss the COVID-19 pandemic. A meeting this week on this issue is possible.
---
PF subscribers can now rectify date of birth online using Aadhaar
Posted on 6th April 2020
The Provident Fund subscribers can now rectify their date of birth in EPFO records to ensure that their UAN is KYC compliant, the Employees Provident Fund Organisation (EPFO) said on Sunday.

EPFO has issued revised instructions to its field offices in this regard.

The decision has been taken to extend the availability and reach of online services in the wake of the COVID-19 pandemic.
---
Coronavirus Pandemic: Italy, Spain see drop in daily death toll
Posted on 6th April 2020
Italy and Spain, the two European nations with the highest coronavirus death toll, saw a significant drop in the daily casualty numbers on Sunday, with officials hoping the trend to continue.

In Italy, daily coronavirus death toll plunge to its lowest in over two weeks. The 525 official COVID-19 fatalities were the lowest in the country since 427 deaths were registered on March 19.
---
Be the first person to write a business review for Delhi Deputy CM Manish Sisodia gets clean chit over Jamia violence tweet