Conspiracy to defame India at international level: MoS Kishan Reddy on Delhi violence
Posted on 25th February 2020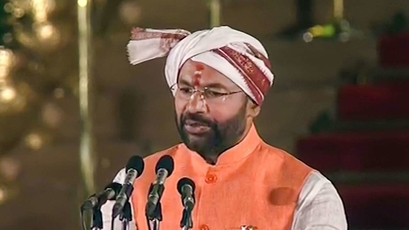 After violence erupted in North-east Delhi in which four people, including one policeman, lost their lives, Union Minister of State for Home Affairs G Kishan Reddy has called it 'a conspiracy to defame India at international level' as the US President Donald Trump is on a visit to India.

Talking to news agency ANI, Reddy said, "it is a conspiracy to defame India internationally. One police constable died during the riots. I ask Congress party and a few other political parties as to who will take the responsibility and why this conspiracy."

The minister further added that violence will not be tolerated. "Since the last two-months protesters at Shaheen Bagh have blocked a road and the Central government did not take any action. If the protests are under the limits, it can be tolerated. But we will not tolerate any violence, we shall take strict action. No person responsible for this violence shall be spared," he said.

"Congress Party and Rahul Gandhi should reveal who is behind this Delhi violence to defame India particularly when United States President Donald Trump is on a visit to the country. We have brought all the necessary forces and Home Minister Amit Shah has given orders to Delhi Police. Each person involved in the violence shall be identified," Reddy was quoted by news agency ANI as saying.

Clashes broke out in Jaffrabad, Maujpur and Chand Bagh with protestors torching houses, shops and vehicles, and hurling stones at each other. The clashes were reported to be between pro-CAA and anti-CAA protesters.

A Delhi Police head constable, identified as Ratan Lal, was killed. Three more civilians were reported to have lost their lives. All three died due to gunshot, the Chief Minister's Office (CMO) confirmed.

Incidents of violence and arson were reported in the areas of the North-East district, particularly in the areas of Maujpur, Kardam Puri, Chand Bagh, Gokulpuri, and Dayalpur. The tyre market at Kapur Petrol Pump in Gokulpuri was set on fire at around 9 pm. The rioters also set fire to a petrol pump in the Bhajan Pura area.
'Switch of all lights in your homes for 9 minutes at 9 PM on April 5': PM Modi's appeal to India in video message
Posted on 3rd April 2020
Prime Minister Narendra Modi on Friday addressed the nation through a video message, in which he appealed to the citizens of India to come together to defeat the threat of the coronavirus disease (COVID-19) crisis, that is spreading like wildfire across the nation.

In a unique proposition, the Prime Minister asked every citizen to switch off all lights at their residences on April 5 at 9 PM for nine minutes and instead light a candle, a 'Diya', or their mobile's flashlights to mark India's fight against coronavirus.
---
Tablighi Jamaat patients making lewd gestures at nurses, roaming nude in hospital: Ghaziabad CMO writes to police
Posted on 3rd April 2020
Hours after Delhi government wrote to capital's police commissioner seeking deployment of adequate police force at the quarantine centres and hospital where people who attended the Tablighi Jamaat event in Nizamuddin Markaz have been kept, adjoining Ghaziabad's Chief Medical Officer (CMO) has written to the local police saying that the Jammat attendees have been roaming nude inside the MMG district hospital and making lewd gestures and remarks at the nurses.

In the letter, the CMO said that the inmates who have been put under observation are misbehaving with the hospital staff.
---
960 foreigners linked to Tablighi Jamaat blacklisted, visas cancelled
Posted on 3rd April 2020
Taking stringent action against the Tablighi Jamaat, Nizamuddin, the Centre on Thursday blacklisted 960 foreigners and cancelled their tourist visas after over their involvement in Jamaat activities. The government also said that necessary legal action will be taken against them.

Under the directions of Union Home Minister, Shri Amit Shah, the Ministry of Home Affairs (MHA) has blacklisted 960 foreigners, present in India on tourist visas, for their involvement in Tablighi Jamaat activities, the Ministry of Home Affairs said in an official statement.
---
British Airways to lay off 28,000 employees, 60% of its workforce
Posted on 16th March 2020
The United Kingdom's flagship airline British Airways (BA) will temporarily lay off 28,000 employees, which is a staggering 60% of its entire workforce, news agency PTI reported. The move comes amid the coronavirus disease (COVID-19) crisis which is spreading like wildfire across the world and paralysing the airline sector, among several others.

The airline, which has grounded most of its fleet due to the coronavirus, has been locked in talks with unions for more than a week.
---
Coronavirus: Total confirmed COVID-19 cases cross 10 lakh worldwide; more than 50,000 dead
Posted on 3rd April 2020
The number of 'confirmed' coronavirus disease (COVID-19) cases in the world crossed 10 lakh around late Thursday night, with the Coronavirus Resource Center at the John Hopkins University putting the total number of confirmed cases worldwide at 1,014,673 on Friday at 7 AM.

It is worth noting that it just took a little over 24 hours for the number of global cases to jump from nine lakh to 10 lakh.
---
Be the first person to write a business review for Conspiracy to defame India at international level: MoS Kishan Reddy on Delhi violence