IndusInd Bank hits lowest level since January 2017, slips 16% in 8 days
Posted on 18th February 2020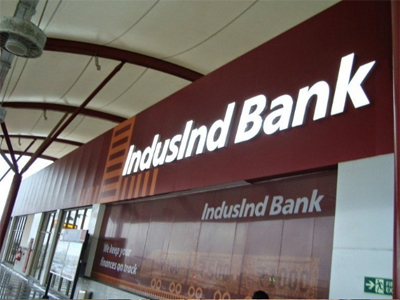 Shares of IndusInd Bank slipped 5 per cent to hit a fresh over three-year low of Rs 1,118 on the BSE on Friday despite the bank's clarification that its exposure to the telecom company is standard.

The private sector lender's stock was trading at its lowest level since January 05, 2017. In the past eight trading days, IndusInd Bank's stock price has slipped 16 per cent, as compared to a 1 per cent decline in the benchmark S&P BSE Sensex.

Investors have lost Rs 15,000 crore after a sharp fall in share price of the bank during the period. IndusInd Bank's market capitalisation has declined to Rs 77,520 crore in the intra-day trade today, from Rs 92,536 crore as on February 6, 2020.

The stock price declined despite bank's clarification that it has exposure of Rs 995 crore in telecom company, which is standard. The bank also has a non-fund exposure in the nature of Bank Guarantees of Rs 2,409 crore. The entire exposure is secured.

"We wish to state that the report on the Bank's exposure to the telecom company referred to is factually incorrect," IndusInd Bank said on clarification in reference with the news article in The Economic Times dated February 15, 2020 titled 'Banks fear surge in bad loans'.

Meanwhile, on February 11, rating agency Moody's downgraded the private lender's outlook to negative from stable on account of the risk of further asset quality deterioration.

"Over the last few quarters, the bank has seen deterioration in its asset quality, particularly in the corporate segment. Tight refinancing conditions for borrowers were a key trigger for the crystallization of nonperforming loans (NPLs)," Moody's Investors Service said.

Refinancing conditions remain tight, especially for weaker borrowers. In particular, the bank has a relatively higher exposure to real estate compared to other banks (at around 8 per cent of its loan book on December 31, 2019. While there have been no NPLs in this segment so far, this exposure to the property market remains a source of risk, given the broader stress in the real estate sector. The bank could also be negatively impacted by the ongoing stress in the telecommunications sector, it said.

The ratings agency did mention that it is unlikely to upgrade the bank's ratings over the next 12-18 months. An upgrade trigger would be if the bank maintains its NPA ratios at current levels and shows decreased credit costs.
'Switch of all lights in your homes for 9 minutes at 9 PM on April 5': PM Modi's appeal to India in video message
Posted on 3rd April 2020
Prime Minister Narendra Modi on Friday addressed the nation through a video message, in which he appealed to the citizens of India to come together to defeat the threat of the coronavirus disease (COVID-19) crisis, that is spreading like wildfire across the nation.

In a unique proposition, the Prime Minister asked every citizen to switch off all lights at their residences on April 5 at 9 PM for nine minutes and instead light a candle, a 'Diya', or their mobile's flashlights to mark India's fight against coronavirus.
---
Tablighi Jamaat patients making lewd gestures at nurses, roaming nude in hospital: Ghaziabad CMO writes to police
Posted on 3rd April 2020
Hours after Delhi government wrote to capital's police commissioner seeking deployment of adequate police force at the quarantine centres and hospital where people who attended the Tablighi Jamaat event in Nizamuddin Markaz have been kept, adjoining Ghaziabad's Chief Medical Officer (CMO) has written to the local police saying that the Jammat attendees have been roaming nude inside the MMG district hospital and making lewd gestures and remarks at the nurses.

In the letter, the CMO said that the inmates who have been put under observation are misbehaving with the hospital staff.
---
960 foreigners linked to Tablighi Jamaat blacklisted, visas cancelled
Posted on 3rd April 2020
Taking stringent action against the Tablighi Jamaat, Nizamuddin, the Centre on Thursday blacklisted 960 foreigners and cancelled their tourist visas after over their involvement in Jamaat activities. The government also said that necessary legal action will be taken against them.

Under the directions of Union Home Minister, Shri Amit Shah, the Ministry of Home Affairs (MHA) has blacklisted 960 foreigners, present in India on tourist visas, for their involvement in Tablighi Jamaat activities, the Ministry of Home Affairs said in an official statement.
---
British Airways to lay off 28,000 employees, 60% of its workforce
Posted on 16th March 2020
The United Kingdom's flagship airline British Airways (BA) will temporarily lay off 28,000 employees, which is a staggering 60% of its entire workforce, news agency PTI reported. The move comes amid the coronavirus disease (COVID-19) crisis which is spreading like wildfire across the world and paralysing the airline sector, among several others.

The airline, which has grounded most of its fleet due to the coronavirus, has been locked in talks with unions for more than a week.
---
Coronavirus: Total confirmed COVID-19 cases cross 10 lakh worldwide; more than 50,000 dead
Posted on 3rd April 2020
The number of 'confirmed' coronavirus disease (COVID-19) cases in the world crossed 10 lakh around late Thursday night, with the Coronavirus Resource Center at the John Hopkins University putting the total number of confirmed cases worldwide at 1,014,673 on Friday at 7 AM.

It is worth noting that it just took a little over 24 hours for the number of global cases to jump from nine lakh to 10 lakh.
---
Be the first person to write a business review for IndusInd Bank hits lowest level since January 2017, slips 16% in 8 days