Syed Ali Shah Geelani unwell, internet snapped in Kashmir over rumours
Posted on 13th February 2020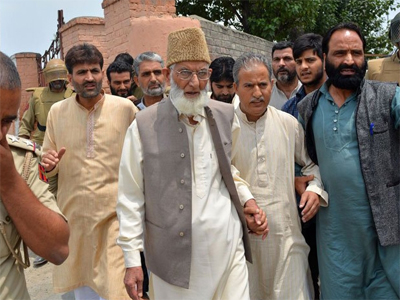 Mobile internet services have been suspended in Kashmir to prevent rumours about the health of separatist leader Syed Ali Shah Geelani, officials said on Thursday.

The services were snapped late Wednesday night after some social media posts claimed the health of the 90-year-old Geelani deteriorated, they said.

Adequate number of security forces have been deployed at vulnerable places in Kashmir to maintain law and order and prevent miscreants from fomenting any trouble.

Geelani's family said he has has been ill for some time but his condition is stable.
Telangana CM KC Rao urges PM Modi to extend lockdown till 1st week of June
Posted on 7th April 2020
As confusion around the extension of the lockdown continues to trouble people, Telangana Chief Minister K Chandrasekhar Rao on Monday Prime Minister Narendra Modi to extend the lockdown beyond April 14 to so that the spread of coronavirus in India can be contained.

I'm requesting the PM to talk to all CMs and take a call to extend the nationwide lockdown up to the first week of June, otherwise we cannot control coronavirus pandemic. Even a small country like Singapore is extending lockdown for one more month. Ours is a huge country, Rao said.
---
Global coronavirus death toll nears 75,000; over 13 lakh confirmed COVID-19 cases worldwide
Posted on 7th April 2020
The number of coronavirus cases worldwide has crossed 13 lakh with more than 74,000 deaths, according to the Johns Hopkins University tracker.

The tracker recorded 1,347,676 cases worldwide and 74,744 deaths. Out of the 13 lakh COVID-19 patients, 277,331 have recovered from the disease.

The United States, which has now become the epicentre of the coronavirus, recorded over 20,000 new cases and 1100 new deaths from COVID-19 between Sunday and Monday, according to the university tracker.
---
British PM Boris Johnson taken to ICU as coronavirus symptoms worsen
Posted on 7th April 2020
British Prime Minister Boris Johnson has been taken into intensive care after his coronavirus symptoms worsened on Monday, Downing Street has said.

UK foreign secretary Dominic Raab has taken charge as Johnson was moved to the ICU at St Thomas' Hospital in London on Monday.

Johnson was tested coronavirus positive ten days ago but remained home. He went to the hospital on Sunday night after he continued to have a fever despite self-isolating for more than the stipulated seven days.
---
Coronavirus death toll crosses 10,000 as US enters 'toughest week'
Posted on 7th April 2020
The coronavirus death toll in the United States crossed 10,000 on Monday as the country entered what officials describe as the toughest week.

According to Johns Hopkins University's coronavirus tracker, there are 368,079 COVID-19 cases in the US and 10,923 deaths.

So far, 19,828 infected people have fully recovered.
---
Oil prices skids after Saudi-Russia talks, stocks jump on Covid-19 slowdown
Posted on 6th April 2020
Oil prices skidded on Monday after Saudi-Russian negotiations to cut output were delayed, keeping oversupply concerns alive, while stocks jumped as investors were encouraged by a slowdown in coronavirus-related deaths and new cases.

In currency markets, sterling fell after the British Prime Minister was admitted to the hospital following persistent coronavirus symptoms as the pandemic rapidly spreads.
---
Be the first person to write a business review for Syed Ali Shah Geelani unwell, internet snapped in Kashmir over rumours