Hyundai expects to roll out mass market electric vehicle in 3 years
Posted on 31st January 2020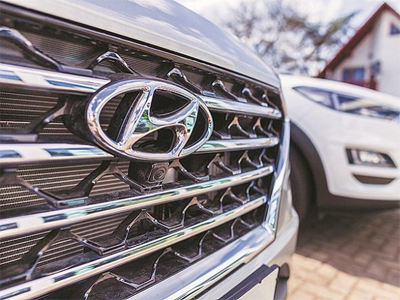 Hyundai Motor India (HMIL) is expected to roll out a mass market electric vehicle product in two to three years.

The company expects the second half of the year to show improvement in domestic market and while there are concerns about the comparitively higher price for the BS-VI models, there might also excitement among the customers on the new technology, said Tarun Garg, director, sales and marketing division, HMIL.

With some of the diesel vehicle manufacturers planning to stop diesel vehicle models in the wake of BS-VI implementation, the company is expecting a growth in the market but the demand may not be fully met initially considering the lack of adequate capacity available.

The company is also targeting export of up to 200,000 passenger cars in the year 2020. It exported 181,200 in 2019.

On Thursday, it rolled out the three millionth made-in-India export car from its factory at Sriperumbudur, about 40 km from here.
The company is India's largest passenger car exporter, at 26 per cent of all shipments in 2019. In 2018, it had exported 160,010 of the total of 700,121 passenger cars from India.

S S Kim, managing director, said the export aim this year was 190,000-200,000 unit export. The three-millionth car, an Aura, name for the exported Grand i10, will be sent to Colombia. It began car export in 1999, with 20 Santros to Nepal. A total of 100,000 was reached in 2004 and the first million in March 2010. The next million was in March 2014.

"We have been exporting cars from this facility to 88 countries — Africa, Middle East, Latin America and Asia-Pacific. There is growing interest from South Africa, Saudi Arabia and others," said Kim.

He said the company had invested around Rs 24,000 crore in India into infrastructure enhancement, technology and other areas. And, committed to invest another Rs 7,000 crore in new products, new technology and the like.

In calender year 2019, of the 181,200 unit export, there were 792 customised variants, according to country preference and demand. The company currently exports 10 models. These include the Atios (Santro), Grand i10, Xcent, Grand i10 (NIOS), Etios i20 and the Creta.

It expects to launch a mass-market electric vehicle in two to three years.

The company expects the second half of 2020 to show imporvement in India market sales. While there are concerns about the comparitively higher price for models compatible with the new BS-VI emission standards (compulsory for all kakers from April 1), there might also be excitement among customers on the new technology, said Tarun Garg, director for sales and marketing.
Indian diplomat harassed in Pakistan, ISI tails his car to intimidate him
Posted on 5th June 2020
Pakistan's Inter-Services Intelligence (ISI) has been harassing and intimidating India's top diplomat in Islamabad.

Reportedly, ISI has put up multiple persons in cars and bikes outside his residence to harass him.

In a note sent to the foreign ministry in Islamabad in March, Indian High Commission protested against the continuous harassment of its officers and staff by Pakistani agencies. India had cited 13 incidents of harassment of its officers and staff in the month of March itself.
---
COVID-19 in India live updates: 9,851 new cases take India's count to 2.26 lakh, recovery rate at 48.27%
Posted on 5th June 2020
The number of coronavirus cases in India has marked significant and consecutive highest jumps over a major part of the last two weeks.

On Thursday, the total number of confirmed cases of COVID-19 infection in India crossed the 2.25 lakh-mark, while the death toll breached the 6,300-mark as well. With this, India has now become the world's seventh worst-hit country in terms of coronavirus cases, according to the World Health Organisation's (WHO) COVID-19 tracker.
---
---
Consumer confidence collapsed to historic low in May, says RBI survey
Posted on 5th June 2020
As the coronavirus pandemic continues to trouble India's economy, the consumer confidence has collapsed to a historic low, a survey by the Reserve Bank of India has showed.

Consumer confidence collapsed in May 2020, with the Current Situation Index (CSI) touching historic low and the one year ahead Future Expectations Index (FEI) also recording a sharp fall, entering the zone of pessimism, said RBI's Consumer Confidence Survey (CCS).
---
Maharashtra CM Uddhav Thackeray to visit Raigad to take stock of damages caused by Cyclone Nisarga
Posted on 5th June 2020
Two days after cyclone Nisarga made a landfall in Raigad district's Alibaug of Maharashtra, state chief minister Uddhav Thackeray will visit the affected areas on Friday to take a stock of the damages.

The visit comes a day after the CM held a video conference with the authorities to monitor the situation in the aftermath of the cyclone and asked the authorities to complete the 'panchnamas' or inspection and submit a report on the damages caused by Nisarga withing two days.
---
Be the first person to write a business review for Hyundai expects to roll out mass market electric vehicle in 3 years