Axis Bank jumps 3% as Q3 loan growth hits 7-qtr high, NIM best in 2.5 yrs
Posted on 23rd January 2020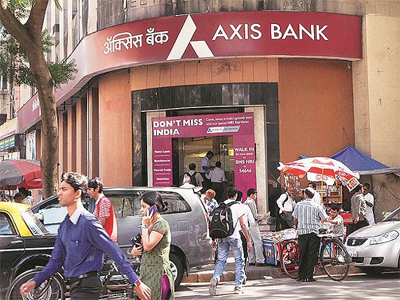 Private lender Axis Bank surged as much as 3.4 per cent, to Rs 737.3 on the BSE, in the early trade on Thursday after the bank's loan growth touched a 7 quarter high during the December quarter of FY20 despite the slowdown in the economy. That apart, the bank's provisions declined 1.34 per cent sequentially to Rs 3,470.92 crore in Q3FY20.

The bank's loan book for the quarter ended December 31, 2019 stood at Rs 5.5 lakh crore, up 16 per cent year-on-year. According to the management, it grew by almost Rs 28,500 crores sequentially. Of this domestic loan growth stood at 18 per cent YoY. Further, retail loan book grew 25 per cent YoY, and domestic corporate book grew 16 per cent YoY.

"Axis Bank reported steady loan growth amidst economic slowdown, led by continued momentum in the retail business... We estimate near-term credit cost to stay elevated as it shores up its coverage ratio before reaching normalized levels of 1.2 per cent for FY22," wrote analysts at Motilal Oswal Financial Services in a post-result note. They maintain 'Buy' rating on the stock with a target price of Rs 835.

That apart, the bank's net interest income (NII), which grew 15.15 per cent, met D-Street estimates. It's standalone NII stood at Rs 6,452.98 crore, a jump of 15.15 per cent YoY, over an NII of Rs 5,603.7 crore clocked in Q3FY19. Sequentially, the number was higher by 5.75 per cent over Rs 6,101.8 crore (Q2FY20). Furthermore, the net interest margin (NIM) came in at 10-quarter high of 3.57 per cent.

Moreover, the management's commentary on likely recovery, too, boosted investment sentiment. They expect a few recoveries in the near term, but guided for elevated credit cost as it aims to shore up its coverage ratio. According to the bank, with BB & below pool falling to 2.6 per cent of corporate loans, normalization of asset quality is almost complete and will facilitate lower slippages.

Overall, the bank reported mixed set of numbers. While its profit before tax slipped 8 per cent YoY to Rs 2,271.8 crore, its net profit was up 4.52 per cent on a yearly basis to Rs 1,757 crore for the quarter under review.

On the asset quality front, the Mumbai-based bank reported gross non-performing assets (GNPA) at Rs 30,073 crore for the recently concluded quarter. This was 3.4 per cent higher from the GNPAs reported in the previous quarter at Rs 29,071.39 crore. In Q3FY19, the GNPA stood at Rs 30,854.67 crore, thereby improving the asset quality on a YoY basis. The net NPA, meanwhile, came in at Rs 12,160 crore, up 9.1 per cent QoQ. The amount was Rs 11,138.30 crore in the December quarter of FY19.

In terms of ratio, the GNPA ratio stood at 5 per cent, as against 5.03 per cent reported in Q2FY20, and 5.75 per cent in Q3FY19. The NNPA ratio came in at 2.09 per cent.

"Gross corporate slippages for the quarter (including investment portfolio) stood at Rs 3,891 crores, of which 81 per cent came from clients previously rated BB and below. Outstanding BB & Below corporate loans declined by 18% QOQ to Rs 5,128 crores," it said in a statement.

It added: The Bank has recognized slippages of Rs 6,214 crores during Q3FY20 (up 24.7 per cent QoQ, and 65.88 per cent YoY), compared to Rs 4,983 crores in Q2FY20 and Rs 3,746 crores in Q3FY19. Slippages from the loan book were at Rs 5,124 crores and that from investment exposures stood at Rs 1,090 crores. Corporate slippages stood at Rs 3,891 crores.

"Slippages have been stubbornly high (4% of loans) this quarter as well though the 'below investment grade book' has declined to ~1% of loans. Provisions are likely to be high in the near term, which could be a near-term risk to the normalization of RoEs argument," wrote analysts at Kotak Instotutional Equities in a result review note. The brokerage firm has 'Reduce' rating on the stock.

At 10:05 am, the stock was trading at Rs 731.7 apiece on the BSE, up 2.66 per cent. In comparison, the S&P BSE Sensex was up 214 points, or 0.51 per cent, at 41,329.46 level. A total of 8.65 million shares have changed hands on the counter on NSE and BSE till the time of writing of this report.
Coronavirus: Transportation of all goods allowed during lockdown, says Centre
Posted on 30th March 2020
Amid reports of lakhs of stranded trucks carrying various items, the Centre on Sunday said that the transportation of all goods, without distinction of essential and non-essential, have been allowed.

Prime Minister Narendra Modi had on Tuesday announced a 21-day lockdown till April 14 to combat the spread of novel coronavirus.
---
Coronavirus Pandemic: Global COVID-19 death toll stands at 33,509; more than 7 lakh infected across the world
Posted on 30th March 2020
The global coronavirus death toll crossed 33,000 on Sunday, as New York state in the United States alone reported around 1,000 deaths on this day, which is more than 40% of the country's death toll. The death toll in Italy, which had crossed 10,000 on Saturday, stood at 10,774 by the end of Sunday.

The numbers, however, look especially grim for the US. With 132,637 confirmed COVID-19 cases, the number of affected people in the US is the highest in the world.
---
Delhi police detects fake UPI ID created to cheat PM CARES donors; blocked
Posted on 30th March 2020
Delhi police's cybercrime unit has detected a fake Unified Payments Interface (UPI) ID created with a motive to cheat the donors of the newly launched PM CARES Fund to fight the coronavirus outbreak, a senior official said on Sunday.

Anyesh Roy, DCP (cybercrime) said in a tweet that the fake UPI was created with the ID pmcare@sbi, which is similar to the correct ID pmcares@sbi.
---
Paid leave must for those quarantined, daily wagers during lockdown: Noida
Posted on 30th March 2020
Amid an exodus of thousands of daily wage earners from Delhi-NCR to their far-flung homes, at towns and villages across North India, Nodia administration passed an order to give 28-day mandatory leave to any employees infected with coronavirus. Along with that the industries closed due to the lockdown will also have to pay their dail wagers along with leave during the 21-day nationwide lockdown due to coronavirus outbreak.

In the order passed late on Saturday night by the Gautam Buddh Nagar district administration, any worker or employee infected with the virus and quarantined either at hospital or at home will be given the paid leave by their employer across Noida and Greater Noida.
---
35 Lok Sabha MPs allocate Rs 1 cr from MPLADS fund to fight Coronavirus
Posted on 30th March 2020
Following Lok Sabha Speaker Om Birla's appeal, nearly three dozen MPs have allocated Rs 1 crore from their Members of Parliament Local Area Development Scheme (MPLADS) fund to local authorities to tackle the coronavirus pandemic.

In a letter to all Lok Sabha members on Saturday, Birla said the country is passing through a tough phase due to coronavirus (Covid-19) and as public representatives it is our duty to stand with the people.
---
Be the first person to write a business review for Axis Bank jumps 3% as Q3 loan growth hits 7-qtr high, NIM best in 2.5 yrs