Maruti Suzuki, Toyota to set up vehicle dismantling, recycling unit
Posted on 6th October 2019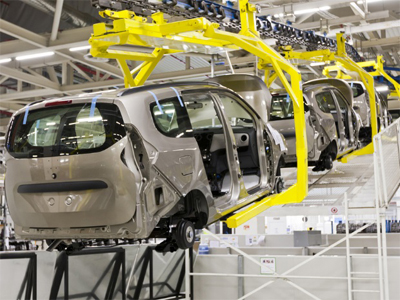 Maruti Suzuki and Toyota Tsusho Group on Wednesday announced a joint venture for vehicle dismantling and recycling.

In the joint venture -- Maruti Suzuki Toyotsu India Pvt Ltd (MSTI) -- Maruti Suzuki India (MSI) will have 50 per cent share, while Toyota Tsusho Group companies -- Toyota Tsusho Corporation and Toyota Tsusho India Pvt Ltd -- will hold the remaining stake.

MSTI will set up its vehicle dismantling and recycling unit in Noida, Uttar Pradesh within 2020-21 and will add more such units across India, the companies said in a statement.

It will be responsible to procure and dismantle end-of-life vehicles (ELVs). The process will include complete solid and liquid waste management as per the Indian laws and globally approved quality and environment standards, they added.

The Noida unit will have an initial capacity to dismantle around 2,000 vehicles per month. MSTI will source vehicles from dealers as well as directly from customers.

Commenting on the development, MSI Managing Director & CEO Kenichi Ayukawa said, "Through this Joint Venture, MSTI, we aim to promote recycling and support in resource optimization and conservation while using environment friendly systems and processes".

Scrapping of older vehicles in a scientific and environment friendly manner will help to reduce pollution and also make the roads safer. A team of experts at MSTI will dismantle the vehicles using international technology and global standards, he added.

Toyota Tsusho Corporation CEO (Metal Division) Naoji Saito said TTC had started ELV recycling since 1970's in Japan.

"We believe that we will be able to contribute to Indian society through our knowledge and experience for ELV business. The first vehicle dismantling and recycling unit of MSTI is just the initial step and we are eager to expand to pan-India base with Maruti Suzuki," he added.

Suzuki and Toyota had earlier strengthened their alliance with the partners picking up stake in each other while also agreeing to share production facility, vehicles and technologies for selling vehicles, both in India and other global markets.
Verdict allowing women into Sabarimala not the 'final word': Supreme Court
Posted on 5th December 2019

The Supreme Court on Thursday said its 2018 verdict allowing entry of girls and women of all ages into the Ayyappa temple at Kerala's Sabarimala was not the final word as the matter was referred to a larger bench.

The apex court's observation came when senior advocate Indira Jaising, appearing for a woman devotee, Bindu Ammini, alleged violation of the 2018 verdict and said her client was attacked for her bid to enter the shrine.
---
Hyundai plans to bring fuel cell cars to India, Nexo could be first launch
Posted on 5th December 2019

Korean auto major Hyundai is planning to bring fuel cell electric vehicles to India. The company has already started a feasibility study as part of the plan.

Hyundai Nexo, which is already available in many markets, could be the first launch. The company claims Nexo is the world's first dedicated hydrogen-powered SUV and that it has a range of close to 380 miles, highest for any fuel-cell or electric vehicle in the market.
---
HDFC AMC slips 5% as Standard Life to sell additional stake via OFS
Posted on 5th December 2019

Shares of HDFC Asset Management Company (AMC) dipped 5 per cent to Rs 3,173 in intra-day deals on Thursday, after the company said it will use a greenshoe option for sale of additional 0.86 percent stake via offer for sale (OFS). The stock had ended 3 per cent lower at Rs 3,329 on the BSE a day earlier.

With the past two day's decline, HDFC AMC has corrected 17 per cent from its all-time high of Rs 3,844 touched on November 22, 2019.
---
RBI surprise: Repo rate left unchanged; FY20 GDP forecast lowered to 5%
Posted on 5th December 2019

Springing a surprise, the monetary policy committee of the Reserve Bank of India (RBI) maintained the repo rate at 5.15 per cent points (bps) in its fifth bi-monthly monetary policy meeting of the financial year 2019-20 (FY20) on Thursday. However, GDP growth forecast for FY20 was slashed to 5 per cent from 6.1 per cent.

The three-day rate-setting meet started on Tuesday (December 3). In its October meet, the RBI had cut interest rate by 25 bps to 5.15 per cent.
---
Polycab India hits fresh record high; stock zooms 100% from August low
Posted on 5th December 2019

Shares of Polycab India continued their upward journey, and hit a new high of Rs 1,052, up 6 per cent on the BSE on Thursday, on expectation of strong earnings going forward. The company was included in the MSCI Global Small Cap Index with effect from November 26, 2019.

The stock of the fast moving electric goods (FMEG) company zoomed 100 per cent from its recent low of Rs 525, touched on August 22, 2019.
---
Be the first person to write a business review for Maruti Suzuki, Toyota to set up vehicle dismantling, recycling unit