Bajaj Auto net profit surges to ₹1,402 crore, shares rise
Posted on 23rd October 2019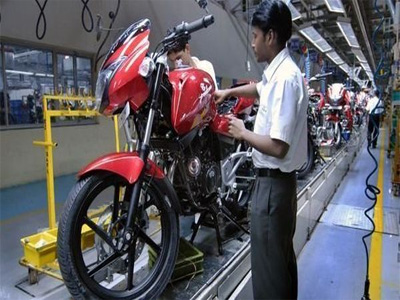 Bajaj Auto today reported better-than-expected earnings for the quarter ended September 30, pushing its shares 2% higher in afternoon trade. Bajaj Auto shares were up 2% at ₹3,186 as compared to a 0.44% rise in Sensex. The automaker's profit rose 22% to ₹1,402 crore, aided by a tax expense reversal of ₹182 crore due to the recent lowering of corporate tax rate.

Revenue from operations dipped 4% year on year to ₹7,707 crore. Operating margin also dipped to 16.9% from 17.9% a year earlier.

Total volumes during the quarter dipped 12% to 1,173,591 units as compared to 1,339,444 units in the same quarter of the previous quarter.

"Q2 was a difficult quarter for the domestic motorcycle industry. In retail terms, the decline was 14% ( in billing terms, the decline was 21%). Performance of Bajaj Auto was in line with the industry; retail market share at about 20%," Bajaj Auto said in a statement.

In August 2019, Bajaj Auto had launched an all new Pulsar 125 and has sold over 40,000 units.

Its international business contributed to about 41% of the automaker's net sales. In terms of international business, Bajaj Auto recorded sales of over 544,000 units for Q2.

After payment of dividend and tax of ₹2,072 crore, surplus cash and cash equivalents stood at ₹15,986 crore as on 30th September 2019, Bajaj Auto said.

In the 150cc+ segment, the Company continues to maintain its dominance. Pulsar, along with

Avenger, sold over 174,000 units in Q2 / FY20
Toyota to hike price of Camry Hybrid & Vellfire models from next month
Posted on 6th June 2020
Toyota Kirloskar Motor (TKM) on Friday announced it would increase the price of Camry Hybrid Electric Vehicle and The Vellfire with effect from next month.

It has been necessitated due to the substantial rise in exchange rate, the company said in a statement.
---
Eight countries, including India, ask UN Human Rights Commissioner to be responsible amid COVID-19 crisis
Posted on 6th June 2020
Eight countriesm led by India and Indonesia, have written to the Office of the High Commissioner of Human Rights (OHCHR) under the United Nations, asking it to play a responsible role amidst the ongoing coronavirus disease (COVID-19) crisis around the world.

The joint letter was written by the permanent missions of India, Indonesia, Cambodia, Malaysia, Myanmar, the Philippines, Thailand, and Vietnam in Geneva to the OHCHR after the latter issued a release entitled Asia: Bachelet alarmed by clampdown on freedom of expression during COVID-19.
---
Senior Indian, Chinese diplomats hold talks ahead of Lt General-level dialogue to end LAC standoff
Posted on 6th June 2020
Senior diplomats from China and India on Friday held a video conference to discuss the border standoff ahead of the Lt General-level talks scheduled on Saturday.

In a Video Conference between Naveen Srivastava, Joint Secretary (East Asia) and Mr Wu Jianghao, Director General in the Chinese Ministry of Foreign Affairs, the two sides reviewed the state of bilateral relations including the current developments, the Ministry of External Affairs said in a statement.
---
NHRC plea to intervene on migrants case allowed by SC, suggests 'short term and long term measures' to deal with crisis
Posted on 6th June 2020
The Supreme Court on Friday allowed the National Human Rights Commission (NHRC) to intervene in the case related to plight and miseries of stranded migrant workers due to the coronavirus-enforced nationwide lockdown.

The NHRC, in its intervention plea filed through Deputy Registrar Sunil Arora, gave short term and long term measures for consideration of the apex court in order to alleviate the plight of the migrant workers and to ensure that their human rights are not violated.
---
From special mention in 'Mann Ki Baat' to recognition by UN body: Madurai girl's philanthropy is winning hearts
Posted on 6th June 2020
Mahandoss, who owns a salon in Tamil Nadu's temple town Madurai says that he or his family didn't expect any recognition or rewards when they donated a large part of their savings to help the needy during the coronavirus-enforced lockdown.

His deed, which was inspired by his 13-year old daughter's concern for the poor and needy was first lauded by India's Prime Minister Narendra Modi in the radio address Mann Ki Baat.
---
Be the first person to write a business review for Bajaj Auto net profit surges to ₹1,402 crore, shares rise