Bank strike: SBI branches will not be much affected next week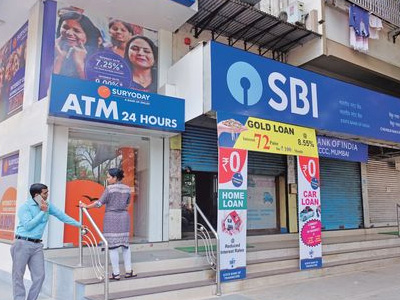 NEW DELHI : As two bank unions threaten to sit on a day-long bank strike against the merger of public sector banks, the State Bank of India (SBI) expects the impact to be minimal while the Bank of Baroda has warned customers that its operations could be paralysed.
With over 22,000 branches, SBI is India's largest bank while Bank of Baroda has around 9,500 branches and is now the third largest bank after its merger with Vijaya Bank and Dena Bank.
"The membership of our bank employees in unions participating in strike is very few, so the impact of strike on bank's operation will be minimal," SBI said in a notice to stock exchanges. It said that the loss as a result of the proposed bank strike cannot be quantified now.
Bank of Baroda, on the other hand, said it is taking necessary steps for smooth functioning of its branches and other offices on the day of strike. "In the event the strike materializes, the functioning of the branches / offices may be affected / paralyzed," BoB warned.
The All India Bank Employees' Association (AIBEA) and Bank Employees Federation of India (BEFI) have served a notice to the Indian Banks' Association informing them of the bank strike from 6 am on October 22 to 6 am on October 23.
Besides merger of 10 PSU banks into four larger entities, the bank unions are also protesting against banking sector reforms and increasing NPAs. The unions have also demanded that stringent action should be taken against loan defaulters and job security of bank employees should be ensured.
Last month also, another set of four bank employees' unions had called for a two-day strike but was withdrawn later on. They were also protesting on similar issues.
In the meantime, the protesters have found support from the All India Trade Union Congress (AITUC) on next week's bank strike.