On fast track: IRCTC shares make stellar debut with 128% listing gains
Posted on 15th October 2019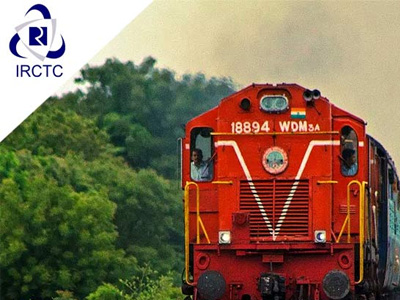 Shares of state-owned mini ratna Indian Railway Catering and Tourism Corporation (IRCTC) made a stellar debut on Monday with listing gains of 128%. The stock ended the day at `728, which is more than double its issue price of `320. At closing, the newly-listed company's market capitalisation stood at `11,658 crore, which makes it more valuable than other leading listed financial companies. This is the best listing in two calendar years, even as five other companies have clocked listing gains over 100%, including Avenue Supermarts, which had jumped 114% on the listing day. IRCTC is a monopoly and provides catering services to Indian Railways, sells tickets online and packaged drinking water.

Analysts believe the company could generate robust returns over the next few quarters as revenue growth could be higher, following the reinstatement of convenience fee on online booking of train tickets. "In addition to a unique business model and a monopoly situation, the reinstatement of convenience fees on online ticket booking would give the company a strong revenue growth over the next 1-2 years," said Siddhartha Khemka, vice-president and head of retail research, Motilal Oswal.

According to data from the BSE, the stock closed about 7% away from its upper circuit limit of `772.8. The market capitalisation of the company stood at `11,590.4 crore.

Analysts also believe that the surge in the stock price is fundamentally due to a mismatch between demand and supply. "The stock has witnessed too much demand for an issue size, which is relatively small leading to the shares to surge," added Khemka. The government sold 12.5% of its stake in the company to raise nearly `645 crore. The IPO, which opened for subscription on September 30 and ended on October 3, comprised an offer for sale (OFS) of 2.01 crore equity shares. On the final day of its bidding, the issue was subscribed by 112 times. Qualified institutional buyers (QIBs) and non-institutional investors (NII) segment was subscribed by 108.79 times and 354.52 times, respectively, showed combined data on exchanges.

However, experts believe that most of the positive factors like IRCTC's monopoly situation and strong revenue growth projections have already been factored in and any trades further would be at a premium. "The stock currently is over-valued and is trading at a premium of 40x its FY19 EPS," said Arun Mantri, technical and derivative analyst, Karvy Stock Broking.
AIMPLB to decide on filing Ayodhya verdict review petition in SC today
Posted on 16th November 2019
The All India Muslim Personal Law Board (AIMPLB) is likely to take a call on whether to file a review petition in the Supreme Court's final verdict in the Ayodhya land dispute case.

A meeting of AIMPLB is expected to take place today in Lucknow to decide on call to be taken by the board in the Ram Janmabhoomi-Babri Masjid case verdict by the Supreme Court.
---
Maharashtra: BJP afraid MLAs may defect, says NCP's Nawab Malik
Posted on 16th November 2019
The Maharashtra BJP is bedevilled by the trepidation that politicians who joined the party ahead of the October 21 Assembly polls will defect and, hence, its leaders are claiming they will form government in the state, the NCP said on Saturday. NCP chief spokesperson Nawab Malik made the remarks a day after Maharashtra BJP chief Chandrakant Patil said his party will soon form the government and claimed it can count on the support of 119 MLAs, including Independents, in the 288-member Assembly.
---
SAT pulls up Sebi for 'shabby' handling of complaints from investor
Posted on 16th November 2019
The Securities and Appellate Tribunal (SAT) has hauled up the Securities and Exchange Board of India (Sebi) for giving computer-generated response to investor complaints filed on its online platform Scores and for disposing of the matter without settling the case.

"We find the approach adopted by Sebi to be a strange one. Such computer-generated disposal of a serious complaint speaks volumes on the conduct in treating the minority shareholders in this shabby manner," the tribunal said while delivering a judgment on a matter related to an investor complaint.
---
US to extend licence for its firms to continue business with Huawei: Report
Posted on 16th November 2019
The Trump administration is set to issue a two-week extension of a licence allowing U.S. companies to continue doing business with China's Huawei Technologies Co Ltd, two sources familiar with the deliberations said.

The extension of around two weeks is far shorter than the prior 90-day extension and a longer extension is in the works but has not yet been finalised due to regulatory hurdles, said one source who was briefed on the matter.
---
SC sets aside NCLAT order, paves way for Arcelor to acquire Essar Steel
Posted on 16th November 2019
The Supreme Court on Friday brought down the curtains on an epic battle for debt-laden Essar Steel, paving the entry of the world's largest steel maker, ArcelorMittal, into the second-biggest steel market, India.

In a ruling that would have a far-reaching impact on cases under the Insolvency and Bankruptcy Code (IBC), the apex court has set aside the National Company Law Appellate Tribunal (NCLAT) order that put a different class of creditors — financial vis-a-vis operational creditors as also secured and unsecured financial creditors — on a par.
---
Be the first person to write a business review for On fast track: IRCTC shares make stellar debut with 128% listing gains