Mercedes-Benz delivers over 200 cars in single day on Dussehra and Navratri
Posted on 9th October 2019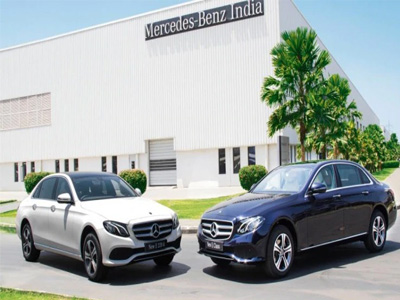 Mumbai: German luxury carmaker Mercedes-Benz said on Tuesday that it has delivered over 200 cars of various models to customers in Mumbai, Gujarat and other cities in a single day as part of the festival season sale.

Dussehra and Navratri deliveries, which were made on Tuesday, outperformed the number of cars sold on the the same festival day last year, indicating a strong festive mood, the company said in a release.

Mercedes-Benz delivered over 125 cars, the highest ever, to the customers on Dussehra in Mumbai and another 74 cars to customers in Gujarat on Navratri festival, the company said.

"The overwhelming customer response resulting in deliveries of over 200 stars in Mumbai and Gujarat and some other markets during Dussehra and Navratri signify that we have similar level of excitement and fascination from customers, which we witnessed in 2018; and that is a positive development for us," said Martin Schwenk, managing director and chief executive officer, Merceds-Benz India.

The models delivered included C and E class sedans as well as sports utility vehicles such as GLC and GLE, among others, it said adding both Mumbai and Gujarat remain one of the top focus markets for Mercedes-Benz India.

Mercedes-Benz has an exciting fourth quarter of 2019 planned with new products and brand initiatives, the release added.
IT shares gain ahead of Q1 earnings; TCS hits all-time high, Infosys up 4%
Posted on 7th July 2020
Shares of information technology (IT) companies were in focus on Tuesday with the Nifty IT index gaining more than 1 per cent ahead of the announcement of their June quarter (Q1FY20) results. Tata Consultancy Services will kickoff the earnings season by announcing its numbers on Thursday, July 9.

Shares of TCS hit an all-time high of Rs 2,303, up 1.8 per cent on the National Stock Exchange (NSE) in Tuesday's trade. The stock surpassed its previous high of Rs 2,296, touched on September 3, 2019.
---
Panel recommends shifting LG Polymers plant hit by gas leak in Tamil Nadu
Posted on 7th July 2020
An investigation into a deadly gas leak at a South Korean-owned chemical plant in Tamil Nadu that killed 12 people in May recommended the factory be moved away from inhabited areas, according to its full report released on Tuesday.

The probe at the plant run by LG Polymers, owned by South Korea's LG Chem Ltd, found the company was negligent and warning systems were not working, the state government said on Monday.
---
Apollo Tyres decides to reduce capex by Rs 400 crore over coronavirus
Posted on 7th July 2020
Apollo Tyres on Tuesday decided to cut capital expenditure by around Rs 400 crore for the year in India due to the pandemic. The company had initially planned around Rs 1,400-1,500 crore in India and about 20 million pounds for its European facility.

During an investors call, the company's CFO Gaurav Kumar said that the plan was to invest around Rs 1400-1500 crore for the current year, but it would be about somewhere between Rs 1,000-1,100 crore.
---
TikTok to exit Hong Kong market within days over new national security law
Posted on 7th July 2020
TikTok will exit the Hong Kong market within days, a spokesman told Reuters late on Monday, as other technology companies including Facebook Inc have suspended processing government requests for user data in the region.

The short form video app owned by China-based ByteDance has made the decision to exit the region following China's establishment of a sweeping new national security law for the semi-autonomous city.
---
China has caused great damage to the US, rest of the world: Trump
Posted on 7th July 2020
China has caused great damage to the US and the rest of the world, President Donald Trump said on Monday.

Over the last few months, Trump has been holding China responsible for the spread of deadly coronavirus across the world.

The coronavirus has so far claimed the lives of 533,000 people globally with the US topping the chart with 132,000 fatalities.
---
Be the first person to write a business review for Mercedes-Benz delivers over 200 cars in single day on Dussehra and Navratri