YES Bank recovers, surges 29% after 43% decline in one week
Posted on 3rd October 2019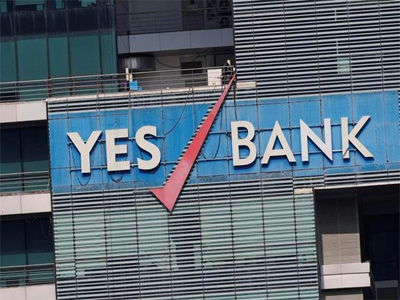 Shares of YES Bank surged 29 per cent to Rs 41.30 on the National Stock Exchange (NSE) in the early morning deals on Thursday after the bank assured investors of a stable financial position, and said that the entire pledged shares stand extinguished.

"The financial and operating metrics remain intrinsically sound and stable, with liquidity position well in excess of regulatory requirements... With the invocation of shares, the entire pledge stands extinguished and all sale under the same duly completed," the bank said in a statement.

On October 1, 2019, the bank's share price tanked 30 in the intra-day trade on the NSE triggered by forced sale of 100 million equity shares, representing 3.92 per cent of the bank's equity share capital. The sale was due to an invocation of pledge on the equity shares of a large stakeholder. Milestone Trusteeship Services sold shares of YES Bank at Rs 35.29 apiece on behalf of Reliance Nippon Life Asset Management.

Previously, Yes Capital (YCPL) — one of the promoter entities of the bank -- on September 26, sold 1.8 per cent stake in the bank to repay the entire outstanding non-convertible debentures of YCPL. The sale amounted to Rs 241 crore worth of shares, the proceeds of which were made to Franklin Templeton AMC, for NCDs maturing in October 2020.

Morevoer, Morgan Credits, on September 19, sold Rs 337 crore worth of shares to prepay a certain part of its outstanding dues to RNam. The move came after CARE Ratings downgraded Morgan Credit's NCDs from "A-" to "BBB-". The revised rating accounted for the moderation in equity cover due to the fall in the price of underlying shares of YES Bank.

In the past one week, the stock of the private lender has tanked 43 per cent from level of Rs 56 to Rs 32, as compared to a 2 per cent decline in the Nifty 50 index till Tuesday.

At 10:09 am, the stock was trading 27 per cent higher at Rs 40.70, as against a 0.49 per cent fall in the benchmark index. The counter witnessed huge trading volumes with a combined 249 million shares changing hands on the NSE and BSE.
VST Industries hits new peak after Radhakishan Damani buys shares
Posted on 14th November 2019
Shares of VST Industries jumped up to 7.5 per cent to hit a new high of Rs 4,600 apiece on the BSE on Thursday, a day after Radhakishan Damani bought 2,70,000 shares at Rs 4,259.99 apiece on the BSE, according to bulk deal data. The data also showed HDFC Mutual Fund sold 273,706 shares at Rs 4,260 apiece.

At 10:53 am, the stock was trading at Rs 4,573.70, up nearly 7 per cent. In comparison, the S&P BSE Sensex was trading flat at 40,182 levels, up just 0.16 per cent.
---
Women's entry at Sabarimala: Supreme Court refers matter to larger bench
Posted on 14th November 2019
A five-judge bench of the Supreme Court on Thursday referred to a larger bench pleas seeking a review of its 2018 ruling that allowed menstruating women from entering the Sabarimala temple in Kerala.

Chief Justice Ranjan Gogoi, Justice A M Khanwilkar and Indu Malhotra said a larger bench will hear if the court can decide matter of religious practice. Justices R F Nariman and DY Chandrachud gave dissenting opinion.
---
'No inquiry needed': SC dismisses review petitions against its previous order on Rafale deal
Posted on 14th November 2019
The Supreme Court on Thursday dismissed Rafale review petitions against its December 14, 2018 judgement, after it was found to be without any merit.

The Supreme Court was due to deliver the verdict on the review petitions against its earlier judgment dismissing any corruption in the deal to purchase 36 Rafale fighter jets from a French company.
---
President's rule in Maharashtra a 'scripted act', alleges Shiv Sena
Posted on 14th November 2019
The Shiv Sena on Thursday alleged that imposition of President's rule in Maharashtra was a "scripted act" and took a jibe at the governor, saying he has now given parties six months to form government. It also said that former state chief minister Devendra Fadnavis is shedding "crocodile tears" over the imposition of President's rule as power is still indirectly in the hands of the BJP.

Criticising the governor for giving the Shiv Sena just 24 hours to stake claim and refusing it additional time to muster numbers, an editorial in party mouthpiece 'Saamana' said, It looked like some invisible power was controlling this game and decisions were taken accordingly.
---
Aurobindo Pharma hits 5-year low on USFDA observations for Hyderabad plant
Posted on 14th November 2019
Shares of Aurobindo Pharma hit an over five-year low of Rs 393, down 9 per cent on the BSE on Thursday after the company received a Form 483 from US Food and Drug Administration (USFDA) with 14 observations for its Hyderabad facility. The stock of drug company was trading at its lowest level since September 2014.
---
Be the first person to write a business review for YES Bank recovers, surges 29% after 43% decline in one week