Paytm starts marketing campaign, aims 1.5 bn payments during festival season
Posted on 24th September 2019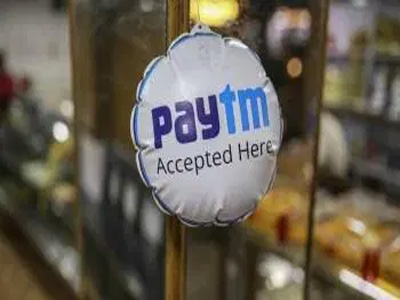 New Delhi: Paytm has started a marketing campaign to promote the interoperability feature of its quick response (QR) code scanning application, with the feature aiming 1.5 billion merchant payments on its platform during the festival season, the company said in a release.

The company plans to promote its interoperable QR code scanner for unified payments interface (UPI), and with the marketing campaign plans to increase its merchant partnerships by around 2 million across the country.

Paytm currently partners around 14 million merchants.

"With this new campaign, we aim to educate more users that now they need only the Paytm app to scan any QR code to make direct payments at the neighbourhood shops & earn Cashbacks," Paytm marketing head Jaskaran Kapany said in a statement.

The company's e-commerce arm Paytm Mall is holding its 'Maha Cashback Carnival' sale from 29 September to 4 October.

This year, Paytm Mall customers can also visit offline stores and avail the deals on its applications. The company has partnered with more than 10,000 brand stores like those of US Polo Assn, Big Bazaar, Calvin Klein, Central and Lifestyle.
'I bow to 130 crore citizens of India': Modi pens letter to countrymen on first anniversary of NDA 2.0 govt
Posted on 30th May 2020
As the Prime Minister Narendra Modi-led National Democratic Alliance (NDA) government at the Centre completes one year of its second term, the premier himself has penned a letter to the citizens of India, addressing the pulse of the country. In his letter to the people of the country, Prime Minister Modi stated that the nation has progressed rapidly in this tenure, listing several big decisions, historic achievements, and initiatives taken by his government during this time. However, the Prime Minister also acknowledged that migrants, labourers and other sections of the society have undergone tremendous suffering during the ongoing coronavirus disease (COVID-19) pandemic outbreak.
---
Half of India's population will have COVID-19 by end of year: NIMHANS
Posted on 30th May 2020
Medical practitioners at the National Institute of Mental Health & Neurosciences (NIMHANS) have now posited that the coronavirus disease (COVID-19) case count in India will keep on increasing even after the fourth phase of the nationwide lockdown ends and that about 67 crore Indians, that is, almost half of the country's population, is estimated to be infected with the virus by the end of this year.

The doctors have, however, said that it is likely that about 90% of these infected people would not even know that they are coronavirus-positive since the symptoms do not show up in all the affected patients.
---
Tremors in Delhi, Noida, Gurugram; earthquake epicentre in Haryana's Rohtak
Posted on 30th May 2020
Tremors were felt in Delhi-NCR and nearby parts of north India on Friday evening.

The earthquake was felt at 9:08 pm and netizens took to social media platforms to share their experience.

Many people confirmed having felt tremors for several seconds. However, there was no report of any damage.
---
Minneapolis cop arrested in connection with black man's custody death
Posted on 30th May 2020
After three days of protests and riots, a former Minneapolis police was arrested on Friday in connection with the death of a black man in custody.

In a video recorded on Monday that has gone viral and has triggered massive protests in Minnesota's largest city showed officer Derek Chauvin pinning his knee on George Floyd's neck for minutes and the man pleading to let him breathe. Floyd died soon after in police custody.
---
GDP growth in 2019-20 slows to 11-year low of 4.2%, Jan-Mar growth dips to 3.1%
Posted on 30th May 2020
India's economic growth slipped to 3.1% in the January-March quarter while the GDP growth for 2019-20 slowed to an 11-year low of 4.2%, government data showed on Friday.

According to data released by the National Statistical Office (NSO), the gross domestic product (GDP) had expanded by 5.7% in the corresponding quarter of 2018-19.

In 2019-20, the Indian economy grew by 4.2% against 6.1% growth rate in 2018-19.
---
Be the first person to write a business review for Paytm starts marketing campaign, aims 1.5 bn payments during festival season