LIC beats private insurance firms; grows new premium at double the pace of competition
Posted on 14th August 2019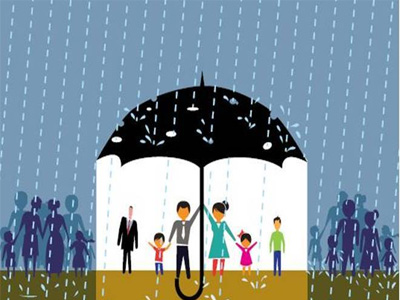 Life Insurance Corp of India has beaten all private-sector competitors by a wide margin, growing its first-year premium collections at double the pace of private life insurers so far this financial year, the data showed. State-run LIC's new premium growth at 52%, on top of an already very high base, was almost double of all the private players' growth of 27% during April-July 2019. Further, at Rs 60,106 crore in first-year premium collections, LIC captured almost three-quarters of the new market share, vis-a-vis all private companies, which together collected Rs 22,039 crore. The blended average new premium growth for all the 24 life insurance firms, including LIC, was 44% for the period.

In the same period last year, the total premium underwritten by LIC was at Rs 39,579 crore. Other private life insurers also saw an upsurge in their underwritten premiums at Rs 22,039 crore, compared to Rs 17,369 crore in the corresponding quarter last year. Rs 82,146 crore worth of premiums were written combined by all the life insurers, which is a 44% growth on-year.

Further, all of the listed life insurance companies recorded double-digit growth in new premiums. HDFC Life Insurance's first-year premium collection stood at Rs 5,384.79 crore in the quarter, a 41.98 per cent jump on-year. On the other hand, ICICI Prudential Life Insurance collected Rs 3,170 crore in new premiums, posting over 25 per cent on-year growth in April to July period. SBI Life Insurance's new collection was recorded at Rs 4,496.36 crore, with 35.45 per cent on year growth. The trend is a positive deviation as the first half of a financial year is usually a slow period of premium growth for the life insurance companies.

However, the growth in the new premium collection does not translate into similar growth in the number of new policies. During April-July 2019, all life insurers together issued 70 lakh new policies, which is a miniscule growth of less than 1 per cent over the number of new policies issued in the same period the previous year.
There will be Shiv Sena CM in Maharashtra, no matter what: Sanjay Raut
Posted on 15th November 2019
In the ongoing political slugfest over government formation in Maharashtra, Shiv Sena leader Sanjay Raut said that no one can stop the party from acquiring the Chief Minister post.

In a press conference, Sanjay Raut said that there will be a Shiv Sena CM for next 25 years, emphasizing strongly on the fact that Shiv Sena will be leading Maharashtra no matter what.He also said that Shiv Sena is the biggest party in Maharashtra and will stay here forever.
---
---
Essar Steel case: SC clears way for ArcelorMittal to complete $1.8 bn deal
Posted on 15th November 2019
ArcelorMittal won approval from India's top court to complete its $5.8 billion purchase of a bankrupt steel mill, clearing the way for tycoon Lakshmi Mittal to enter the world's second-biggest market.

The Supreme Court allowed Arcelor to make the payment for Essar Steel India Ltd. and set aside a bankruptcy appellate tribunal's order that had given secured and unsecured creditors equal right over the sale proceeds.
---
Supreme Court: CJI Ranjan Gogoi's last working day today, Bar Association to organise farewell ceremony
Posted on 15th November 2019
Chief Justice of India (CJI) Ranjan Gogoi is set to formally retire from his post on November 17, but today, i.e. November 15 is his last working day at the Supreme Court, marking which the Supreme Court Bar Association will organise a farewell ceremony this evening.

CJI Gogoi sat with Chief Justice designate Sharad Arvind Bobde in Court 1, according to tradition, and issued notices in all the 10 cases listed in the Court today for today. He also thanked all the lawyers who addressed him in his honour.
---
No alternative, land or money, acceptable for mosque in Ayodhya: Jamiat Ulama-e-Hind
Posted on 15th November 2019
A key litigant from the Muslim side in the highly-sensitive Ayodhya Ram Janmabhoomi-Babri Masjid title dispute case — the Jamiat Ulama-e-Hind (JuH) — has decided to not accept the alternate five-acre-land mandated by the Supreme Court to build a mosque, adding that no 'alternative' to a mosque in Ayodhya, be it money or land, is acceptable. They also added that a five-member fact-finding committee, representing the JuH, will seek legal opinion on the matter, and will even consider going for a review of the SC verdict.
---
Be the first person to write a business review for LIC beats private insurance firms; grows new premium at double the pace of competition