LIC beats private insurance firms; grows new premium at double the pace of competition
Posted on 14th August 2019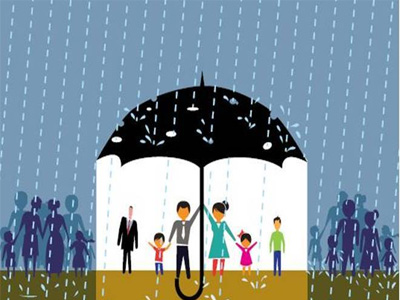 Life Insurance Corp of India has beaten all private-sector competitors by a wide margin, growing its first-year premium collections at double the pace of private life insurers so far this financial year, the data showed. State-run LIC's new premium growth at 52%, on top of an already very high base, was almost double of all the private players' growth of 27% during April-July 2019. Further, at Rs 60,106 crore in first-year premium collections, LIC captured almost three-quarters of the new market share, vis-a-vis all private companies, which together collected Rs 22,039 crore. The blended average new premium growth for all the 24 life insurance firms, including LIC, was 44% for the period.

In the same period last year, the total premium underwritten by LIC was at Rs 39,579 crore. Other private life insurers also saw an upsurge in their underwritten premiums at Rs 22,039 crore, compared to Rs 17,369 crore in the corresponding quarter last year. Rs 82,146 crore worth of premiums were written combined by all the life insurers, which is a 44% growth on-year.

Further, all of the listed life insurance companies recorded double-digit growth in new premiums. HDFC Life Insurance's first-year premium collection stood at Rs 5,384.79 crore in the quarter, a 41.98 per cent jump on-year. On the other hand, ICICI Prudential Life Insurance collected Rs 3,170 crore in new premiums, posting over 25 per cent on-year growth in April to July period. SBI Life Insurance's new collection was recorded at Rs 4,496.36 crore, with 35.45 per cent on year growth. The trend is a positive deviation as the first half of a financial year is usually a slow period of premium growth for the life insurance companies.

However, the growth in the new premium collection does not translate into similar growth in the number of new policies. During April-July 2019, all life insurers together issued 70 lakh new policies, which is a miniscule growth of less than 1 per cent over the number of new policies issued in the same period the previous year.
Bharat Gas gets five-year loan from Bank of Baroda for ₹3,100 crore
Posted on 23rd September 2019
Mumbai: Bharat Gas Resources Ltd (BGR) a wholly-owned subsidiary of Bharat Petroleum Corporation Ltd (BPCL), has signed a five-year loan agreement with Bank of Baroda for ₹3100 crore, according to two officials aware of the deal.

The company will use the loan to fund expansion of its city gas distribution business. BGRL has a board approved borrowing limit of ₹4000 crore.
---
ITC shares up 9% as no cess on cigarettes was increased
Posted on 23rd September 2019
Mumbai: Shares of ITC Ltd on Monday surged over 9%, its biggest jump since March 2016, after the GST Council meeting did not announce any increase in cess on cigarettes.

The stock touched a high of ₹260.30 on the BSE and gained as much as 9.3%, its maximum gain since March 2016. At 9.40 am, the scrip was trading at ₹256.30, up 7.6% from its previous close. The stock's market cap increased by nearly $3.66 billion.
---
SBI to adopt repo rate as external benchmark for all floating rate loans from October 1
Posted on 23rd September 2019
State Bank of India on Monday said it will adopt repo rate as the external benchmark for all floating rate loans for MSME, home and retail loans, from October 1, 2019.

On September 4, the Reserve Bank of India (RBI) had mandated all banks to link all new floating rate personal or retail loans and floating rate loans to micro, small and medium enterprises (MSMEs) to an external benchmark from October 1 onwards.
---
Rupee slips 9 paise to 71.03 against U.S. Dollar in early trade
Posted on 23rd September 2019
The Rupee opened marginally lower by 9 paise to 71.03 against the U.S. Dollar in opening trade on September 23, as rising crude oil prices and concerns regarding U.S.-China trade war kept investors edgy.

Forex traders said reports that the U.S. is likely to ramp up pressure on China by raising existing tariffs if a trade deal is not reached soon between the two countries, weighed on the domestic currency.
---
Power struggle: RK Singh asks NTPC to buy stressed units
Posted on 23rd September 2019
The power ministry has asked state-run NTPC to bid for potentially viable projects in the National Company Law Tribunal (NCLT) and acquire them if the prices are attractive.

Power minister RK Singh told FE that he had asked NTPC to take a look at all the plants undergoing the CIRP process. "I have asked them to identify the ones with good machinery," Singh said.
---
Be the first person to write a business review for LIC beats private insurance firms; grows new premium at double the pace of competition