LIC beats private insurance firms; grows new premium at double the pace of competition
Posted on 14th August 2019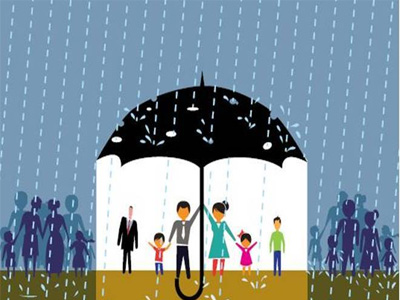 Life Insurance Corp of India has beaten all private-sector competitors by a wide margin, growing its first-year premium collections at double the pace of private life insurers so far this financial year, the data showed. State-run LIC's new premium growth at 52%, on top of an already very high base, was almost double of all the private players' growth of 27% during April-July 2019. Further, at Rs 60,106 crore in first-year premium collections, LIC captured almost three-quarters of the new market share, vis-a-vis all private companies, which together collected Rs 22,039 crore. The blended average new premium growth for all the 24 life insurance firms, including LIC, was 44% for the period.

In the same period last year, the total premium underwritten by LIC was at Rs 39,579 crore. Other private life insurers also saw an upsurge in their underwritten premiums at Rs 22,039 crore, compared to Rs 17,369 crore in the corresponding quarter last year. Rs 82,146 crore worth of premiums were written combined by all the life insurers, which is a 44% growth on-year.

Further, all of the listed life insurance companies recorded double-digit growth in new premiums. HDFC Life Insurance's first-year premium collection stood at Rs 5,384.79 crore in the quarter, a 41.98 per cent jump on-year. On the other hand, ICICI Prudential Life Insurance collected Rs 3,170 crore in new premiums, posting over 25 per cent on-year growth in April to July period. SBI Life Insurance's new collection was recorded at Rs 4,496.36 crore, with 35.45 per cent on year growth. The trend is a positive deviation as the first half of a financial year is usually a slow period of premium growth for the life insurance companies.

However, the growth in the new premium collection does not translate into similar growth in the number of new policies. During April-July 2019, all life insurers together issued 70 lakh new policies, which is a miniscule growth of less than 1 per cent over the number of new policies issued in the same period the previous year.
Odisha ups overtime limit for factory workers to 115 hrs a quarter from 75
Posted on 30th May 2020
The Odisha Cabinet on Friday approved as many as 22 proposals including amending the Factories Act, 1948, and allowing the workers to work 115 hours overtime in three months by enhancing the time limit.

The overtime limit is increased from 75 hours to 115 hours per quarter, and now the engagement of women workers will be allowed, with consent, between 7 pm to 6 am in factories with the condition that adequate safety, welfare and security measures and safeguards are taken by the concerned factories as prescribed, read an official statement issued by the Odisha government.
---
Govt is looking at starting home delivery of petrol, CNG: Pradhan
Posted on 30th May 2020
After doorstep delivery of diesel, the government is looking at starting home delivery of petrol and CNG for the greater convenience of customers, Oil Minister Dharmendra Pradhan said on Friday.

Also, the government is looking at unveiling a new fuel retailing model where all types of fuels — petrol, diesel, CNG, LNG and LPG — would be available at one place, he said.
---
Railways running 'Corona Express' in name of Shramik trains, says Mamata
Posted on 30th May 2020
Indian Railways is running Corona Express in the name of Shramik trains, West Bengal Chief Minister Mamata Banerjee said on Friday, alleging that social distancing is not being maintained in the special trains transporting migrant workers and others to their homes.

The law is equal for all but why are all trains running at full capacity? Why is the Railways not maintaining social distancing? Passengers are not being served water and food in the trains, Banerjee said.
---
Maharashtra to announce Covid-19 relief package soon: Deputy CM Ajit Pawar
Posted on 30th May 2020
Deputy Chief Minister Ajit Pawar on Friday said that the Maharashtra government will announce a package soon to deal with the situation arising out due to coronavirus (Covid-19) outbreak.

We will get to know about further plans for a lockdown of the Centre through the Prime Minister. I feel that the Prime Minister now will leave it on states because everything is shut for the last two-and-a-half-months. Schools, colleges, business and jobs are shut and hence, there is an economic crisis today, Pawar said.
---
COVID-19 tally in India crosses 1.73 lakh-mark, nearly 5,000 deaths; highest spike of 7,964 cases in 24 hours
Posted on 30th May 2020
The total number of confirmed cases of COVID-19 infection in India crossed the 1.73 lakh-mark on Monday, while the death toll neared the 5,000-mark as well. At 9:30 AM on this day, the COVID-19 tally in the country has reached 1,73,763 cases, which includes 86,422 active cases; 82,370 cured, discharged, or migrated patients, and 4,971 deaths.

According to the Union Ministry of Health and Family Welfare, as many as 7,964 new COVID-19 cases and 265 deaths were reported in the country in the last 24 hours, marking a significant spike. In fact, this is the highest spike in India's COVID-19 tally so far.
---
Be the first person to write a business review for LIC beats private insurance firms; grows new premium at double the pace of competition