RIL Q1 net up 7% at Rs 10,104 crore; Jio, retail boost revenues by 22%
Posted on 20th July 2019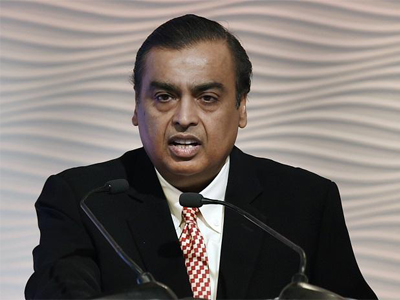 Reliance Industries Ltd (RIL) on Friday reported a 6.8 per cent increase in its net profit at Rs 10,104 crore for the quarter ended June this year on the back of a record 22 per cent jump in revenue at Rs 1.72 trillion.

Consumer businesses contribute 32 per cent of the consolidated segment gross earnings (or earnings before interest, taxation, depreciation, and amortisation, or Ebitda) for the quarter.

For the same quarter last quarter, the company reported a net profit of Rs 9,459 crore.

Revenue was 22.1 per cent higher than the Rs 1.41 trillion in the corresponding period a year ago.

Consolidated debt as of June 2019 was at Rs 2.88 trillion compared to Rs 2.87 trillion as of March 2019.

Debt reduction on account of moving tower assets to the infrastructure investment trust was accounted for the March quarter. The company beat street expectations, which estimated net profit to be lower.

In a Bloomberg poll, 10 analysts estimated consolidated net profit at Rs 9,697 crore and a revenue of Rs 1.46 trillion.

The Mukesh Ambani-controlled company's retail quarterly earnings reached Rs 2,049 crore, with a revenue growth rate of 48 per cent over the April-June quarter last year and Ebitda growth of 70 per cent.

"This was a resilient quarter. There were fluctuations on crude oil prices, macro headwinds, and US-China trade tensions. Integration between refining and petchem has helped absorb the volatility," said V Srikanth, joint chief financial officer, RIL.

Capital expenditure in the June quarter was Rs 22,627 crore. Ebitda in petrochemicals, at Rs 8,810 crore, was marginally reduced, with 5.4 per cent lower volumes on planned turnarounds.

Reliance Jio made a gross addition of 33.8 million subscribers during the quarter. This translated into revenue and Ebitda growth of 44 per cent and 49 per cent, respectively. Its net profit rose by 45.6 per cent at Rs 891 crore.

RIL's standalone net profit increased 2.4 per cent to Rs 9,036 crore. The gross refining margin (GRM) for the quarter was at $8.1 a barrel, a $4.6 increase over the Singapore complex margins.

The GRM is the lowest since October-December 2014, when it was at $7.3 per barrel. The company in its statement said commissioning its petcoke gasifiers had been completed, and this is expected to add $2-3 to its GRM. Srikanth said: "We are expecting the GRM to be stable, with the International Maritime Organization (IMO) regulations being a positive."

The new IMO regulations, starting January next year, will require ships to use cleaner bunker fuel. Exports (including deemed exports) were lower by 4.5 per cent at Rs 50,158 crore as against the Rs 52,501 crore in the corresponding period of the previous year.

Lower price realisation across petrochemicals and refining products, led by a 7.4 per cent fall in the Brent oil price over the same quarter last year, and lower volumes of fibre intermediates contributed to the decline in exports, said the company.
Wipro inks pact with Indian Institute of Science for research in robotics, 5G
Posted on 20th August 2019
Wipro Limited on Tuesday announced a strategic partnership with the Indian Institute of Science (IISc) to conduct advanced applied research in autonomous systems, robotics and 5G space. The two organisations have jointly set up the Wipro IISc Research and Innovation Network (WIRIN), an industry academia collaboration unit.
---
Yes Bank shares tumble 7% on fraudulent transactions at CG Power and Industrial Solutions
Posted on 20th August 2019
Shares of Yes Bank plunged more than 7 per cent after the risk and audit committee of CG Power and Industrial Solutions in which the private lender owns more than 12.79 per cent stake said there were some unauthorized transactions by certain employees of the company. CG Power also received a letter from a particular financing company regarding a certain interest payment failure which the Operations Committee of the company was unable to trace or ascertain from the financials of the company, according to the exchange filing.
---
SBI announces special car, personal, education loan benefits ahead of festive season
Posted on 20th August 2019
India's biggest bank State Bank of India (SBI) has announced special offerings ahead of this festive season for retail customers across different product categories: auto/car loan, personal loan, education loan and home loan. SBI has waived processing fees on car loans during this festival season. In addition, SBI is offering "lowest" interest rate starting from 8.70% to customers opting for car loan, with no escalation in interest, the bank said.
---
Sebi likely to ease share buyback norms for NBFC
Posted on 20th August 2019
Mumbai: In the wake of the liquidity crisis hitting the NBFCs and housing finance companies (HFCs), securities market regulator Sebi might ease share buy-back norms for these firms.

The proposal is expected to be presented at the regulator's board meet on Wednesday.
---
NTPC to set up 5,000-MW ultra mega solar park in Gujarat, Rajasthan
Posted on 20th August 2019
NTPC, India's largest power producer, is planning to set up ultra mega solar parks (UMSPs) of 5,000 MW capacity across solar radiation-rich states of Gujarat and Rajasthan to help India meet its 2022 renewable energy target, and to reduce its overall dependence on fossil fuel. NTPC chairman and MD Gurdeep Singh said the first ultra mega solar park will come up in Kutch district of Gujarat, while the next is planned in Rajasthan. "We have identified the location, and the process for acquisition of land will start soon in Kutch. We plan to invite the bids for the first phase of the park by March 2020," Singh said.
---
Be the first person to write a business review for RIL Q1 net up 7% at Rs 10,104 crore; Jio, retail boost revenues by 22%