Microsoft co-founder Bill Gates reveals his life's 'greatest mistake' in latest interview
Posted on 25th June 2019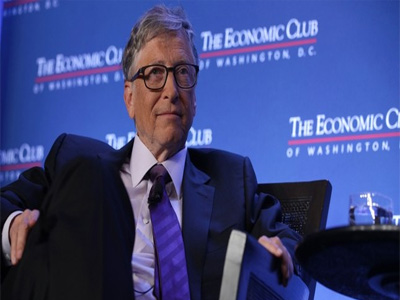 Microsoft and Apple have been arch rivals since their inception. Both the companies have tried to undercut each other but when Google chipped in the dynamics changed for good and for bad. It was good for the consumers who were introduced to Android as a far easier alternative for mobile phones but it was bad for Apple and Microsoft. The sentiment has now been shared by Microsoft co-founder Bill Gates, according to who, mismanaging his company was the "greatest mistake".

Gates spoke to Eventbrite CEO and Julia Hartz at an event hosted by venture company Village Global, where he discussed growing Microsoft into a company it is today, including closing in on tough decisions he had to make then to turn around the business. One of the discussions he had with Hartz found its way to how Microsoft failed to reach the popularity that Android enjoys today as a "non-Apple phone form platform". He regrets not doing enough as an existing Microsoft entity, which led to Google working on Android to counter iOS and surpass it globally in terms of adoption.

"You know, in the software world, in particular for platforms, these are winner-take-all markets," Gates acknowledged in his talk while confessing he engaged in some sort of "mismanagement" at Microsoft that caused it not to be what Android is today. He terms it his "greatest mistake" and goes on to say that it "was a natural thing for Microsoft to win" against Apple in the phone market. Microsoft was the top rival to Apple working relentlessly to proliferate into new areas, phone business being one of them.

Even though Microsoft tried its hands with its mobile platform (Windows Phone and Windows 10 Mobile), it failed miserably. "If you're there with half as many apps or 90 per cent as many apps, you're on your way to complete doom," Gates said. Today, the company has nearly abandoned all of its plans for the mobile phone ecosystem. Meanwhile, Apple's iOS and Google's Android platforms have thrived exponentially, so much so that over 75 per cent of mobile platform market is captured by Android while iOS sweeps in a good 22.74 per cent globally, as per StatCounter's report released in May.

Bill Gates divulged a few anecdotes from his days at Microsoft in his conversation with Hartz. He said that leaders should make "a very large sacrifice" in their early days while responding to a question particularly targeting the work-life balance. His opinion was, at large, addressed to the people engaged in "engineering things". Gates co-founded Microsoft at the age of 32, which sounds practically late when taken into consideration from today's perspective. That said, Gates nurtured Microsoft to become a worldwide PC software shipper that outshone Apple, thanks to the feasibility and affordability Windows as a platform offers.
UP cops arrest owners of bogus brokerage involved in Rs 4,122 cr DHFL scam
Posted on 7th December 2019

The economic offences wing (EOW) of Uttar Pradesh Police has arrested seven accused in the UP Power Corporation Limited (UPPCL) employees' provident fund (PF) scam, in which Rs 4,122 crore was illegally parked with private lender Dewan Housing Finance Corporation Limited (DHFL).

Those arrested included a senior DHFL official, a chartered accountant and the owners of bogus brokerage firms. With the new arrests yesterday, the number of those rounded up in the case has risen to 12.
---
NTPC inks Rs 5,000 crore term-loan pact with SBI for capex spending
Posted on 7th December 2019
Power generation company NTPC on Saturday said it has signed a term loan agreement for Rs 5,000 crore was signed with State Bank of India (SBI).

The loan facility has been extended at an interest rate linked to 3-month MCLR (marginal cost of funds-based lending rate) of the bank and has a door-to-door tenure of 15 years, NTPC said in a statement.
---
Priyanka Gandhi meets Unnao rape victim's family, attacks UP govt
Posted on 7th December 2019

Congress general secretary Priyanka Gandhi Vadra on Saturday blamed the BJP government in Uttar Pradesh for the death of the Unnao rape victim, following which she met the deceased's family members at their house and offered her condolences.

Hours after the death of the 23-year-old gang rape victim at a Delhi hospital, the Congress leader alleged that the "hollow law and order mechanism in UP" denied justice to survivors of sexual violations.
---
Goa minister urges Modi to mandate public hanging of rape-murder convicts
Posted on 7th December 2019

Goa minister Michael Lobo on Saturday demanded that public hanging of convicts in the rape-murder cases be made compulsory in the country for sending out a strong message in the society in order to curb crime against women.

He also urged Prime Minister Narendra Modi and Union Home Minister Amit Shah to bring amendments to the law to facilitate public hanging of such criminals.
---
Hyderabad cops file case against 4 rape accused after shooting them dead
Posted on 7th December 2019

A case was registered against four accused, arrested for the alleged rape and murder of a woman veterinarian near here last month and killed in an encounter, for 'attacking' the police personnel.

Case under IPC sections 307 (attempt to murder), 176 (omission to give notice or information to public servant by person legally bound to give it) and relevant sections of the Indian Arms Act were registered against the accused.
---
Be the first person to write a business review for Microsoft co-founder Bill Gates reveals his life's 'greatest mistake' in latest interview