Microsoft co-founder Bill Gates reveals his life's 'greatest mistake' in latest interview
Posted on 25th June 2019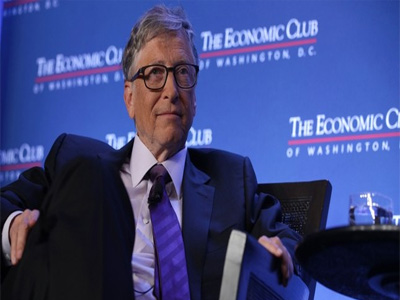 Microsoft and Apple have been arch rivals since their inception. Both the companies have tried to undercut each other but when Google chipped in the dynamics changed for good and for bad. It was good for the consumers who were introduced to Android as a far easier alternative for mobile phones but it was bad for Apple and Microsoft. The sentiment has now been shared by Microsoft co-founder Bill Gates, according to who, mismanaging his company was the "greatest mistake".

Gates spoke to Eventbrite CEO and Julia Hartz at an event hosted by venture company Village Global, where he discussed growing Microsoft into a company it is today, including closing in on tough decisions he had to make then to turn around the business. One of the discussions he had with Hartz found its way to how Microsoft failed to reach the popularity that Android enjoys today as a "non-Apple phone form platform". He regrets not doing enough as an existing Microsoft entity, which led to Google working on Android to counter iOS and surpass it globally in terms of adoption.

"You know, in the software world, in particular for platforms, these are winner-take-all markets," Gates acknowledged in his talk while confessing he engaged in some sort of "mismanagement" at Microsoft that caused it not to be what Android is today. He terms it his "greatest mistake" and goes on to say that it "was a natural thing for Microsoft to win" against Apple in the phone market. Microsoft was the top rival to Apple working relentlessly to proliferate into new areas, phone business being one of them.

Even though Microsoft tried its hands with its mobile platform (Windows Phone and Windows 10 Mobile), it failed miserably. "If you're there with half as many apps or 90 per cent as many apps, you're on your way to complete doom," Gates said. Today, the company has nearly abandoned all of its plans for the mobile phone ecosystem. Meanwhile, Apple's iOS and Google's Android platforms have thrived exponentially, so much so that over 75 per cent of mobile platform market is captured by Android while iOS sweeps in a good 22.74 per cent globally, as per StatCounter's report released in May.

Bill Gates divulged a few anecdotes from his days at Microsoft in his conversation with Hartz. He said that leaders should make "a very large sacrifice" in their early days while responding to a question particularly targeting the work-life balance. His opinion was, at large, addressed to the people engaged in "engineering things". Gates co-founded Microsoft at the age of 32, which sounds practically late when taken into consideration from today's perspective. That said, Gates nurtured Microsoft to become a worldwide PC software shipper that outshone Apple, thanks to the feasibility and affordability Windows as a platform offers.
17 US states, DC file lawsuit against Trump's new visa policy for students
Posted on 14th July 2020
As many as 17 US states and the District of Columbia have filed a lawsuit against the Trump administration's new visa policy for international students, calling it a "cruel, abrupt, and unlawful action to expel them amidst the COVID-19 pandemic.

In its July 6 order, the US Immigration and Customs Enforcement (ICE) declared that the nonimmigrant students with F-1 and M-1 visas attending schools operating entirely online or taking only online courses will not be permitted to remain in the United States.
---
Telangana coronavirus update: State reports 1,550 new cases, 9 deaths
Posted on 14th July 2020
A total of 1,550 COVID-19 cases and nine deaths were reported in Telangana on Monday, said the state's health department.

The state's total COVID-19 cases now stand at 36,221, including 12,178 active cases and 23,679 recoveries.

The deadly virus has so far claimed 365 lives in the State.
---
Gold prices today at Rs 49,050 per 10 gm, silver jumps to Rs 52,210 a kg
Posted on 14th July 2020
Gold prices on Tuesday jumped to Rs 49,050 from Rs 49,010 per 10 gram, while silver climbed to Rs 52,210 from Rs 52,000 per kilogram, according to Good Returns website.

Gold jewellery prices vary across India, the second-largest consumer of the metal, due to excise duty, state taxes, and making charges.
---
5Paisa Capital hits 52-wk high after posting first-ever quarterly profit
Posted on 14th July 2020
Shares of 5Paisa Capital were locked in 5 per cent upper circuit at Rs 324.60 on the BSE on Tuesday after the company posted net profit of Rs 3.74 crore in June quarter (Q1FY20), against net loss of Rs 55 lakh in the year-ago quarter.

The company has reported quarterly profits for the first time since the launch of 5Paisa in March 2016. The stock was trading at its 52-week high level.
---
Tata Communications hits over 2-year high; stock zooms 112% in 3 months
Posted on 14th July 2020
Shares of Tata Communications were locked in the 5 per cent upper circuit for the second straight day on the BSE at Rs 700.55 on Tuesday, hitting an over two-year high in an otherwise weak market.

The stock of the Tata group company was trading at its highest level since December 15, 2017. In the past three months, it had rallied 112 per cent after the company delivered strong operating performance during the January-March quarter (Q4FY20). In comparison, the S&P BSE Sensex was up 18 per cent during the period.
---
Be the first person to write a business review for Microsoft co-founder Bill Gates reveals his life's 'greatest mistake' in latest interview