Volvo Cars invests in VR startup Varjo Tech
Posted on 30th May 2019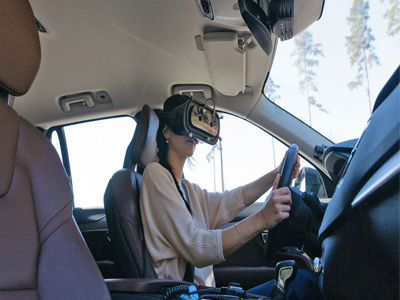 Volvo Cars has made a multi-million euro investment in Varjo Technologies Oy, whose headset with screens and cameras can be used to allow engineers to test-drive cars to dodge hazards such as virtual moose.

Varjo—founded by Nokia Oyj and Microsoft Corp. alumni—has been developing an augmented-reality headset with a significantly higher image resolution than those produced by its rivals, costing $5,995 plus camera add-ons.

Backed by Skype founder Niklas Zennstrom's Atomico and EQT Ventures, the company developed the capability to merge high-resolution video of the real world with digitally rendered objects.

"We can simulate a pedestrian or an animal walking out in front of the car, and you can use the sensors in the headset to track the eye movements of the person wearing the device," Zaki Fasihuddin, head of Volvo Cars Tech Fund said in a phone interview. "This type of technology can help us learn a lot more about how to make our products safer and more user-friendly."

Volvo has built a reputation for safety over decades, being among the first carmakers to introduce features such as three-point seat belts and side-impact protection. Its has been using the headsets to test-drive cars, adding elements such as road hazards and trialing interior design aspects.

While many of the initial promises of VR headsets for consumers have been slow to materialize, Varjo is instead targeting the professional market, with companies like Siemens AG and the US Air Force trialing the gear to develop use cases.

Volvo declined to comment on the investment size. Varjo has raised just under $50 million so far to develop the headsets, and has also worked with car companies including Audi and BMW.
Air India Assets Holding raises another Rs 7,985 cr
Posted on 17th October 2019
Raising funds for the third time in little over a month, Air India Assets Holding Ltd (AIAHL) on Thursday raised Rs 7,985 crore through bond sale, which was oversubscribed. A special purpose vehicle of Air India, AIAHL has mopped up a total of Rs 21,985 crore by way of bond issues since September 16 and the proceeds would be utilised to repay debt of the national carrier.
---
Microsoft CEO Satya Nadella earns nearly $43 million in 2018-19 fiscal; check details
Posted on 17th October 2019
With Microsoft posting strong results, the company's CEO Satya Nadella has got a 66 per cent raise in the 2018-19 fiscal, taking his total yearly earnings to a whopping USD 42.9 million, according to media reports on Thursday. While Nadella, 52, has a base salary of a little over USD 2.3 million, most of his pay came from stock awards, reported CNN Business. He received USD 29.6 million in stock award, USD 10,7 million in non-equity incentive plan compensation and around USD 111,000 in other compensation.
---
BSNL is in strategic interest of nation, we are looking into issues, says Ravi Shankar Prasad
Posted on 17th October 2019
Existence of BSNL is in strategic interest of the nation and the government is looking to resolve issues plaguing it, Union Minister Ravi Shankar Prasad said on Thursday. The law and telecom minister acknowledged that there are problems in the telecom sector, which are being looked upon by the government.

"BSNL is in strategic interest of the nation. Whenever there is flood, cyclones, BSNL is the first one to offer services for free. 75 per cent of their revenues goes into salary of employees while others manage it in 5-10 per cent.
---
Twin ONGC strikes in Colombia and Brazil
Posted on 17th October 2019
ONGC Videsh (OVL) on Wednesday said it has struck oil in Colombia and gas in Brazil, which will boost its energy reserves in the Latin American countries.

OVL found oil in Colombia's onshore exploration block CPO-5 in the Llanos basin and natural gas in a deep offshore exploration block — BM-SEAL-4 — in Brazil's Sergipe Alagoas Basin, the company said in a statement.
---
Warburg Pincus, Premji Invest to buy IAG's stake in SBI General for $432 million
Posted on 17th October 2019
Mumbai: Insurance Australia Group (IAG), which holds 26% stake in SBI General Insurance, on Thursday, said it has signed a definitive agreement to sell its entire stake to private equity firms Warburg Pincus and Premji Invest.

While Premji Invest will acquire 16% stake in the general insurer, Warburg Pincus plans to buy the remaining 10%, giving an exit to IAG.
---
Be the first person to write a business review for Volvo Cars invests in VR startup Varjo Tech