Anil Ambani firm got €143.7 mn tax relief from France after Rafale announcement: Le Monde report
Posted on 13th April 2019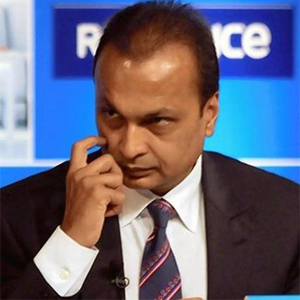 In fresh revelations in the Rafale deal, French newspaper Le Monde reported that Anil Ambani's French-registered telecom company was given tax waivers worth €143.7 million by local authorities, shortly after the announcement by Prime Minister Narendra Modi to buy 36 Rafale jets in fly away condition.

According to the newspaper, Mr. Ambani's telecom company "Reliance Atlantic Flag France" was investigated by French tax authorities and found liable to pay €60 million between 2007 and 2010.

In an attempt to reach a settlement, Reliance had offered to pay €7.6 million, which was rejected by the authorities and upon further investigation for the period 2010 to 2012 an additional tax of €91 million was levied.

During a visit to Paris in April 2015, Prime Minister Narendra Modi made a surprise announcement for direct purchase of 36 Rafale jets in fly away condition in April 2014 citing "critical operational necessity" of IAF.

By this time the tax liability on Reliance was at least €151 million according to the newspaper. However, six months after the announcement, French tax authorities made a settlement for €7.3 million instead of €151 million.

According to this, between February and October 2015 as India and France began negotiations on the deal for the 36 jets, Mr. Ambani got a tax waiver of €143.7 million from the French.

In September 2016, India and France signed a €7.87 billion Inter-Governmental Agreement (IGA) in September 2016 which has a 50% offset clause to be executed by the French partners.

Dassault Aviation, the manufacturer of Rafale jets, chose Mr. Ambani's Reliance as an offset partner to execute its share of offset obligations. There have been questions on this selection as Reliance has no experience in the defence sector.

In a series of revelations, The Hindu detailed how the Prime Minister's Office (PMO) ran parallel negotiations in the deal giving French companies a range of concessions from the defence procurement procedure in the Rafale deal.

Last year, Francois Hollande who was the French President when the announcement on Rafale was made in 2015, told a French news outlet, Mediapart.fr that his government didn't have "a choice" in the selection of Reliance Defence as the offset partner in the Rafale deal.

No favouritism, says Reliance communications

Responding to the Le Monde story, Reliance Communications in a statement said the case pertains to 2008 and denied any "favouritism or gain" from settlement.

According to the statement, Reliance FLAG Atlantic France SAS is a subsidiary of Reliance Communications, India and owns a terrestrial cable network and other telecom infrastructure in France. The tax demands were completely "unsustainable and illegal" the statement said, and claimed that tax disputes were settled "as per legal framework in France available to all companies operating in France."

Reliance Communications said that between 2008-12, Flag France had an operating loss of ₹20 crore (€2.7 million) and French tax authorities had raised a tax demand of over ₹1,100 crore for the same period. "As per the French tax settlement process as per law, a mutual settlement agreement was signed to pay ₹56 crore as a final settlement," it said.
Cipla shareholders approve proposal to raise up to Rs 3,000 crore
Posted on 17th August 2019
Drug major Cipla on Saturday said its shareholders have approved a proposal to raise up to Rs 3,000 crore through issuance of equity shares or other securities convertible into equity shares.

Drug major Cipla on Saturday said its shareholders have approved a proposal to raise up to Rs 3,000 crore through issuance of equity shares or other securities convertible into equity shares.
---
Two RCom promoters pledge 11.5% more stake in Axis Trustee services
Posted on 17th August 2019
Two promoter entities of Reliance Communications (RCom) have pledged 11.5 per cent more stake in favour of Axis Trustee Services, according to regulatory filings.

Reliance Communications Enterprises and Reliance Telecom Infrainvest on August 16 pledged about 11.51 per cent of their holding in Reliance Communications amounting to 31.82 crore shares in favour of Axis Trustee Services acting as security/debenture trustee.
---
M&M sets up first car assembly plant in Sri Lanka with Ideal Motors
Posted on 17th August 2019
Mahindra & Mahindra (M&M), along with its local partner in Sri Lanka Ideal Motors, has set up the island nation's first passenger car assembly plant.

The Indian carmaker has set up a joint venture with Ideal Motors, its dealer partner in Sri Lanka for 10 years. The 65:35 JV between Ideal Motors and M&M is christened Mahindra Ideal Lanka Private Limited, which will operate the assembly plant at Welipenna, about 60 km from Colombo.
---
Sebi imposes restrictions on mutual fund investments in short-term bank deposits
Posted on 17th August 2019
NEW DELHI: Mutual fund houses should ensure that banks -- where a scheme has parked funds in the lender's short-term deposits -- do not invest in that particular scheme, according to Sebi.

The markets watchdog has issued a clarification regarding 'parking of funds in short-term deposits of scheduled commercial banks by mutual funds -- pending deployment'.
---
Restrictions lifted, landline services partially back in Valley
Posted on 17th August 2019
Srinagar: Restrictions on the movement of people in the Kashmir Valley were eased on Saturday, with landline services restored in some areas of the city, even as stringent security arrangements continued to be in place, officials said.

Seventeen out of a little over 100 telephone exchanges were made operational. These exchanges are mainly in Civil Lines, Cantonment and the airport area of Srinagar district.
---
Be the first person to write a business review for Anil Ambani firm got €143.7 mn tax relief from France after Rafale announcement: Le Monde report