Anil Ambani firm got €143.7 mn tax relief from France after Rafale announcement: Le Monde report
Posted on 13th April 2019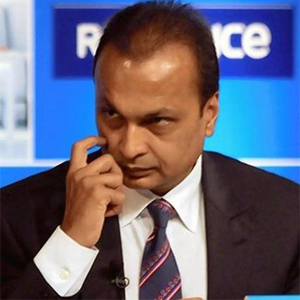 In fresh revelations in the Rafale deal, French newspaper Le Monde reported that Anil Ambani's French-registered telecom company was given tax waivers worth €143.7 million by local authorities, shortly after the announcement by Prime Minister Narendra Modi to buy 36 Rafale jets in fly away condition.

According to the newspaper, Mr. Ambani's telecom company "Reliance Atlantic Flag France" was investigated by French tax authorities and found liable to pay €60 million between 2007 and 2010.

In an attempt to reach a settlement, Reliance had offered to pay €7.6 million, which was rejected by the authorities and upon further investigation for the period 2010 to 2012 an additional tax of €91 million was levied.

During a visit to Paris in April 2015, Prime Minister Narendra Modi made a surprise announcement for direct purchase of 36 Rafale jets in fly away condition in April 2014 citing "critical operational necessity" of IAF.

By this time the tax liability on Reliance was at least €151 million according to the newspaper. However, six months after the announcement, French tax authorities made a settlement for €7.3 million instead of €151 million.

According to this, between February and October 2015 as India and France began negotiations on the deal for the 36 jets, Mr. Ambani got a tax waiver of €143.7 million from the French.

In September 2016, India and France signed a €7.87 billion Inter-Governmental Agreement (IGA) in September 2016 which has a 50% offset clause to be executed by the French partners.

Dassault Aviation, the manufacturer of Rafale jets, chose Mr. Ambani's Reliance as an offset partner to execute its share of offset obligations. There have been questions on this selection as Reliance has no experience in the defence sector.

In a series of revelations, The Hindu detailed how the Prime Minister's Office (PMO) ran parallel negotiations in the deal giving French companies a range of concessions from the defence procurement procedure in the Rafale deal.

Last year, Francois Hollande who was the French President when the announcement on Rafale was made in 2015, told a French news outlet, Mediapart.fr that his government didn't have "a choice" in the selection of Reliance Defence as the offset partner in the Rafale deal.

No favouritism, says Reliance communications

Responding to the Le Monde story, Reliance Communications in a statement said the case pertains to 2008 and denied any "favouritism or gain" from settlement.

According to the statement, Reliance FLAG Atlantic France SAS is a subsidiary of Reliance Communications, India and owns a terrestrial cable network and other telecom infrastructure in France. The tax demands were completely "unsustainable and illegal" the statement said, and claimed that tax disputes were settled "as per legal framework in France available to all companies operating in France."

Reliance Communications said that between 2008-12, Flag France had an operating loss of ₹20 crore (€2.7 million) and French tax authorities had raised a tax demand of over ₹1,100 crore for the same period. "As per the French tax settlement process as per law, a mutual settlement agreement was signed to pay ₹56 crore as a final settlement," it said.
EC rejects Opposition's demands concerning EVMs
Posted on 22nd May 2019
New Delhi: The Election Commission of India (EC) has rejected the demands of the opposition regarding Voter Verifiable Paper Audit Trail (VVPAT) on Wednesday.

The issue to change the protocol for counting was discussed by the Chief Election Commissioner Sunil Arora at his meeting with election commissioners Ashok Lavasa and Sushil Chandra.
---
Big PSU bank merger on cards if Modi wins 2019 election; PNB may merge these banks with itself
Posted on 22nd May 2019
The government is planning to merge state-run Punjab National Bank with two other PSU banks — Oriental Bank of Commerce, Andhra Bank and Allahabad Bank after the new administration is in place following the 2019 Lok Sabha elections, Reuters reported citing unidentified sources. This is in a bid to keep 5-6 larger banks in the country, which the ruling Narendra Modi-government has been advocating for some time.
---
YES Bank begins provisioning for exposure to ADAG, Essel group firms
Posted on 22nd May 2019
YES Bank, which has exposures to Anil Ambani's Reliance group and Essel group companies, has started making provisions for loans given to both entities. The provisioning began after rating agencies downgraded debt instruments of both groups.

YES Bank has an exposure of Rs 13,000 crore to Reliance group entities and another Rs 3,300 crore to Essel group companies, according to analysts.
---
Reliance tops IOC in sales
Posted on 22nd May 2019
Reliance Industries has toppled state-owned Indian Oil Corporation (IOC) to become the country's biggest company by revenue.

In 2018-19, Reliance has reported a turnover of Rs 6.23 lakh crore. In comparison, IOC posted a turnover of Rs 6.17 lakh crore for the fiscal, according to regulatory filings by the two companies.
---
Sensex rises over 150 points; Nifty tests 11,700
Posted on 22nd May 2019
The benchmark BSE Sensex jumped over 150 points in early trade on Wednesday, led by gains in oil and gas, banking and IT stocks, ahead of the general election results.

The 30-share index was trading 157.51 points, or 0.40%, higher at 39,127.31. In similar movement, the broader NSE Nifty rose 30.90 points, or 0.26%, to 11,740. In the previous session, the Sensex ended 382.87 points, or 0.97%, lower at 38,969.80, and the Nifty plunged 119.15 points, or 1.01%, to 11,709.10.
---
Be the first person to write a business review for Anil Ambani firm got €143.7 mn tax relief from France after Rafale announcement: Le Monde report