Tata Motors hits four-month high; up 17% in two days after JLR Q4 guidance
Posted on 2nd April 2019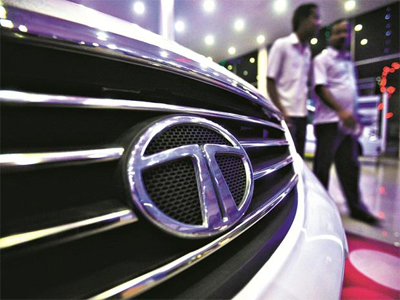 Shares of Tata Motors moved higher by 8 per cent to Rs 203 on Tuesday, gaining 17 per cent in the past two trading days on the BSE, after the company's wholly-owned subsidiary Jaguar Land Rover (JLR) said it expects improved financial results for the quarter ended March 2019 (Q4FY19).

The stock of Tata group Company was quoting at its highest level since October 9, 2018. The trading volumes on the counter jumped an over four-fold today. A combined 88.75 million shares representing 3.5 per cent of total equity of Tata Motors changed hands on NSE and BSE till 03:00 pm.

"The Company reaffirms that it expects improved financial results in the fourth quarter period to March 31, 2019, compared to the first nine months of the financial year, with significant positive cash flow in the fourth quarter," JLR said on Friday, March 29, 2019, after market hours in a regulatory filing.

The company continues to execute its product plans and Project Charge turnaround strategy to deliver 2.5 billion pounds of cash flow improvements by March 2020, it added.

Meanwhile, Tata Motors on Monday, after market hours, said that commercial and passenger vehicles business sales in the domestic market declined by 1 per cent to 68,709 units due to low market sentiments.

In March 2019, the SCV Cargo and Pickup segment recorded a growth of 11 per cent at 21,621 units as compared to 19,464 units sold Last year. The evolving hub-spoke model, demand for the last mile connectivity across the rural and urban markets, and Swachch Bharat initiatives have led to increase in demand in this segment, Tata Motors said in press release.

The commercial passenger carrier segment recorded sales of 7,239 units, up 2 per cent over last year, due to increased demand for school buses, in addition to the growth in Winger sales for ambulances and school requirement. The new product introduction of 15-seater Winger has received good traction and the deliveries of electric buses to various STUs have also contributed to this growth, it added.
Soon, private vehicles to provide carpooling service
Posted on 17th September 2019
Just like ride-hailing apps Ola and Uber, private car owners can soon provide carpooling service.

In an effort to promote shared mobility in the country, the Union road transport ministry has prepared the guidelines for the carpooling service by private car owners. Sources close to the development said that the transport ministry intends to make ride-sharing by private car owners a no-profit, no-loss service.
---
Govt plans strict drug recall norms
Posted on 17th September 2019
The central government is considering clear and more effective guidelines to deal with the issue of recall of drugs which are Not of Standard Quality (NSQ).

The Drug Consultative Committee (DCC) under the Ministry of Health and Family Welfare has approved the recommendation of the sub-committee for effective recall system.
---
NHAI to put existing highway projects under infrastructure investment trust
Posted on 17th September 2019
The government is finalising a list of functional national highway projects that would be placed under infrastructure investment trust (InvIT) to be offered to potential investors.

It is learnt that the National Highways Authority of India (NHAI) would prefer brown-field projects over greenfield contracts for InvIT.
---
Rupee continues to slide, opens 22 paise lower against US dollar
Posted on 17th September 2019
The rupee opened 22 paise lower at 71.82 against the US dollar amid elevated crude oil prices. The domestic unit on Monday plunged 68 paise to 71.60 against the US dollar amid concerns over soaring crude prices following drone attacks on Saudi Arabia's oil facilities.

Surging crude oil prices have emerged as major fears for India -- the world's third largest oil importer -- in form of fiscal slippage and inflationary pressure.
---
Trump to meet Modi, Imran soon; says progress made in reducing tensions
Posted on 17th September 2019
US President Donald Trump on Monday said he will be meeting the prime ministers of India and Pakistan soon, even as he maintained that tension between the two Asian countries had reduced.

While Trump will address Indian-Americans, along with PM Modi, at the "Howdy Modi!" event in Houston on September 22, the American president did not say when or where will he be meeting PM Khan.
---
Be the first person to write a business review for Tata Motors hits four-month high; up 17% in two days after JLR Q4 guidance