PM Modi flags off India's fastest train Vande Bharat Express
Posted on 15th February 2019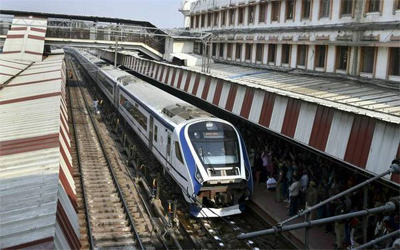 India's first semi-high speed train, the Vande Bharat Express, was flagged off by Prime Minister Narendra Modi on Friday from the New Delhi Railway Station amid sombre mood in the backdrop of the terror attack in Pulwama.

Railway Minister Piyush Goyal and members of the Railway Board were present on the occasion and will be on board the train on its inaugural journey.

"I am grateful to designers and engineers behind Vande Bharat Express which will take its first trip from Delhi to Varanasi today. With our sincerity and hard work in the last 4.5 years we have tried to improve railways," the PM said.

The train will travel from Delhi to Varanasi in 9 hours and 45 minutes. This includes stoppage time of 40 minutes each at Kanpur and Allahabad where there will be special programmes.

The PM inspected the train and said he was proud that such a train had been produced indigenously at the Integral Coach Factory, Chennai in 18 months.

The semi-high speed Train 18, which has been recently rechristened Vande Bharat Express, can run up to a maximum speed of 160 kmph and has travel classes like Shatabdi trains but with better facilities. It aims to provide a totally new travel experience to passengers.

The bookings for the train have begun and it will run commercially from February 17 from Delhi to Varanasi five days a week.

It has 16 air-conditioned coaches of which two are executive class. The total seating capacity is 1,128 passengers. It is much more than the conventional Shatabdi rakes of equal number of coaches, thanks to shifting of all electric equipment below coaches and seats in the driving coach also.

All coaches are equipped with automatic doors, GPS-based audio-visual passenger information system, on-board hotspot WiFi for entertainment purposes and very comfortable seating. All toilets are bio-vacuum type. The lighting is dual mode, that is diffused for general illumination and personal for every seat.

Every coach has a pantry facility to serve hot meals and, hot and cold beverages. The insulation is meant to keep the heat and noise to very low levels for additional passenger comfort.

Adding up the green footprints, the train has regenerative braking system which can save up to 30 per cent of electrical energy.
NTPC plant kills two birds with one stone: Converting Swachh Bharat into electricity generation
Posted on 20th March 2019
State-owned power producer NTPC Tuesday said its 200 kilo watt (kW) waste-to-energy plant in Karsada has achieved full generation capacity.

The plant is located in Karsada at Varanasi, Uttar Pradesh (UP)."Karsada plant has been able to achieve full load generation. Set up with an installed capacity of 200 kW, the thermal gasification-based pilot scale 24 tonne per day waste to energy plant has achieved full generation capacity," NTPC said in a statement.
---
RCom shares continue to gain, rally 10 per cent
Posted on 20th March 2019
New Delhi: Shares of Reliance Communications further zoomed 10 per cent to hit the highest trading permissible limit for the second day in a row on Wednesday after the company cleared dues of Swedish service provider Ericsson.

The scrip rose sharply by 10 per cent to Rs 4.84 -- its upper circuit limit -- on the BSE.
---
Vodafone Idea sets terms for USD 3.6 billion worth rights issue
Posted on 20th March 2019
Vodafone Idea Ltd, India's largest telecommunications company by subscribers, on Wednesday approved 250 billion rupees (USD 3.63 billion) rights issue at a sharp discount, sending its shares tumbling.

The deal is the second major fundraising by an Indian telco this year after Bharti Airtel Ltd announced a similar plan to reduce debt and fund operations in a market blighted by steep price competition.
---
Sensex, Nifty rise on sustained foreign fund inflow
Posted on 20th March 2019
Benchmark indices opened on a positive note on Wednesday on sustained foreign fund inflow ahead of March derivatives expiry.

However, gains were capped as Asian shares fell across the board in line with overnight drop in US stocks. Rising crude oil prices too worried investors.
---
The Centibillionaires: Bill Gates joins Jeff Bezos as the only two members of the $100 billion club
Posted on 20th March 2019
Bloomberg tracks the fortunes of some 2,800 billionaires. Of those, 145 are worth at least $10 billion, making them decabillionaires. Now, the world contains two centibillionaires simultaneously.

Microsoft Corp. co-founder Bill Gates, once the world's richest person, has again eclipsed the $100 billion threshold, joining Amazon.com Inc.'s Jeff Bezos in the exclusive club, according to the Bloomberg Billionaires Index.
---
Be the first person to write a business review for PM Modi flags off India's fastest train Vande Bharat Express