Cipla gets USFDA nod for anti-viral eye infection drug for AIDS patients
Posted on 12th November 2018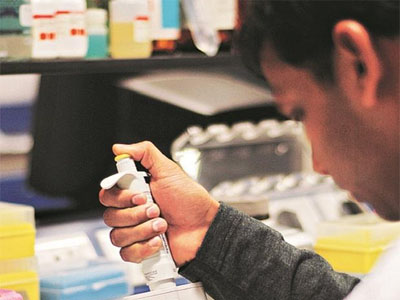 Drug major Cipla on Monday said it has received final approval from the US health regulator for Valganciclovir tablets used in the treatment of viral eye infection for AIDS patients.

Valganciclovir is used in the treatment of cytomegalovirus infection (serious viral eye infection of the retina) for AIDS patients and for prevention of cytomegalovirus (CMV) disease after organ transplant.

The approved products is a generic therapeutic equivalent version of Roche's Valcyte.

Cipla has received approval for the product in the strength of 450 mg from the United States Food and Drug Administration (USFDA), the company said in a BSE filing.

Quoting IQVIA (IMS Health) data, Cipla said Valcyte and its generic equivalents had US sales of around $79 million for the 12-month period ending September 2018.

Shares of Cipla were trading 1.09 per cent higher at Rs 532.95 apiece on BSE.
Govt gives sugar mills time till Dec 31 to export last year's balance quota
Posted on 11th November 2019
The government on Monday gave sugar mills three months more till December to export the last year's balance quota of the sweetener.

Mills were able to export about 3.8 million tonne of sugar during the 2018-19 marketing year (October-September) due to depressed market conditions, against the target of 5 million tonne under the Minimum Indicative Export Quota (MIEQ) scheme.
---
India smartphone shipments rise 9.3% in Q3; Xiaomi leads the list
Posted on 11th November 2019

Multiple online sales festivals, new launches and price corrections on a few key models by brands helped smartphone shipments in India grow 9.3 per cent in the July-September quarter to touch record 46.6 million units, research firm IDC said on Monday.

Sequentially, Smartphone shipments were higher by 26.5 per cent in the third quarter ended September 2019 compared to the previous quarter. IDC expects the smartphone market to see only mid-to-high single-digit year-on-year growth in 2019.
---
Ayodhya verdict is cue for PM Modi to focus on fixing India's economy
Posted on 11th November 2019
Over the weekend, India's Supreme Court pronounced on a title dispute in Ayodhya, a small town in India's northern state of Uttar Pradesh. Like many other property cases in India, this one had been working its way through the judicial system for decades. But it may be the most consequential such dispute in Indian history.

Millions of Hindus believe Ayodhya was the capital of Ram, an avatar of Vishnu and hero of the epic Ramayana, and the dispute was over rights to the site where Hindus say a 16th century mosque was built over Ram's birthplace.
---
Auto slowdown: Car sales continue to slide; decline by 6.34% in October
Posted on 11th November 2019
Domestic passenger vehicle sales witnessed a marginal increase of 0.28 per cent to 2,85,027 units in October from 2,84,223 units in the year-ago period.

Domestic car sales were down 6.34 per cent to 1,73,649 units as against 1,85,400 units in October 2018, according to data released by the Society of Indian Automobile Manufacturers (Siam).
---
Shiv Sena MP Arvind Sawant resigns from Union Minister post
Posted on 11th November 2019
Union Minister of Heavy Industries and Public Enterprises and Shiv Sena MP Arvind Sawant today resigned from his ministerial post, amid the political developments in Maharashtra. Sawant was sworn in after the 2019 Lok Sabha elections, the lone Union Minister from Shiv Sena.

At 8:00 AM, news agency ANI posted an update, quoting Sawant, who said, I am resigning from my ministerial post, thereby confirming the earlier reports of him possibly resigning and the Sena quitting ties with the NDA alliance at the centre.
---
Be the first person to write a business review for Cipla gets USFDA nod for anti-viral eye infection drug for AIDS patients