Good news: Pink Line Delhi Metro to open by Diwali
Posted on 16th October 2018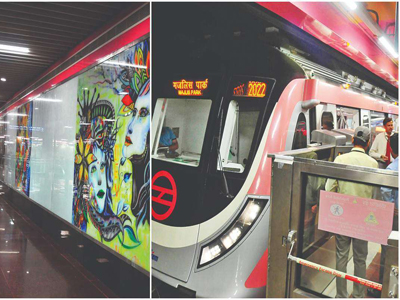 The Delhi Metro's Pink line will be opened by Diwali, according to various media reports. Pink line for Shiv Vihar-Trilokpuri Metro was scheduled to be opened in August as per a previous plan bu tthen the deadline got extended.

Pink Line Metro will ease connectivity between North East Delhi and South Delhi by connecting Shiv Vihar and Lajpat Nagar. The Shiv Vihar-Trilokpuri section will have 15 stations that will include Shiv Vihar, Johri Enclave, Gokulpuri, Maujpur, Jaffrabad, Welcome, East Azad Nagar, Krishna Nagar, Karkardooma Court, Karkardooma, Anand Vihar, IP Extension, Vinod Nagar, Vinod Nagar East, Trilokpuri. This part of Pink Line will also provide three interchange stations at Welcome, Karkardooma Court and Anand Vihar.

"SK Pathak will inspect Shiv Vihar-Trilokpuri Sanjay Lake section comprising 15 stations on October 20," said a DMRC section.

For the Pink line, the INA and Lajpat Nagar Metro stations have been converted into interchange stations to further boost the connectivity of these markets. The Sarojini Nagar and South Extension markets did not have any Metro connectivity till now.

Though the locations are well connected by buses, parking continues to be a major hassle for shoppers. Moreover, the markets cannot be reached in the late evening hours because of lack of public transport.

The stations, which will come up very close to the markets (within 50 metres) will facilitate the easy movement of shoppers to and from the markets. The INA Metro station also provides connectivity to Dilli Haat, one of Delhi's major tourist attractions.

The Durgabai-Lajpat Nagar route will have a total of six stations — five underground and one elevated including — Sir Vishweshwaraih Moti Bagh (elevated), Bhikaji Cama Place, Sarojini Nagar, INA, South Extension and Lajpat Nagar. The section has two interchange stations at INA and Lajpat Nagar. While INA will be an interchange facility between the Pink Line and the Samaypur Badli – HUDA City Centre (Line 2) Yellow Line, the Lajpat Nagar station will provide interchange between the Pink Line and the Kashmere Gate — Escorts Mujesar (Line 7) Violet Line.
Facebook brings India on par with Menlo Park
Posted on 17th January 2019
Mumbai: Facebook, in a major overhaul of business structure, has carved out India as a separate region with a six-member board that will be treated on a par with the one at its Menlo Park headquarters in the US.

The India board will also be the first such for Facebook in any of its markets outside of the US. The local office will also report directly to Menlo Park and will no longer be part of Facebook's Asia Pacific operations.
---
Larsen & Toubro Infotech acquires Ruletronics for $7.48 million
Posted on 17th January 2019
IT midcap and digital solutions company Larsen & Toubro Infotech (LTI) announced the acquisition of Ruletronics, a pure-play Pega consulting and implementation company with offices in the UK, USA, and India for $7.48 million.

The acquisition will strengthen LTI's rapidly growing digital business with a suite of capabilities in Pega implementation space around establishing BPM Roadmap & Strategy, Customer Services, RPA and Decisioning.
---
Axis Bank hits record high; rallies 12% in two weeks
Posted on 8th January 2019
Shares of Axis Bank hit a record high of Rs 679 per share, up 2 per cent on the BSE, on expectations of a strong recovery in earnings, due to lower provisioning. The stock surpassed its previous high of Rs 677 recorded on September 10, 2018, in intra-day trade.

In the past two weeks, Axis Bank has outperformed the market by surging 12 per cent, as compared to a 3 per cent rise in the S&P BSE Sensex.
---
BHEL to set up electric vehicle charging stations on Delhi-Chandigarh highway
Posted on 17th January 2019
New Delhi: State-owned Bharat Heavy Electricals Ltd (BHEL) on Thursday said it will set up a network of solar-based electric vehicle chargers (SEVC) on the Delhi-Chandigarh highway.

"The establishment of EV chargers at regular intervals over the entire 250 km stretch between Delhi and Chandigarh would allay range-anxiety among the electric vehicle users and bolster their confidence for inter-city travel," the company said in a statement.
---
Amazon lists over 1,000 job openings in Hyderabad, Bangalore despite new e-commerce rules
Posted on 17th January 2019
New Delhi: Undeterred by India's revised e-commerce policy that kicks off from next month, Amazon has not stopped hiring engineers and managers in India. An analysis of job listings on Amazon shows the e-commerce giant has more than 1,400 vacancies in India. In Bangalore and Hyderabad, there are over 1,000 open positions with software engineers being the most in demand.
---
Be the first person to write a business review for Good news: Pink Line Delhi Metro to open by Diwali