Good news: Pink Line Delhi Metro to open by Diwali
Posted on 16th October 2018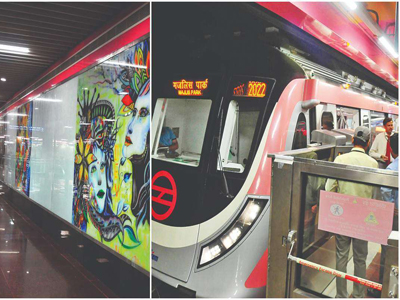 The Delhi Metro's Pink line will be opened by Diwali, according to various media reports. Pink line for Shiv Vihar-Trilokpuri Metro was scheduled to be opened in August as per a previous plan bu tthen the deadline got extended.

Pink Line Metro will ease connectivity between North East Delhi and South Delhi by connecting Shiv Vihar and Lajpat Nagar. The Shiv Vihar-Trilokpuri section will have 15 stations that will include Shiv Vihar, Johri Enclave, Gokulpuri, Maujpur, Jaffrabad, Welcome, East Azad Nagar, Krishna Nagar, Karkardooma Court, Karkardooma, Anand Vihar, IP Extension, Vinod Nagar, Vinod Nagar East, Trilokpuri. This part of Pink Line will also provide three interchange stations at Welcome, Karkardooma Court and Anand Vihar.

"SK Pathak will inspect Shiv Vihar-Trilokpuri Sanjay Lake section comprising 15 stations on October 20," said a DMRC section.

For the Pink line, the INA and Lajpat Nagar Metro stations have been converted into interchange stations to further boost the connectivity of these markets. The Sarojini Nagar and South Extension markets did not have any Metro connectivity till now.

Though the locations are well connected by buses, parking continues to be a major hassle for shoppers. Moreover, the markets cannot be reached in the late evening hours because of lack of public transport.

The stations, which will come up very close to the markets (within 50 metres) will facilitate the easy movement of shoppers to and from the markets. The INA Metro station also provides connectivity to Dilli Haat, one of Delhi's major tourist attractions.

The Durgabai-Lajpat Nagar route will have a total of six stations — five underground and one elevated including — Sir Vishweshwaraih Moti Bagh (elevated), Bhikaji Cama Place, Sarojini Nagar, INA, South Extension and Lajpat Nagar. The section has two interchange stations at INA and Lajpat Nagar. While INA will be an interchange facility between the Pink Line and the Samaypur Badli – HUDA City Centre (Line 2) Yellow Line, the Lajpat Nagar station will provide interchange between the Pink Line and the Kashmere Gate — Escorts Mujesar (Line 7) Violet Line.
Sensex sinks 355 points tracking global sell-off
Posted on 25th March 2019
Mumbai: Benchmark Sensex spiralled lower for the second straight session on Monday and trailed below the key 38,000-mark, with banking and realty counters taking the biggest hit amid a global sell-off triggered by renewed fears of a recession.

BSE Sensex tumbled 355.70 points to end at 37,808.91 while the wider NSE Nifty plunged 102.65 points to 11,354.25. The Sensex has now lost over 575 points in two sessions.
---
Hyundai hikes average monthly wages by Rs 25,200
Posted on 25th March 2019
NEW DELHI: Korean auto major Hyundai Motor India Limited (HMIL) Monday inked a wage settlement pact with technicians at its Chennai facility raising average monthly salary by Rs 25,200 for a three-year period till March 31, 2021.

The agreement will come into retrospective effect from April 2018. As per the agreement, technicians will receive 55% of the increased salary in the first year, 25% in the second year and 20% in the third year.
---
IOC-BPRL wins oil block in Abu Dhabi
Posted on 25th March 2019
New Delhi: State-owned Indian Oil Corporation (IOCNSE 4.65 %) Monday said it along with its partner Bharat PetroResources Ltd (BPRL) has won an oil block in Abu Dhabi, where the two will invest USD 170 million.

IOC- BPRL won the block in Abu Dhabi's first-ever competitive bid round.
---
NSE eyes 350-375 tonnes of domestically refined gold market for derivatives
Posted on 25th March 2019
With over 350-375 tonnes of the domestically refined gold market still away from the organised trading platforms in India, the National Stock Exchange of India (NSE) has decided to accept it as good delivery on its derivatives platform. So far, only London Bullion Market Association recognised bullion is accepted as good delivery on the exchange platform.
---
Barclays, TCS team up to help children with locomotor disabilities
Posted on 25th March 2019
New Delhi: India's largest IT services company Tata Consultancy Services has teamed up with Barclays to launch a virtual platform to help children with neuro-muscular disabilities become more self-dependent.

The virtual habilitation platform, TCS VHAB, will be launched at ZEP Rehabilitation Centre, Pune. This centre, established in 2008, carries out programmes to help improve the mobility of children with locomotor disabilities. These programmes are aimed at enabling development of daily skills, self-help skills, functional skills and academics.
---
Be the first person to write a business review for Good news: Pink Line Delhi Metro to open by Diwali