Volvo Cars India starts a clean air campaign
Posted on 13th October 2018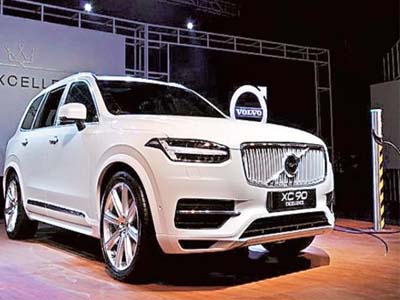 On Friday, Volvo Cars India, the subsidiary of Swedish automaker Volvo Cars, started an initiative towards spreading awareness about clean air in the country. The campaign covers three areas: a school programme, dealership-led initiatives, and developing clean zones.

School programme: The company will hold sessions—in chosen schools across the country—with environmentalists on the effects and causes of air pollution. For schoolchildren, there will be do-it-yourself (DIY) workshops that will include teaching them how to make air-purifiers to create mini clean zones, say, in classrooms or homes.

Dealership-led initiatives: Volvo Cars dealers across India will invite prospects with their children for DIY workshops. The customers who buy Volvo cars will receive a token of appreciation—a plantable seed bag. This bad is made of biodegradable material with post-consumer materials (not by cutting trees), and is embedded with seeds. When the plantable seed bag is planted in a pot of soil, the seeds grow and the paper composts away.

Developing clean zones: Near the festival of Diwali—when air pollution generally soars to high levels, especially in Delhi NCR—Volvo Cars India will create clean zones for Delhi traffic policemen. These will be essentially clean air pods that will be installed at select traffic intersections in New Delhi, where policemen manning the intersections can sit.

According to journal The Lancet, over a million Indians die every year due to air pollution—two deaths every minute.

Charles Frump, the managing director of Volvo Cars India, said this clean air initiative is one of the many measures the company is taking towards sustainability. Others include launching plug-in hybrid electric vehicles (PHEV) in India—last year, the company had launched the XC90 T8 Excellence variant PHEV in the local market. "Globally, we aim to have electric cars making up 50% of our sales by 2025. This ambition builds on our 2017 announcement that all new models released from 2019 onwards will be available as either mild hybrid, plug-in hybrid or battery electric vehicle. So, the target is to have 1 million electrified cars on global roads by 2025. I would like the Indian market to contribute adequately to that number," he said. The company's other sustainability targets include removing single-use plastics from all its offices across the world, and using 25% recycled plastics in every new car from 2025 onwards.
Amazon to close its online biz in China: Report
Posted on 23rd April 2019
Retail giant Amazon will withdraw its domestic e-commerce marketplace business in China, effective from July 18, but will keep operating its other business sections, including Amazon Web Services, Kindle e-books and cross-border operations.

Facing stiff competition from local online marketplace operators, including Alibaba, JD.com as well as the fast-growing Pinduoduo, Amazon's exit from e-commerce business would be the end of the company's 15 years of journey into the China market.
---
Microsoft employees decry Jack Ma backed '996' Chinese work culture
Posted on 23rd April 2019
San Francisco: A group of Microsoft employees has come forward to support Chinese tech workers on the gruelling '996' culture, writing a petition in defence of a trending GitHub repository that is being censored in China.

In a letter written on web-hosting service Github, owned by Microsoft, the employees have asked the company to keep the "996.ICU" GitHub repository uncensored, The Verge reported on Monday.
---
Bitcoin prices surge to a six-month high, after 35% gain this month
Posted on 23rd April 2019
Bitcoin prices jumped today to its highest in six months, pulling smaller cryptocurrencies up with it in a move that traders and analysts ascribed to technical forces with no apparent news catalysts at play.

Bitcoin, the biggest virtual coin, climbed as much as 4.5% in early trading to top $5,600 briefly, touching its highest since November 18.
---
Vicks, Gillette, Pantene maker P&G found guilty under GST anti-profiteering
Posted on 23rd April 2019
The GST profiteering investigation arm has found leading FMCG firm P&G India guilty of not passing on GST rate cut benefits to the tune of about Rs 250 crore by commensurate reduction in prices. Based on a complaint filed before the standing committee, the Directorate General of Anti profiteering (DGAP) investigated the books of accounts of P&G India pre and post November 15, 2017, and concluded that the consumer goods manufacturer has not lowered prices of certain of its products despite cut in GST rate to 18 per cent from 28 per cent.
---
Paytm takes cue from Alibaba, launches credit score check facility for app users
Posted on 23rd April 2019
Digital payments company Paytm has now enabled users to check their credit scores on its mobile app. Users can access the service by clicking on 'My Credit Score' under their user profile section. Paytm-backer Alibaba's financial services affiliate Ant Financial had launched a similar service called Sesame Credit in January 2015 for individual credit scores of customers and small business owners.
---
Be the first person to write a business review for Volvo Cars India starts a clean air campaign