Mercedes's new concept car goes back to the future
Posted on 25th August 2018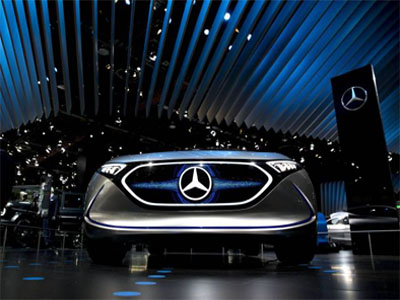 New York: In Monterey, California, late on Friday, Mercedes-Benz unveiled its latest concept car, the EQ Silver Arrow. It's an homage to the brand's original W 125 race car, which in 1937 set the record for fastest land-speed vehicle on a public road by travelling nearly 270 miles per hour. That record was only broken late last year by the Koenigsegg Agera.

The electric one-seater joins a long list of memorable concepts that Mercedes shows off every year in advance of the Pebble Beach Concours d'Elegance on Sunday. None of them will reach anything near production, but design chief Gorden Wagener says they're useful to illustrate how the brand's future will look, embodied in one car.

As the name suggests, it's extremely long and thin. The car is more than 17 feet long but just 3 feet deep, with a carbon-fiber front splitter and side skirts with a lighting strip. Large, recessed EQ lettering heralds the company's EQ brand of battery-electric vehicles, illuminated in blue in front of the rear wheels.

The "Alubeam Silver" paint work on the body of the car is similar to the type used on the original Silver Arrow cars. The rear diffuser also looks like those on vintage racers, with an extendable spoiler that acts as an air brake by increasing the wind resistance as the car decelerates.

Inside are gray, suede sidewalls, as well as aluminum-and-walnut trim; the saddle-brown leather is laser-etched with stars. The dashboard is curved in a three-dimensional panoramic screen that can project images from behind the car, and in the center of the steering wheel is an integrated touchscreen. A lever on the side of the seat adjusts the pedal height to better suit the driver's height.

If the EQ Silver Arrow were to be manufactured for sale, Wagener said, it would have an output of 738 horsepower, thanks to a thin, rechargeable battery of roughly 80 kWh and a driving range of more than 250 miles.
Sensex jumps over 800 points as exit polls suggest NDA's victory
Posted on 20th May 2019
Mumbai: Domestic financial markets cheered exit poll results showed that ruling NDA is likely to will the general Lok Sabha elections on Monday, with the benchmark BSE Sensex skyrocketing over 900 points, and the rupee appreciating 79 paise against the US dollar.

After soaring over 962 in early session, the 30-share index pared some gains and was trading 687.63 points, or 1.81 per cent, higher at 38,618.40. In similar movement, the broader NSE Nifty was trading 203.05 points, or 1.78 per cent, up at 11,610.20.
---
Rupee opens higher at 69.49 per dollar against the previous close of 70.22
Posted on 20th May 2019
The Indian rupee opened higher by 73 paise at 69.49 per dollar on Monday morning against the previous close 70.22 after the exit polls predicted landslide victory for Modi-led Bharatiya Janata Party (BJP) in Lok Sabha elections 2019. The final results will be announced on May 23. The experts said market gains would be kept in check ahead of the vote counting this week on Thursday. The global tensions and foreign investment flows will also drive the rupee besides major event of elections.
---
Trade wars: Google pulls Android from Huawei, deals blow to mobile business
Posted on 20th May 2019
Alphabet Inc.'s Google will cut off the supply of hardware and some software services to Huawei Technologies Co. to comply with a Trump administration crackdown on the Chinese telecoms giant, a person familiar with the matter said.

Huawei will only be able to access the public version of Google's Android mobile operating system, the world's most popular smartphone software. It won't be able to offer proprietary apps and services from Maps and search to Gmail, said the person, who requested anonymity speaking about a private matter.
---
ICICI Prudential Sadvings Fund's 75-80% exposure is in AAA-rated securities
Posted on 20th May 2019
Rohan Maru is the lead manager of the fund and he started managing it in September 2013. Maru has eight years of experience in the daily cash management and liquidity analysis of fixed income funds.

Rahul Goswami continues as co-manager. His role here involves overseeing the investment process and contributing to a macroeconomic view.
---
Sri Lanka marks a decade of the end of civil war
Posted on 18th May 2019
Sri Lanka, still reeling under the scars of the Easter Sunday bomb blasts, Saturday marked 10 years of the end of the nearly brutal civil war between the government and the LTTE even as it came under criticism for failing to ensure justice for the victims.

The Sri Lankan government on May 18, 2009 killed Liberation Tigers of Tamil Eelam ( LTTE) chief Velupillai Prabhakaran in the coastal village of in Mullaittivu,
---
Be the first person to write a business review for Mercedes's new concept car goes back to the future