Essar to invest ₹ 7,000 crore to explore shale gas in Raniganj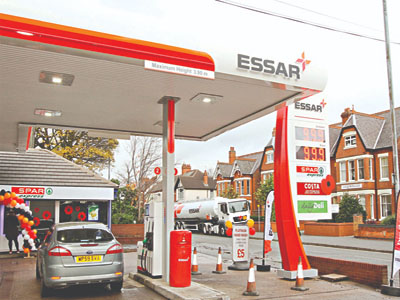 Mumbai: Buoyed by the Union Cabinet clearing a policy allowing operators to explore all unconventional hydrocarbons in the existing field, Essar Oil and Gas Exploration and Production Ltd (EOGEPL) plans to invest 7,000 crore to develop shale gas potential in its existing coal-bed methane (CBM) block at Raniganj, West Bengal, said a company executive.
"Shale development would benefit greatly due to the synergy with CBM operations, such as water requirement, and the gas evacuation and handling facilities...we would need to invest close to 7,000 crore for developing the shale gas potential in the block to recover about 1.6 trillion cubic feet (tcf) from the field," said Vilas Tawde, managing director and chief executive, EOGEPL.
EOGEPL has appointed international consultants to study the company's assets and is upbeat about the shale potential in the Raniganj East CBM block.
The Union Cabinet had on 1 August had approved a policy allowing operators to explore all unconventional hydrocarbons, including shale, coal bed methane and hydrates, in existing fields.
This means the exploration of unconventional hydrocarbons can be carried out under the existing production sharing contracts (PSCs), CBM contracts and nomination fields. Also, 'Uniform Licensing Policy' which is at present applicable to the Hydrocarbon Exploration and Licensing Policy (HELP) and Discovered Small Field (DSF) Policy, will be applicable to all operating fields.
On Thursday, EOGEPL signed a 15-year gas sale and purchase agreement (GSPA) with state-owned natural gas-utility GAIL (India) Ltd.
"The GSPA entails a 15-year gas supply contract whereby the company will be able to monetize its entire CBM production of 2.3 million metric standard cubic metres per day (mmscmd) from the Raniganj East block at a globally competitive price," EOGEPL said in a statement.
EOGEPL has already invested more than Rs 4,000 crore in the Raniganj East CBM block towards drilling wells, setting up supply infrastructure, and laying customer pipelines to Durgapur and nearby industrial areas.
The block has 348 completed CBM wells, alongside robust gas and water handling capacity. EOGEPL is focussing on production optimisation by drilling more than 500 wells in line with the block's field development plan. The Raniganj East block is India's most prolific CBM block that has achieved gas production of more than 1 mmscmd, which will be gradually scaled to 2.3 mmscmd.
EOGPL's CBM portfolio includes five blocks. Only one of them, Raniganj East, is operational. The other blocks include Rajmahal in Jharkhand, Talcher and Ib Valley in Odisha and Sohagpur in Madhya Pradesh. The five blocks are said to hold an estimated 10 tcf of CBM reserves.