Two Muslim men, suspected of cattle theft, lynched in Jharkhand
Posted on 14th June 2018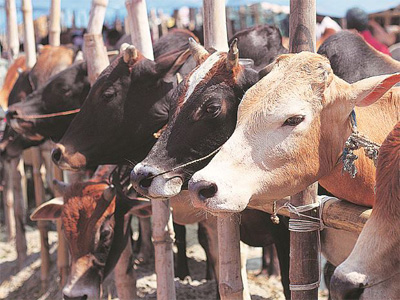 Two Muslim men were allegedly lynched by a group of enraged villagers on suspicion of cattle theft in Jharkhand's Godda district, the police said on Thursday.

DIG (Santal Paragana) Akhilesh Kumar Jha said five people had allegedly stolen buffaloes from the house of Munshi Murmu and others in tribal-dominated Dullu village last night.

Finding the buffaloes missing, Murmu and other villagers gave a chase to the five people, who were caught in adjoining Bankati village with the cattle in the early hours today.

The enraged villagers thrashed Sirabuddin Ansari (35) and Murtaza Ansari (30) to death. The three others managed to flee, Jha said.

Four persons, including Murmu, have been arrested in this connection so far.

The victims were residents of Taljhari in the district, about 200 km from Ranchi, Superintendent of Police Rajeev Ranjan Singh said.

An adequate police force, along with a magistrate, had been deployed in the village to maintain law and order, Jha said.

The situation in the village was under control, the officer said.

The SP, who rushed to the spot, said according to the villagers, the five people had stolen 13 buffaloes last night.

On finding their cattle missing, the villagers launched a search. The residents of Bankati, who were also alerted, caught the two accused.

After lynching the duo, the accused villagers brought the bodies back to Dullu village on bi-cycles, the SP said.

Singh, who is camping in the village, said the stolen cattle had been recovered.

A theft case was registered based on a complaint by the villagers. Four persons, including Murmu, were booked under relevant IPC sections pertaining to murder and riot, he said.

All the four villagers have been arrested.

The incident was a simple case of theft, Singh said.

In March last year, a Jharkhand court had convicted a local BJP worker and 10 others for lynching a Muslim trader in June 2017. The convicts had beaten a 55-year-old man to death in Ramgarh district on suspicion of carrying beef in his van.
L&T buys shares of Mindtree worth Rs44 crore through open market
Posted on 23rd May 2019
MUMBAI: Construction major L&T on Thursday bought shares worth about ₹44.16 crore of Mindtree through open market transactions.

According to the bulk deal data available with the NSE, the firm bought over 0.45 million shares, at an average price of ₹979.91 a share.
---
Paytm Payment bank turns profitable: Reports net profit of Rs 19 crore in FY19
Posted on 23rd May 2019
Paytm Payments Bank Limited (PPB) Thursday said it has turned profitable within its second year of operation, reporting a profit of Rs 19 crore for the financial year 2018-2019. PPBL claimed to lead mobile banking transactions with over 19 per cent market share as of March 2019.

"Nearly a third of the total mobile banking transactions in India are powered by PPB and it processes over Rs 3 lakh crore worth of digital transactions on an annualised basis," the company said in a statement.
---
NSE gets interim relief from SAT in co-location case
Posted on 23rd May 2019
The Securities Appellate Tribunal (SAT) on Wednesday stayed Sebi rulings that directed the National Stock Exchange to disgorge profits of over Rs 625 crore in the co-location case.

However, the tribunal directed the bourse to deposit Rs 625 crore with Sebi in two weeks. The exchange would have to continue to deposit revenues from the co-location facility to an escrow account.
---
Rupee rises 26 paise to 69.40/USD in early trade ahead of Lok Sabha elections outcome
Posted on 23rd May 2019
The rupee appreciated by 26 paise to 69.40 against the US dollar in opening trade Thursday, as counting of votes for the seven-phase Lok Sabha elections began across the country.

The counting exercise is on in over 4,000 counting centres. Most of the exit polls have predicted that the BJP-led National Democratic Alliance (NDA) is on course to retain power for a second term.
---
Hulst BV acquires additional 98,100 shares in NIIT Technologies
Posted on 23rd May 2019
New Delhi: Hulst BV has acquired additional 98,100 shares of NIIT Technologies from the open market, taking its shareholding in the mid-sized Indian IT firm to 32.04 per cent, a regulatory filing said on Thursday.

On Wednesday, Hulst BV had acquired 1.23 lakh shares of NIIT Technologies taking its shareholding in the company to 31.88 per cent.
---
Be the first person to write a business review for Two Muslim men, suspected of cattle theft, lynched in Jharkhand