Two Muslim men, suspected of cattle theft, lynched in Jharkhand
Posted on 14th June 2018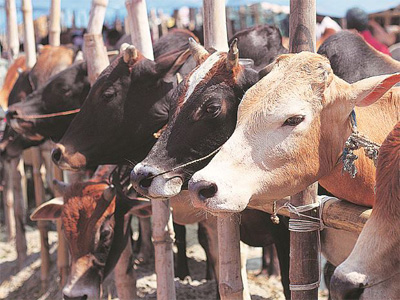 Two Muslim men were allegedly lynched by a group of enraged villagers on suspicion of cattle theft in Jharkhand's Godda district, the police said on Thursday.

DIG (Santal Paragana) Akhilesh Kumar Jha said five people had allegedly stolen buffaloes from the house of Munshi Murmu and others in tribal-dominated Dullu village last night.

Finding the buffaloes missing, Murmu and other villagers gave a chase to the five people, who were caught in adjoining Bankati village with the cattle in the early hours today.

The enraged villagers thrashed Sirabuddin Ansari (35) and Murtaza Ansari (30) to death. The three others managed to flee, Jha said.

Four persons, including Murmu, have been arrested in this connection so far.

The victims were residents of Taljhari in the district, about 200 km from Ranchi, Superintendent of Police Rajeev Ranjan Singh said.

An adequate police force, along with a magistrate, had been deployed in the village to maintain law and order, Jha said.

The situation in the village was under control, the officer said.

The SP, who rushed to the spot, said according to the villagers, the five people had stolen 13 buffaloes last night.

On finding their cattle missing, the villagers launched a search. The residents of Bankati, who were also alerted, caught the two accused.

After lynching the duo, the accused villagers brought the bodies back to Dullu village on bi-cycles, the SP said.

Singh, who is camping in the village, said the stolen cattle had been recovered.

A theft case was registered based on a complaint by the villagers. Four persons, including Murmu, were booked under relevant IPC sections pertaining to murder and riot, he said.

All the four villagers have been arrested.

The incident was a simple case of theft, Singh said.

In March last year, a Jharkhand court had convicted a local BJP worker and 10 others for lynching a Muslim trader in June 2017. The convicts had beaten a 55-year-old man to death in Ramgarh district on suspicion of carrying beef in his van.
SEBI COMES OUT WITH LIST OF 1,677 DEFAULTERS
Posted on 14th August 2018
As many as 1,677 entities, including individuals, failed to pay penalties imposed by Sebi till the end of May, according to the regulator.

The list of defaulters as on May 31, 2018 "for non-payment of penalty imposed by Sebi through orders passed up to December 31, 2017" has been published on the regulator's website on Monday.
---
SBI shares continue to fall; down over 3 per cent
Posted on 14th August 2018
New Delhi: Shares of State Bank of India continued to fall for the second straight session on Monday, dropping over 3 per cent after the lender reported a hefty loss of Rs 4,876 crore for the June quarter.

The stock went down 3.17 per cent to end at Rs 294.80 on BSE. Intra-day, it slumped 4.15 per cent to Rs 291.80. At NSE, shares of the company fell 2.54 per cent to close at Rs 296.70.
---
Bitcoin slips below $6,000 to lowest since June as almost every other crypto nosedives
Posted on 14th August 2018
Bitcoin dropped below $6,000 and dozens of smaller digital tokens tumbled as this month's selloff in cryptocurrencies showed few signs of letting up. The largest digital currency fell as much as 6.2 percent to $5,887 as of 10:44 a.m. in Hong Kong, the lowest level since June, according to Bloomberg composite pricing. Ether sank 12 percent, while all but one of the 100 biggest cryptocurrencies tracked by Coinmarketcap.com recorded declines over the past 24 hours.
---
Debit cards: Paytm rules the roost in the virtual world but lags in real life
Posted on 14th August 2018
Given how every depositor gets a digital debit card, Paytm Payments Bank has in less than a year of its launch notched up a large outstanding debit card user base.

Reserve Bank of India (RBI) data show the mobile wallet-to-payments bank entity had 39.12 million outstanding debit cards at the end of May.
---
Air India says yet to receive equity infusion from government
Posted on 14th August 2018
National carrier Air India on Monday said it is yet to receive the equity infusion from the government to meet its working capital requirements after an airline's pilots' body claimed grounding of several aircraft due to lack of funds.

"There is no money for spares and maintenance of these aircraft. Some of them have been grounded for the last three months.
---
Be the first person to write a business review for Two Muslim men, suspected of cattle theft, lynched in Jharkhand