Kiranas deliver the goods for ecommerce giants like Amazon, Myntra
Posted on 11th June 2018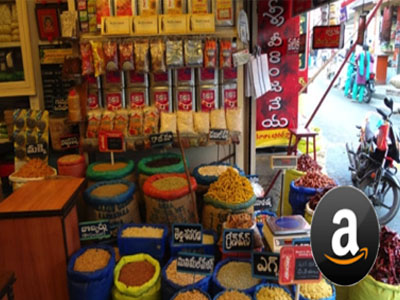 The friendly neighbourhood kirana store is getting increasing attention from ecommerce behemoths such as Amazon India and Myntra for handling the last leg of their deliveries.

Ecommerce companies have over the past year significantly scaled up their use of this channel for last-mile delivery, allowing them to reduce their delivery staff or engage them for more advanced tasks. Amazon engages its neighbourhood store network for onethird of its deliveries, and Myntra for about two-thirds, according to industry estimates.

Amazon's 'I Have Space' (IHS) programme grew 40% year-onyear to 17,500 neighbourhood stores in 225 cities at the end of 2017, wherein it partners with local stores that will deliver products to customers within a 2-4 km radius.

Flipkart-owned Myntra has expanded its 'Mensa Network' to 6,200 stores in 50 cities since it was launched in April last year, and about 60% of its orders are fulfilled through it. Flipkart said its alternative delivery network, which includes Apollo pharmacy stores, handles 20-30% of its deliveries during its peak festive season sales.

"Unlike what is said about ecommerce impacting the small kirana store, this programme has helped find a new use case for them, where they can also get predictability of revenue," said Manpreet Ratia, head of supply chain, customer experience and human resources at Myntra. "(Flipkart and Myntra) leverage each other's capacities. We have shared our learnings from the Mensa Network with Flipkart." The fashion retailer's neighbourhood store partners earn `15,000 a month on an average, and the income increases in geographies with higher volume of deliveries, he said. Amazon did not disclose how much of its deliveries are handled by its store network.
Noida gets 400-bed Covid-19 hospital, CM Yogi Adityanath reviews facilities
Posted on 8th August 2020
Uttar Pradesh Chief Minister Yogi Adityanath on Saturday inaugurated a dedicated 400-bed government hospital for COVID-19 patients in Noida.

The facility is located in Sector 39 of the city and has come up in association with the Tata Trusts and the Bill and Melinda Gates Foundation, according to officials.
---
Gold price today at Rs 56,050 per 10 g; silver at record Rs 76,510 a kg
Posted on 8th August 2020
Gold prices today jumped to Rs 56,050 from Rs 55,350 per 10 gram, while silver climbed to Rs 76,510 from Rs 73,500 per kg, according to Good Returns website.

Gold jewellery prices vary across India, the second-largest consumer of the metal, due to excise duty, state taxes, and making charges.
---
US election: China would love to have me lose to 'sleepy' Biden, says Trump
Posted on 8th August 2020
US President Donald Trump on Friday (local time) said that China would love to have an election if he lost to his sleepy Democrat presidential candidate Joe Biden.

China would love for us to have an election where Donald Trump lost to sleepy Joe Biden. They would dream (that) they would own our country. If Joe Biden was president, China would rule our country, he told reporters here.
---
Facebook builds 600 affordable homes to address housing crisis in US
Posted on 8th August 2020
Facebook has produced and preserved approximately 600 affordable homes near its headquarters in Menlo Park, California, of which roughly 70 per cent are reserved for extremely low and very low-income residents.

The company said it is on track to creating approximately 750 affordable homes by 2022.
---
Amazon, Flipkart set to witness business worth $600 mn during sale events
Posted on 8th August 2020
E-commerce companies Amazon and Flipkart are expecting to witness a total business of about $600 million during their ongoing sale events. This is at least 25 per cent higher in terms of sales compared to the business these firms would have generated for such small scale events during pre-Covid times, according to the industry insiders and analysts. They are also witnessing an increase in volumes (number of orders) which is 40 per cent higher than the normal times. Walmart-owned Flipkart is running the 5-day 'Big Saving Days' sale till Monday, coinciding with Amazon's 48-hour Prime Day sale which ended on Friday night.
---
Be the first person to write a business review for Kiranas deliver the goods for ecommerce giants like Amazon, Myntra