42 IndiGo flights cancelled for today
Posted on 14th March 2018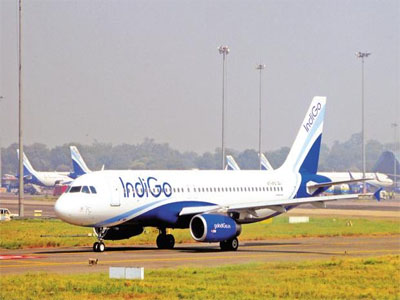 Mumbai: Domestic carrier IndiGo continued to operate with a curtailed schedule for the third day on Wednesday with the airline cancelling 42 flights following the grounding of eight of its A320neo planes along with three of GoAir due to Pratt & Whitney engine issues.

IndiGo has cancelled 42 flights for 14 March. This includes flights to Mumbai, Kolkata, Pune, Jaipur, Srinagar, Bhubaneswar, Chennai, Delhi, Dehradun, Amritsar, Bengaluru and Hyderabad, among others, the airline announced on its website.

Number of flights cancelled by the other carrier GoAir for Wednesday was not immediately available. On Tuesday, IndiGo and GoAir had together cancelled over 65 flights due to the grounding of their 11 aircraft by the country's aviation watchdog DGCA on Monday, citing passengers safety concerns arising out of the mid-air shut down of the Pratt& Whitney- manufactured Neo engines of these airplanes.

The cancellation of services in a large number has put thousands of passengers at inconvenience as they had pre-booked these flights amid the concerns of exorbitant fares which are charged by the carriers for last-minute travel.

However, the two carriers had on Tuesday said they were taking measures to minimise inconvenience to the passengers whose flights have been cancelled by booking them on alternate flights as well giving them the option of cancelling or re-scheduling their travel without any extra cost.
Audit clears Facebook despite Cambridge Analytica leaks
Posted on 21st April 2018
An audit of Facebook's privacy practices for the Federal Trade Commission found no problems even though the company knew at the time that a data-mining firm improperly obtained private data from millions of users — raising questions about the usefulness of such audits. Facebook agreed to outside audits every two years as part of a 2011 settlement with the FTC over its privacy practices.
---
HDFC Bank Q4 net profit rises 20% to Rs4,799 crore
Posted on 21st April 2018
Mumbai: HDFC Bank Ltd on Saturday said its fourth quarter net profit rose 20.28% on the back of higher net interest income and other income.

The bank posted a net profit Rs4,799.28 crore for the three months ended 31 March compared to Rs3,990.09 crore in the year-ago period. Profit was lower than Rs4,858.9 crore estimated by a Bloomberg poll of 22 analysts.
---
---
NORTH KOREA SUSPENDS NUCLEAR, MISSILE TESTS
Posted on 21st April 2018
North Korea on Saturday announced its suspension of all missile tests and shutting down of nuclear test site, saying its quest for nuclear arms was "complete" and it "no longer needed" to test its weapons capability.

"Under the proven condition of complete nuclear weapons, we no longer need any nuclear tests, mid-range and intercontinental ballistic rocket tests, and that the nuclear test site in northern area has also completed its mission," North Korean leader Kim Jong-un was quoted as saying by the state-run KCNA news agency.
---
PNB impounds passports of 150 wilful defaulters
Posted on 21st April 2018
NEW DELHI: Punjab National Bank (PNB), the country's second-largest public sector lender + , has impounded passports of 150 wilful loan defaulters apart from lodging 37 FIRs against those who are not repaying loans as part of its recovery drive.

"The bank has already declared 1,084 wilful defaulters and published photos of 260 such defaulters in newspapers," the bank said in a statement.
---
Be the first person to write a business review for 42 IndiGo flights cancelled for today