42 IndiGo flights cancelled for today
Posted on 14th March 2018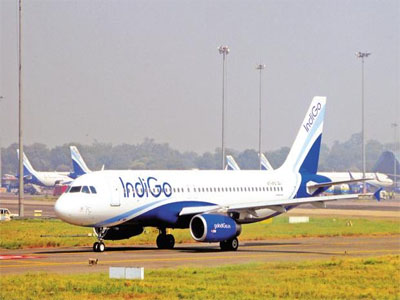 Mumbai: Domestic carrier IndiGo continued to operate with a curtailed schedule for the third day on Wednesday with the airline cancelling 42 flights following the grounding of eight of its A320neo planes along with three of GoAir due to Pratt & Whitney engine issues.

IndiGo has cancelled 42 flights for 14 March. This includes flights to Mumbai, Kolkata, Pune, Jaipur, Srinagar, Bhubaneswar, Chennai, Delhi, Dehradun, Amritsar, Bengaluru and Hyderabad, among others, the airline announced on its website.

Number of flights cancelled by the other carrier GoAir for Wednesday was not immediately available. On Tuesday, IndiGo and GoAir had together cancelled over 65 flights due to the grounding of their 11 aircraft by the country's aviation watchdog DGCA on Monday, citing passengers safety concerns arising out of the mid-air shut down of the Pratt& Whitney- manufactured Neo engines of these airplanes.

The cancellation of services in a large number has put thousands of passengers at inconvenience as they had pre-booked these flights amid the concerns of exorbitant fares which are charged by the carriers for last-minute travel.

However, the two carriers had on Tuesday said they were taking measures to minimise inconvenience to the passengers whose flights have been cancelled by booking them on alternate flights as well giving them the option of cancelling or re-scheduling their travel without any extra cost.
---
Govt won't share limited Iran oil with private refiners: Sources
Posted on 16th January 2019
India will not share the limited supply of Iranian crude allowed under a U.S. waiver from sanctions with private refiners, according to people with knowledge of the matter. That is a departure from the earlier practice of splitting exempted volumes.

The government has asked its four state refiners led by Indian Oil Corp. to share the entire 9 millions barrels of Iranian oil available every month under a 180-day waiver from U.S. sanctions, the people said, asking not to be identified.
---
Indiabulls Integrated up 5% as arm gets preliminary nod from IRDAI
Posted on 16th January 2019
Shares of Indiabulls Integrated have locked in the upper circuit of 5 per cent at Rs 332 apiece on the BSE after the company announced that Indiabulls Life Insurance Company got the preliminary nod from Insurance Regulatory and Development Authority of India (IRDAI).

"The Company's wholly owned subsidiary, 'Indiabulls Life Insurance Company Limited' has received regulatory R1 acceptance from Insurance Regulatory and Development Authority of India (IRDAI) for its proposed life insurance business," Indiabulls Integrated Services said in a regulatory filing.
---
Rupee opens flat at 71.06 against US dollar
Posted on 16th January 2019
The rupee opened 1 paisa lower at 71.06 against US dollar on Wednesday. In the previous session, the domestic unit declined 13 paise to close at one-month low of 71.05 amid strengthening greenback and surging crude oil prices.

It was the third straight session of loss for the rupee. The domestic currency on Monday plunged by 43 paise to close at nearly one-month low of 70.92 against the US dollar.
---
India Oil demand rises from 4-year low as cash ban impact fades
Posted on 12th January 2019
India's oil demand growth in 2018 rebounded from the slowest pace in four years as the country recovered from the shock of a cash ban and the roll out of a national sales tax.

The nation's consumption of petroleum products rose 4.1 percent to about 210 million tons, the Oil Ministry's Petroleum Planning and Analysis Cell said Friday. Growth improved from the preceding year's 2.7 percent expansion, the slowest pace since 2013, as consumption was severely affected by a cash ban that crippled economic activity.
---
Be the first person to write a business review for 42 IndiGo flights cancelled for today