42 IndiGo flights cancelled for today
Posted on 14th March 2018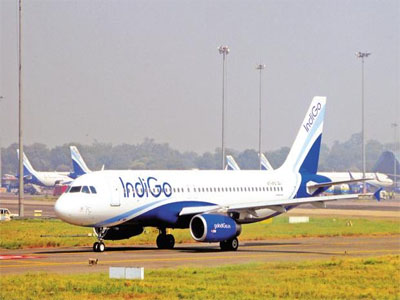 Mumbai: Domestic carrier IndiGo continued to operate with a curtailed schedule for the third day on Wednesday with the airline cancelling 42 flights following the grounding of eight of its A320neo planes along with three of GoAir due to Pratt & Whitney engine issues.

IndiGo has cancelled 42 flights for 14 March. This includes flights to Mumbai, Kolkata, Pune, Jaipur, Srinagar, Bhubaneswar, Chennai, Delhi, Dehradun, Amritsar, Bengaluru and Hyderabad, among others, the airline announced on its website.

Number of flights cancelled by the other carrier GoAir for Wednesday was not immediately available. On Tuesday, IndiGo and GoAir had together cancelled over 65 flights due to the grounding of their 11 aircraft by the country's aviation watchdog DGCA on Monday, citing passengers safety concerns arising out of the mid-air shut down of the Pratt& Whitney- manufactured Neo engines of these airplanes.

The cancellation of services in a large number has put thousands of passengers at inconvenience as they had pre-booked these flights amid the concerns of exorbitant fares which are charged by the carriers for last-minute travel.

However, the two carriers had on Tuesday said they were taking measures to minimise inconvenience to the passengers whose flights have been cancelled by booking them on alternate flights as well giving them the option of cancelling or re-scheduling their travel without any extra cost.
Sensex opens 100 points higher after GST Council cuts rates
Posted on 23rd July 2018
Mumbai: The benchmark BSE Sensex advanced over 100 points in early trade on Monday led by gains in FMCG stocks after the GST Council on Saturday cut rates on over 100 items, amid fresh capital inflows by foreign funds and strengthening rupee.

The 30-share index was trading higher by 114.10 points, or 0.31 per cent, at 36,610.47. All the sectoral indices, led by FMCG, consumer durables and power stocks were trading in the positive zone, rising up to 1.21 per cent.
---
Why Reliance Jio, Amazon are two sides of the same coin
Posted on 23rd July 2018
In January, Amazon, along with JPMorgan Chase and Berkshire Hathaway, announced a new healthcare company. The three companies merely said it would provide high-quality healthcare for their employees and families at a reasonable cost.

But healthcare investors got nervous at the prospect, selling off shares of established players like UnitedHealth and Anthem.
---
With car-sized probe, NASA set to launch first mission to touch the Sun
Posted on 23rd July 2018
NASA is on schedule to launch mankind's first mission to the Sun - a car sized probe that will swoop to within 4 million miles of the solar surface, facing heat and radiation like no spacecraft before.

The Parker Solar Probe, which is expected to take off no earlier than August 6 aboard United Launch Alliance Delta IV Heavy, will study the Sun closer than any human-made object ever has.
---
Air India apologises for denying Indian table tennis team to board flight
Posted on 23rd July 2018
Terming the incident unfortunate, the national carrier Air India has tendered an apology to the Indian table tennis team, who were denied boarding on the Delhi-Melbourne flight on Sunday.

In a statement, an Air India spokesperson said, "This was a very unfortunate incident, we apologise to the players and we are arranging next available flights."
---
---
Be the first person to write a business review for 42 IndiGo flights cancelled for today