Ford will pump out more profitable big SUVs to fund its future
Posted on 12th February 2018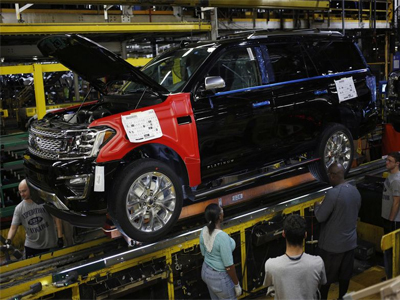 Southfield, Michigan: Ford Motor Co. is spending $25 million more at its Kentucky factory to pump out more of the profitable big sport utility vehicles that are critical to funding its ambitious—and expensive—electric and self-driving vehicle plans.

The investment will allow the second-largest US automaker to boost production of the new Lincoln Navigator and Ford Expedition by 25% from what the company was planning last fall, when the redesigned models first hit showrooms.

"The Expedition and Navigator products are very important to both the Ford and Lincoln lineups," Joe Hinrichs, Ford's president of global operations, said on a tour of the plant. "It's really important that this plant is able to produce more because we know we have this high demand now."

The factory—which also assembles Ford's Super Duty pickups—is a money minter for the automaker, churning out models that analysts estimate can generate profits that exceed $10,000 a vehicle. Those earnings are essential for Ford as it plays catch-up to rivals such as General Motors Co. and Tesla Inc. in developing battery-powered cars and autonomous vehicles.

The incremental spending is on top of the $900 million investment that Ford announced for the factory in June. Upgrades to the Kentucky truck plant in Louisville include 400 new robots, improved data analytics and a parts-making 3D printer.
Aruna Reddy creates history to win bronze at Gymnastics World Cup
Posted on 24th February 2018
NEW DELHI: Aruna Budda Reddy became the first Indian gymnast to clinch an individual medal at the Gymnastics World Cup in Melbourne by securing bronze in the women's vault. Reddy, 22, scored 13.649 to finish behind gold medallist Tjasa Kysslef of Slovania and Emily Whitehead of Australia who took silver. The other Indian woman in contention, Pranati Nayak finished sixth with a score of 13.416.
---
Rupee closes higher against US dollar on Asian cues
Posted on 24th February 2018
Mumbai: The Indian rupee strengthened against the US dollar on Friday, tracking gains in local equity markets.

The home currency ended at 64.73, up 0.50% from its previous close of 65.05. The local currency opened at 64.96 a dollar and touched a high and a low of 64.69 and 64.97, respectively.
---
Kohli to be honoured with ICC Test Championship Mace after Newlands T20
Posted on 24th February 2018
The International Cricket Council (ICC) will present the ICC Test Championship Mace to India captain Virat Kohli at the Newlands Stadium in Cape Town after the end of the third and final T20 International against South Africa on Saturday.

On behalf of the ICC, ICC Cricket Hall of Famers Sunil Gavaskar and Graeme Pollock of South Africa will make the presentation immediately after the awards ceremony for the T20I series.
---
GST e-way bill should be mandatory from April 1, suggests Sushil Modi
Posted on 24th February 2018
The GST provision requiring transporters to carry an electronic way bill or e-way bill when moving goods between states should be implemented from April 1, a group of state finance ministers recommended on Saturday.

GoM head and Bihar Deputy Chief Minister Sushil Kumar Modi said the requirement for intra-state movement of goods of more than Rs 50,000 value would be introduced in phases after assessing the response for inter-state movement.
---
47% Indians care more about smartphones than their loved ones: Study
Posted on 24th February 2018
Nearly 33 per cent of people, specially the younger generation that has grown up in a digital world, care more for their smartphones over engaging with individuals they love and India tops the list with 47 per cent, a report said on Saturday.

The study by telecommunications company Motorola, which is developed in partnership with Nancy Etcoff -- expert in 'Mind-Brain Behaviour and the Science of Happiness', from Harvard University, said: "We, as a generation, are losing control of our lives."
---
Be the first person to write a business review for Ford will pump out more profitable big SUVs to fund its future