Ford will pump out more profitable big SUVs to fund its future
Posted on 12th February 2018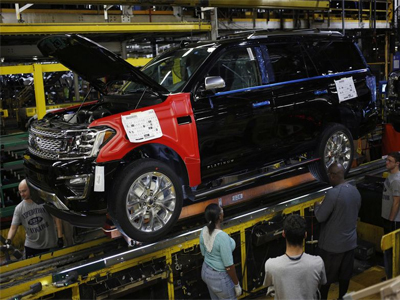 Southfield, Michigan: Ford Motor Co. is spending $25 million more at its Kentucky factory to pump out more of the profitable big sport utility vehicles that are critical to funding its ambitious—and expensive—electric and self-driving vehicle plans.

The investment will allow the second-largest US automaker to boost production of the new Lincoln Navigator and Ford Expedition by 25% from what the company was planning last fall, when the redesigned models first hit showrooms.

"The Expedition and Navigator products are very important to both the Ford and Lincoln lineups," Joe Hinrichs, Ford's president of global operations, said on a tour of the plant. "It's really important that this plant is able to produce more because we know we have this high demand now."

The factory—which also assembles Ford's Super Duty pickups—is a money minter for the automaker, churning out models that analysts estimate can generate profits that exceed $10,000 a vehicle. Those earnings are essential for Ford as it plays catch-up to rivals such as General Motors Co. and Tesla Inc. in developing battery-powered cars and autonomous vehicles.

The incremental spending is on top of the $900 million investment that Ford announced for the factory in June. Upgrades to the Kentucky truck plant in Louisville include 400 new robots, improved data analytics and a parts-making 3D printer.
Natural gas production to rise by a third if output locked in ONGC, OIL fields opens up
Posted on 20th November 2018
India's natural gas production will rise by a third provided the output locked in a dozen fields of state-owned ONGC and OIL is opened up by giving remunerative market prices, people with knowledge of the matter said. India currently produces about 90 million standard cubic meters per day (mmscmd) of natural gas and has ambitious plans to double output by 2022 to reduce its reliance on imports and replace some of the polluting liquid fuels to cut emissions.
---
Maruti ramps up production of Vitara Brezza
Posted on 20th November 2018
New Delhi: The country's largest carmaker Maruti Suzuki India (MSI) on Tuesday said it has ramped up the production of its compact SUV Vitara Brezza to reduce waiting period of the model.

The company has increased production of the vehicle by 10 per cent to 94,000 units during April-October period of the current fiscal as compared with same period of 2017-18.
---
Sensex drops over 100 points on global selloff, profit-booking
Posted on 20th November 2018
Mumbai: The benchmark BSE Sensex fell over 100 points in early session on Tuesday, breaking its three-day winning run as metal, IT, realty and banking stocks retreated, tracking sell-off in the global market.

The 30-share index dropped 104.41 points, or 0.29 per cent, to 35,670.47 points in opening trade. The gauge had rallied about 633 points in the previous three sessions.
---
Air India eyes 6,100 crore from aircraft sale, leaseback
Posted on 20th November 2018
Mumbai: Cash-strapped Air India Ltd expects to raise as much as $850 million (about 6,100 crore) by selling and leasing back seven wide-body aircraft over the next 15 days. The list includes six Boeing 787 (Dreamliner) and one Boeing 777 aircraft, which were delivered to the airline between November 2016 and March 2018, according to a tender posted on 16 November on the airline's website.
---
Wipro appoints ex-IBM Bill Stith as healthcare head
Posted on 20th November 2018
New Delhi: Wipro Ltd has appointed former International Business Machines Corp. (IBM) executive Bill Stith to revive the fortunes of the Bengaluru-based company's healthcare and life sciences division. Stith, who headed IBM's healthcare and life sciences business in the US, is the third top external hire by chief executive officer Abidali Neemuchwala. His hiring is also Wipro's third top-level management change in 2018.
---
Be the first person to write a business review for Ford will pump out more profitable big SUVs to fund its future