Girls have started drinking beer, tolerance limit is being crossed: Manohar Parrikar
Posted on 10th February 2018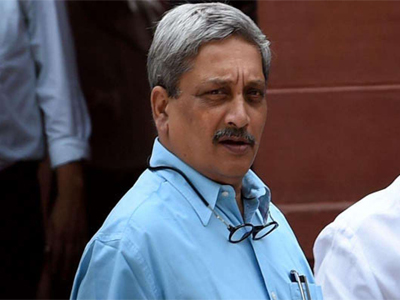 Goa Chief Minister Manohar Parrikar is a worried man these days as girls have started consuming alcohol.

"I have begun to fear now, because even the girls have started drinking beer. The tolerance limit is being crossed," said Parrikar, whose coastal state is one of most sought-after tourist destinations. "I am not talking about everyone. I am not talking about these people who are siting here," he said addressing the State Youth Parliament, an event organised by the state Legislature Department here.

Earlier, talking about the narcotics trade in Goa, he said a crackdown on the drug network in the state has been going on and this will continue till drugs are out of sight. "I have no belief that it will come down to zero. I personally do not believe that there is much proliferation (of drugs) in colleges," he said. After he directed the police to take strict action against the drug trade, he said, 170 people were arrested for drug peddling.

"As per the law, if there is a small quantity of drugs, a person gets bail in eight to 15 days or a month. Our courts have also become lenient, but at least the guilty are caught," he said. Speaking about unemployment, Parrikar said the youth in Goa are shying away from hard work. A long queue was seen for the lower division clerk's job in the government department "because they do not want to work hard". People think that government job means no work, he said.
SEBI COMES OUT WITH LIST OF 1,677 DEFAULTERS
Posted on 14th August 2018
As many as 1,677 entities, including individuals, failed to pay penalties imposed by Sebi till the end of May, according to the regulator.

The list of defaulters as on May 31, 2018 "for non-payment of penalty imposed by Sebi through orders passed up to December 31, 2017" has been published on the regulator's website on Monday.
---
SBI shares continue to fall; down over 3 per cent
Posted on 14th August 2018
New Delhi: Shares of State Bank of India continued to fall for the second straight session on Monday, dropping over 3 per cent after the lender reported a hefty loss of Rs 4,876 crore for the June quarter.

The stock went down 3.17 per cent to end at Rs 294.80 on BSE. Intra-day, it slumped 4.15 per cent to Rs 291.80. At NSE, shares of the company fell 2.54 per cent to close at Rs 296.70.
---
Bitcoin slips below $6,000 to lowest since June as almost every other crypto nosedives
Posted on 14th August 2018
Bitcoin dropped below $6,000 and dozens of smaller digital tokens tumbled as this month's selloff in cryptocurrencies showed few signs of letting up. The largest digital currency fell as much as 6.2 percent to $5,887 as of 10:44 a.m. in Hong Kong, the lowest level since June, according to Bloomberg composite pricing. Ether sank 12 percent, while all but one of the 100 biggest cryptocurrencies tracked by Coinmarketcap.com recorded declines over the past 24 hours.
---
Debit cards: Paytm rules the roost in the virtual world but lags in real life
Posted on 14th August 2018
Given how every depositor gets a digital debit card, Paytm Payments Bank has in less than a year of its launch notched up a large outstanding debit card user base.

Reserve Bank of India (RBI) data show the mobile wallet-to-payments bank entity had 39.12 million outstanding debit cards at the end of May.
---
Air India says yet to receive equity infusion from government
Posted on 14th August 2018
National carrier Air India on Monday said it is yet to receive the equity infusion from the government to meet its working capital requirements after an airline's pilots' body claimed grounding of several aircraft due to lack of funds.

"There is no money for spares and maintenance of these aircraft. Some of them have been grounded for the last three months.
---
Be the first person to write a business review for Girls have started drinking beer, tolerance limit is being crossed: Manohar Parrikar