Girls have started drinking beer, tolerance limit is being crossed: Manohar Parrikar
Posted on 10th February 2018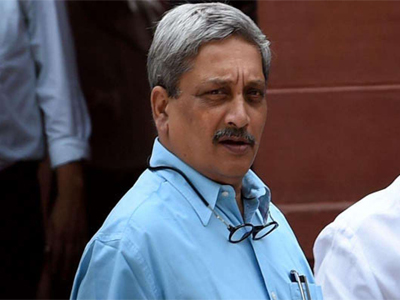 Goa Chief Minister Manohar Parrikar is a worried man these days as girls have started consuming alcohol.

"I have begun to fear now, because even the girls have started drinking beer. The tolerance limit is being crossed," said Parrikar, whose coastal state is one of most sought-after tourist destinations. "I am not talking about everyone. I am not talking about these people who are siting here," he said addressing the State Youth Parliament, an event organised by the state Legislature Department here.

Earlier, talking about the narcotics trade in Goa, he said a crackdown on the drug network in the state has been going on and this will continue till drugs are out of sight. "I have no belief that it will come down to zero. I personally do not believe that there is much proliferation (of drugs) in colleges," he said. After he directed the police to take strict action against the drug trade, he said, 170 people were arrested for drug peddling.

"As per the law, if there is a small quantity of drugs, a person gets bail in eight to 15 days or a month. Our courts have also become lenient, but at least the guilty are caught," he said. Speaking about unemployment, Parrikar said the youth in Goa are shying away from hard work. A long queue was seen for the lower division clerk's job in the government department "because they do not want to work hard". People think that government job means no work, he said.
Trump cancels summit with Kim; North Korea still wants talks
Posted on 25th May 2018
President Donald Trump on Thursday abruptly canceled his summit with North Korea's Kim Jong Un, blaming "tremendous anger and open hostility" by Pyongyang a decision North Korea called "regrettable" while still holding out hope for "peace and stability."

In a letter to Mr. Kim announcing his decision to back away from the June 12 summit, Mr. Trump pointed to America's vast military might and warned the rising nuclear power against any "foolish or reckless acts."
---
Sensex builds on gains, up 187 points in early trade
Posted on 25th May 2018
The BSE Sensex rose over 187 points in early trade extending Thursday's rally on robust buying in IT, energy and banking stocks amid unabated purchases by domestic institutional investors.

Asian shares were mixed after US President Donald Trump cancelled a planned meeting with North Korean leader Kim Jong Un.
---
L&T Construction bags Rs 3,191 crore order for Dhaka Metro
Posted on 25th May 2018
Larsen & Toubro (L&T) today said L&T Construction has bagged a Rs 3,191 crore order from Dhaka Mass Transit Company for construction of a railway line for Dhaka Metro. L&T said it has secured the order in JV with Marubeni Corporation (Japan) through an international competitive bidding process.
---
DoT clears Idea's sale of cellular towers to American Tower Company
Posted on 25th May 2018
The Department of Telecommunications (DoT) has given a go-ahead to the sale of Idea Cellular's standalone telecom towers to a subsidiary of American Tower Corp (ATC).

Idea through its wholly owned subsidiary Idea Cellular Infrastructure Services (ICISL) has a portfolio of 9,900 towers with a tenancy ratio of 1.80x (September 2017). During the first half of FY18, ICISL had revenues of Rs 597 crore and an EBITDA of Rs 194 crore.
---
Maharashtra food processing industry braces for plastic ban
Posted on 25th May 2018
The impending policy decision barring single-use plastics and a ban on PET bottles after a 3-month window has left the Maharashtra food processing industry in a state of flux. Several horticulture associations have opposed the move and have urged the government to deliberate upon alternative packaging solutions.
---
Be the first person to write a business review for Girls have started drinking beer, tolerance limit is being crossed: Manohar Parrikar