Girls have started drinking beer, tolerance limit is being crossed: Manohar Parrikar
Posted on 10th February 2018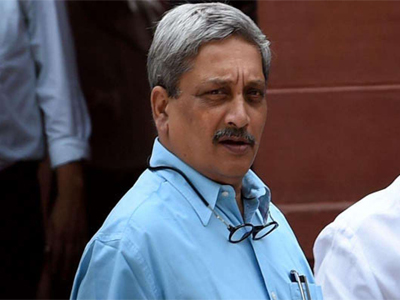 Goa Chief Minister Manohar Parrikar is a worried man these days as girls have started consuming alcohol.

"I have begun to fear now, because even the girls have started drinking beer. The tolerance limit is being crossed," said Parrikar, whose coastal state is one of most sought-after tourist destinations. "I am not talking about everyone. I am not talking about these people who are siting here," he said addressing the State Youth Parliament, an event organised by the state Legislature Department here.

Earlier, talking about the narcotics trade in Goa, he said a crackdown on the drug network in the state has been going on and this will continue till drugs are out of sight. "I have no belief that it will come down to zero. I personally do not believe that there is much proliferation (of drugs) in colleges," he said. After he directed the police to take strict action against the drug trade, he said, 170 people were arrested for drug peddling.

"As per the law, if there is a small quantity of drugs, a person gets bail in eight to 15 days or a month. Our courts have also become lenient, but at least the guilty are caught," he said. Speaking about unemployment, Parrikar said the youth in Goa are shying away from hard work. A long queue was seen for the lower division clerk's job in the government department "because they do not want to work hard". People think that government job means no work, he said.
Indian Oil hopes to raise funds under new working capital norms in 20 days
Posted on 16th October 2018
An executive of state-owned Indian Oil Corporation on Tuesday said the company was hoping to raise at least $300 million under the new working capital norms within 20 days from now.

IOC had last week said it would invest Rs 54.63 billion in setting up a city gas distribution network for retailing CNG to automobiles and piped cooking gas to households in seven districts.
---
#MeToo: Women journalists demand M J Akbar's dismissal, write to President
Posted on 16th October 2018
A panel of female journalists has written to President Ram Nath Kovind demanding the dismissal of Union Minister M.J. Akbar who has been accused of sexual harassment by a dozen women in the wake of the #MeToo movement.

We are extremely concerned that he continues to be a minister in the Union council of ministers even as he pursues whatever legal course of action he plans.
---
ICICI Bank gets RBI clearance to appoint Sandeep Bakhshi as its MD and CEO
Posted on 16th October 2018
Private sector lender ICICI Bank Tuesday said the RBI has approved Sandeep Bakshi's appointment as Managing Director and CEO of the bank for three years.

After resignation of Chanda Kochhar, who was facing inquiry, earlier this month, the bank's board had elevated Chief Operating Officer (COO) Bakshi as the new managing director and CEO for five years until October 3, 2023, subject to regulatory and other approvals.
---
Rupee weakens 9 paise to 73.92 against US dollar in early trade
Posted on 16th October 2018
The rupee weakened by 9 paise to 73.92 against the US dollar in early trade Tuesday on increased demand for the American currency from banks and importers.

At the Interbank Foreign Exchange, the domestic currency opened higher at 73.79 but lost ground and fell to 73.92.
---
Good news: Pink Line Delhi Metro to open by Diwali
Posted on 16th October 2018
The Delhi Metro's Pink line will be opened by Diwali, according to various media reports. Pink line for Shiv Vihar-Trilokpuri Metro was scheduled to be opened in August as per a previous plan but then the deadline got extended.

Pink Line Metro will ease connectivity between North East Delhi and South Delhi by connecting Shiv Vihar and Lajpat Nagar.
---
Be the first person to write a business review for Girls have started drinking beer, tolerance limit is being crossed: Manohar Parrikar