Girls have started drinking beer, tolerance limit is being crossed: Manohar Parrikar
Posted on 10th February 2018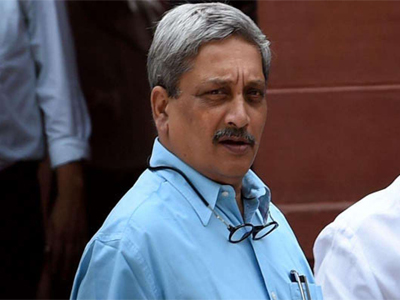 Goa Chief Minister Manohar Parrikar is a worried man these days as girls have started consuming alcohol.

"I have begun to fear now, because even the girls have started drinking beer. The tolerance limit is being crossed," said Parrikar, whose coastal state is one of most sought-after tourist destinations. "I am not talking about everyone. I am not talking about these people who are siting here," he said addressing the State Youth Parliament, an event organised by the state Legislature Department here.

Earlier, talking about the narcotics trade in Goa, he said a crackdown on the drug network in the state has been going on and this will continue till drugs are out of sight. "I have no belief that it will come down to zero. I personally do not believe that there is much proliferation (of drugs) in colleges," he said. After he directed the police to take strict action against the drug trade, he said, 170 people were arrested for drug peddling.

"As per the law, if there is a small quantity of drugs, a person gets bail in eight to 15 days or a month. Our courts have also become lenient, but at least the guilty are caught," he said. Speaking about unemployment, Parrikar said the youth in Goa are shying away from hard work. A long queue was seen for the lower division clerk's job in the government department "because they do not want to work hard". People think that government job means no work, he said.
Sensex, Nifty end marginally higher amid mixed global cues
Posted on 16th January 2019
Mumbai: Equity indices ended marginally higher Wednesday after a see-saw session, tracking mixed cues from the global markets amid geopolitical uncertainties.

After swinging nearly 200 points, the 30-share BSE Sensex index settled 2.96 points, or 0.01 per cent, higher at 36,321.29. The broader NSE Nifty inched up 3.50 points, or 0.03 per cent, to 10,890.30.
---
IOC to raise USD 3 billion more in overseas loan
Posted on 16th January 2019
New Delhi: State-owned Indian Oil Corp (IOC) may raise about USD 3 billion more through US dollar bonds issue after the Reserve Bank permitted fuel retailers to raise an overseas loan to check fall in rupee value, its Chairman Sanjiv Singh said Wednesday.

IOC is already in market to raise USD 900 million through a bonds issue and is raising an equivalent sum through a syndicated loan for meeting its working capital requirements.
---
HPCL unlikely to partner Total for LPG cavern in Mangalore
Posted on 16th January 2019
State-run Hindustan Petroleum Corp. Ltd (HPCL) may build its second liquefied petroleum gas (LPG) cavern in Mangalore, Karnataka, said two company officials, requesting anonymity. HPCL is planning to build an underground LPG storage facility and had been in talks with France's national oil company, Total SA, to partner it. Total SA is also HPCL's partner in the first LPG cavern in Visakhapatnam, Andhra Pradesh.
---
Volkswagen and Ford's marriage leaves investors feeling jilted
Posted on 16th January 2019
Southfield/Michigan/Frankfurt: The much-anticipated alliance announcement by Volkswagen AG and Ford Motor Co. left investors feeling let down as it lacked a big-bucks plan to join forces on electric vehicles and self-driving cars.

Wall Street was hoping for a blockbuster deal, such as the billions of dollars General Motors Co. landed for its self-driving unit from Honda and SoftBank Vision Fund last year.
---
SBI puts on sale Essar Steel loan of Rs 15,431 crore
Posted on 16th January 2019
Mumbai: With last minute-litigation delaying recovery of Essar Steel loan, State Bank of India (SBI) on Wednesday put on sale its Rs 15,431-crore exposure to the steelmaker on a full-cash basis. In the sale notice on its website, the bank said the aggregate reserve price for the bidding has been set at Rs 9,588 crore.

These include categories like working capital, term loan, corporate loan, export performance bank guarantee (EPBG) and standby letter of credit (SBLC).
---
Be the first person to write a business review for Girls have started drinking beer, tolerance limit is being crossed: Manohar Parrikar