Bajaj Auto hits new high on strong January sales
Posted on 2nd February 2018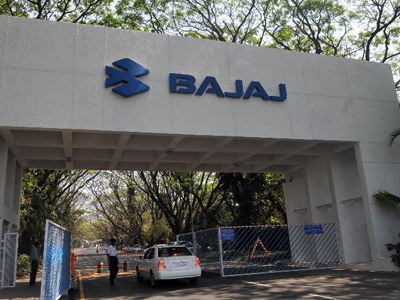 Bajaj Auto hit a new high of Rs 3,473, up 2% on BSE in early morning trade, after the company reported healthy sales growth for January, with total sales jumping 46% at 353,147 units over the previous year. It had sold total 241,917 units in the same month last year.

The company's overall motorcycles sales jump 36% year on year (YoY) at 288,936 units.

Three-wheelers saw the highest ever sales in a single month with the company sold 64,211 units, up 113% on YoY basis.

Bajaj Auto had reported 30% YoY jump in total sales at 292,547 units, with motorcycles sales grew 13% at 228,762 units over the previous year.

On cumulative basis, for the first 10 months (April to January) of the current financial year 2017-18, the company total sales of the company increased by 6% at 3.3 million units compared to 3.1 million units sold in the same 10 months of last financial year.

Bajaj Auto is scheduled to announce the unaudited financial results for the quarter and nine months ended 31 December 2017 (Q3FY18) today.

At 09:54 AM; the stock erases its early morning gains, trading flat at Rs 3,406 on BSE, as compared to 0.96% decline in the S&P BSE Sensex. A combined 278,102 shares changed hands on the counter on BSE and NSE so far.
Audit clears Facebook despite Cambridge Analytica leaks
Posted on 21st April 2018
An audit of Facebook's privacy practices for the Federal Trade Commission found no problems even though the company knew at the time that a data-mining firm improperly obtained private data from millions of users — raising questions about the usefulness of such audits. Facebook agreed to outside audits every two years as part of a 2011 settlement with the FTC over its privacy practices.
---
HDFC Bank Q4 net profit rises 20% to Rs4,799 crore
Posted on 21st April 2018
Mumbai: HDFC Bank Ltd on Saturday said its fourth quarter net profit rose 20.28% on the back of higher net interest income and other income.

The bank posted a net profit Rs4,799.28 crore for the three months ended 31 March compared to Rs3,990.09 crore in the year-ago period. Profit was lower than Rs4,858.9 crore estimated by a Bloomberg poll of 22 analysts.
---
---
NORTH KOREA SUSPENDS NUCLEAR, MISSILE TESTS
Posted on 21st April 2018
North Korea on Saturday announced its suspension of all missile tests and shutting down of nuclear test site, saying its quest for nuclear arms was "complete" and it "no longer needed" to test its weapons capability.

"Under the proven condition of complete nuclear weapons, we no longer need any nuclear tests, mid-range and intercontinental ballistic rocket tests, and that the nuclear test site in northern area has also completed its mission," North Korean leader Kim Jong-un was quoted as saying by the state-run KCNA news agency.
---
PNB impounds passports of 150 wilful defaulters
Posted on 21st April 2018
NEW DELHI: Punjab National Bank (PNB), the country's second-largest public sector lender + , has impounded passports of 150 wilful loan defaulters apart from lodging 37 FIRs against those who are not repaying loans as part of its recovery drive.

"The bank has already declared 1,084 wilful defaulters and published photos of 260 such defaulters in newspapers," the bank said in a statement.
---
Be the first person to write a business review for Bajaj Auto hits new high on strong January sales