Increasing digital adoption to impact 65% jobs in next 4 years: E&Y
Posted on 6th January 2018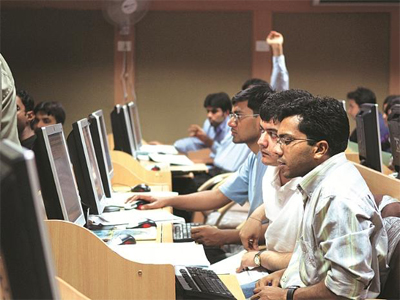 An IT or Computer engineering student who starts college this year will graduate into a radically different job market in four years. Up to 20 per cent jobs that they will be applying for do not exist today and 65 per cent of the existing job roles would have changed radically by 2022, says a new report "Future of Jobs in India: A 2022 Perspective" conducted by EY and commissioned by industry bodies Ficci and Nasscom.

Internet of Things (IoT), Machine Learning (ML) and Artificial intelligence (AI) ranked as the top technological trends that would drive business for IT organisations in advanced markets as felt by 97 per cent of the survey respondents. This was closely followed by Big Data and Cloud and Robotics/Automation at 90 per cent which underlining the fact that the sector is being driven by the three A's – Automation, Analytics and Artificial Intelligence.


"AI and machine learning will be integrated into the enterprise-software systems that form the heart of most organisational IT infrastructures. We can only guess at the level of automation that will result, but the impact on business – and society – will be significant," said Neeraj Athalye, SAP Leonardo India Head.

The report recommends the government to bring about large reforms in general, technical and vocational education systems and create a fund to promote joint technology or business model proposals between industry and academia.

Deloitte's 50 fastest growing technology companies in 2017 have seen massive growth from analytics and robotic sectors. "Whilst the overall technology sectors are witnessing global changes and disruptions, both on the technology developments and also regulatory impacts, we continue to be positive about capabilities and eminence of technology businesses in India," said Rajiv Sundar, Partner and Program Director-Technology Fast50 India 2017, Deloitte India.

"The growing opportunities in the digital technology arena including government initiatives like Digital India will add jobs in digital technologies, AI, User interface, robotics. In fact, Artificial intelligence (AI) alone will create 2.3 million jobs globally by 2020," said Alka Dhingra, General Manager, IT staffing, Team Lease Services.

Some of the sectors that are expected to hire are mobile manufacturing, fintech, and start-ups. These companies are looking to acquire candidates at both junior and mid-levels, she added.

As a part of the drive to boost efficiency and reduce costs, already half of the larger companies, particularly in telecommunications, Media, and technology (TMT), and banking, financial services and insurance (BFSI), have implemented AI, said a report by Intel and IDC in December.

Almost 71 per cent organisations are looking at increased process automation as a key benefit and almost equal number of firms (69 per cent) are looking at increased employee productivity across several business functions, said the report.

As per the EY report, close to 80 per cent of the survey respondents believe that creation of highly optimised supply chains and rapid adoption of exponential technologies by global enterprises are the two primary trends that will redefine the IT-BPM sector.

However, 72 per cent still feel that the lack of talent for technology enablement could pose as a key barrier to automation. Jobs that are based on routine processes like software testing are likely to be most impacted by automation in the software development value chain.

Cyber security will constitute one of the larger applications of AI and IoT related skill sets as employers look to fortify their newfound technology.

"As the digital ecosystem grow and technologies progress, the skills needed to deal with cyber-security needs are changing. The challenge is to train cyber-security professionals so that they can deal with threats as quickly as possible and also adapt their skills as needed. There will be some 3.5 billion unfilled cyber-security roles by 2021, so it's up to governments, universities, schools and businesses to collaborate in order to bridge this substantial skills gap," said Srinivasan CR, Senior Vice President, Global Product Management & Data Centre Services at Tata Communications.

Research firm Gartner has noted that while AI will eliminate millions of middle and low-level positions in the coming years, it will also create millions more new positions of highly skilled, management and even the entry-level and low-skilled variety. However, some industries, such as outsourcing, are seeing a fundamental change in their business models, whereby the cost reduction from AI and the resulting productivity improvement must be reinvested to allow reinvention and the perusal of new business model opportunities said Gartner.
No relief for Kotak Bank on promoter shareholding, shares fall
Posted on 17th December 2018
Mumbai: Kotak Mahindra Bank shares fell over 3% on Monday after the Bombay high Court refused to grant stay on 31 December deadline given by the Reserve Bank of India for promoter stake dilution. The next hearing will be on 17 January, Bloomberg reported. In intraday, Kotak Mahindra Bank shares declined as much as 3.6% to hit a low of ₹1,209.30 apiece. The Kotak Bank stock closed at 1,223.90 per share, down 2.50% from its previous close, while the Sensex rose 0.85% to 36,270.07 points.
---
ONGC, OIL spent over Rs 13,000 crore on 115 discoveries sold to private companies: Pradhan
Posted on 17th December 2018
ONGC, OIL spent Rs 13,000 cr on 115 discoveries govt took away from them: Pradhan

New Delhi: State-owned Oil and Natural Gas Corp (ONGC) and Oil India Ltd (OIL) spent over Rs 13,000 crore on 115 oil and gas discoveries which were taken away from them by the government for auctioning to private companies, Oil Minister Dharmendra Pradhan said Monday.
---
NHAI projects likely to fall short by 33-37% of its FY19 target, says Icra
Posted on 17th December 2018
Despite the pace of highways projects undertaken by state-run National Highways Authority of India (NHAI) picking up in the last three years, it is likely to remain short by 33-37 per cent of its FY19 target of completing 6,000 km, says Icra.

With a strong unexecuted pipeline and concerted efforts on right of way, the NHAI is on a strong footing and is set to witness sustained growth in execution in FY2019, the highest ever over the last one decade (FY2010- FY2019), the agency said in a statement issued on Monday.
---
HC rejects IDBI officers' plea against LIC move to acquire stake in bank
Posted on 17th December 2018
The Delhi High Court on Monday dismissed a plea challenging the LIC move to acquire 51 per cent stake in the Industrial Development Bank of India (IDBI).

Justice Vibhu Bakhru rejected the petition by the All India IDBI Officers Association, which had opposed the move of Life Insurance Corporation (LIC) on the ground that change in shareholding could take away the public sector bank status of IDBI.
---
NTPC rallies to near 1-month high after Jefferies raises share price target
Posted on 17th December 2018
Shares of state-run major NTPC surged in early trade Monday after global brokerage Jefferies said that the PSU will benefit from Central Electricity Regulatory Commission (CERC) latest decision. NTPC share price rallied 5.8 per cent to hit the day's high at Rs 151.35. The CERC, in its draft, allowed energy charges per unit of power to be calculated with a variation of 85 kilocalorie to billing on actual gross calorific value of coal received, giving NTPC the benefit of about 2.7 per cent on its coal cost, Jefferies noted.
---
Be the first person to write a business review for Increasing digital adoption to impact 65% jobs in next 4 years: E&Y