Increasing digital adoption to impact 65% jobs in next 4 years: E&Y
Posted on 6th January 2018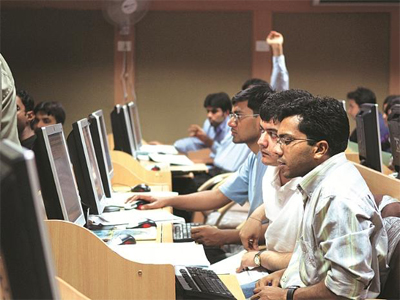 An IT or Computer engineering student who starts college this year will graduate into a radically different job market in four years. Up to 20 per cent jobs that they will be applying for do not exist today and 65 per cent of the existing job roles would have changed radically by 2022, says a new report "Future of Jobs in India: A 2022 Perspective" conducted by EY and commissioned by industry bodies Ficci and Nasscom.

Internet of Things (IoT), Machine Learning (ML) and Artificial intelligence (AI) ranked as the top technological trends that would drive business for IT organisations in advanced markets as felt by 97 per cent of the survey respondents. This was closely followed by Big Data and Cloud and Robotics/Automation at 90 per cent which underlining the fact that the sector is being driven by the three A's – Automation, Analytics and Artificial Intelligence.


"AI and machine learning will be integrated into the enterprise-software systems that form the heart of most organisational IT infrastructures. We can only guess at the level of automation that will result, but the impact on business – and society – will be significant," said Neeraj Athalye, SAP Leonardo India Head.

The report recommends the government to bring about large reforms in general, technical and vocational education systems and create a fund to promote joint technology or business model proposals between industry and academia.

Deloitte's 50 fastest growing technology companies in 2017 have seen massive growth from analytics and robotic sectors. "Whilst the overall technology sectors are witnessing global changes and disruptions, both on the technology developments and also regulatory impacts, we continue to be positive about capabilities and eminence of technology businesses in India," said Rajiv Sundar, Partner and Program Director-Technology Fast50 India 2017, Deloitte India.

"The growing opportunities in the digital technology arena including government initiatives like Digital India will add jobs in digital technologies, AI, User interface, robotics. In fact, Artificial intelligence (AI) alone will create 2.3 million jobs globally by 2020," said Alka Dhingra, General Manager, IT staffing, Team Lease Services.

Some of the sectors that are expected to hire are mobile manufacturing, fintech, and start-ups. These companies are looking to acquire candidates at both junior and mid-levels, she added.

As a part of the drive to boost efficiency and reduce costs, already half of the larger companies, particularly in telecommunications, Media, and technology (TMT), and banking, financial services and insurance (BFSI), have implemented AI, said a report by Intel and IDC in December.

Almost 71 per cent organisations are looking at increased process automation as a key benefit and almost equal number of firms (69 per cent) are looking at increased employee productivity across several business functions, said the report.

As per the EY report, close to 80 per cent of the survey respondents believe that creation of highly optimised supply chains and rapid adoption of exponential technologies by global enterprises are the two primary trends that will redefine the IT-BPM sector.

However, 72 per cent still feel that the lack of talent for technology enablement could pose as a key barrier to automation. Jobs that are based on routine processes like software testing are likely to be most impacted by automation in the software development value chain.

Cyber security will constitute one of the larger applications of AI and IoT related skill sets as employers look to fortify their newfound technology.

"As the digital ecosystem grow and technologies progress, the skills needed to deal with cyber-security needs are changing. The challenge is to train cyber-security professionals so that they can deal with threats as quickly as possible and also adapt their skills as needed. There will be some 3.5 billion unfilled cyber-security roles by 2021, so it's up to governments, universities, schools and businesses to collaborate in order to bridge this substantial skills gap," said Srinivasan CR, Senior Vice President, Global Product Management & Data Centre Services at Tata Communications.

Research firm Gartner has noted that while AI will eliminate millions of middle and low-level positions in the coming years, it will also create millions more new positions of highly skilled, management and even the entry-level and low-skilled variety. However, some industries, such as outsourcing, are seeing a fundamental change in their business models, whereby the cost reduction from AI and the resulting productivity improvement must be reinvested to allow reinvention and the perusal of new business model opportunities said Gartner.
Amazon India reportedly closing in on Flipkart
Posted on 22nd March 2018
BENGALURU: Amazon has almost closed the gap with Flipkart's standalone sales in 2017, behind in GMV marketshare by less than 1percentage point in 2017 from 5 percentage points in 2016, as per Forrester. However, Flipkart still leads as a group with Myntra and Jabong.

While Flipkart leads in fashion and smartphones, Amazon has taken lead in categories such as appliances, consumer electronics, and more importantly, groceries, which builds platform stickiness, said Satish Meena, a senior forecast analyst at Forrester.
---
Air India may give promotions to 100 pilots with pay hike of up to Rs 12 lakh: Report
Posted on 22nd March 2018
Amidst the privatisation talks, it has been reported that the national carrier Air India might gove promotion to its 100 pilots with a pay hike of Rs 12 lakh per head.

"The 100 deputy general manager rank pilots are narrow-body and widebody pilots. These pilots are likely to be promoted to executive despite the fact that the airline is being privatised," a source told the Economic Times.
---
Opening bell: Sensex opens stronger after fed rates hike
Posted on 22nd March 2018
Key indices on Thursday gained strength after the federal reserve hiked rates as widely expected.

The 30-share BSE Sensex was up 138.34 points at 33,274.52 and the 50-share NSE Nifty rose 49.40 points to 10,204.70.
---
Sebi may impose trading curbs on cos undergoing insolvency proceedings
Posted on 22nd March 2018
The Securities and Exchange Board of India (Sebi) may impose trading restrictions on shares of companies that are undergoing insolvency proceedings. The move, which is also a demand by industry players, is aimed at reducing volatility in stock prices and curbing manipulation or misuse of price-sensitive information.

Sources said the market regulator would lay down a compliance framework for listed companies undergoing insolvency resolution. The announcement will likely be made at Sebi's board meeting next week.
---
Essar Steel set for rebid as lenders reject Arcelor, Numetal offers
Posted on 22nd March 2018
The State Bank of India-led consortium of lenders called for a second round of bidding for Essar Steel on Wednesday. All the six companies that had submitted expressions of interest (EoIs) earlier have to submit their bids by April 2.

Lenders rejected bids by Numetal and ArcelorMittal after both companies failed the legal eligibility test. The legal advisors cited one of the clauses of Section 29A of the Insolvency and Bankruptcy Code (IBC) for rejecting the bids.
---
Be the first person to write a business review for Increasing digital adoption to impact 65% jobs in next 4 years: E&Y