Increasing digital adoption to impact 65% jobs in next 4 years: E&Y
Posted on 6th January 2018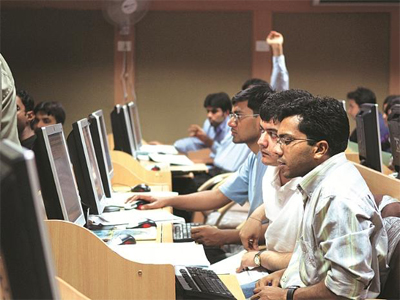 An IT or Computer engineering student who starts college this year will graduate into a radically different job market in four years. Up to 20 per cent jobs that they will be applying for do not exist today and 65 per cent of the existing job roles would have changed radically by 2022, says a new report "Future of Jobs in India: A 2022 Perspective" conducted by EY and commissioned by industry bodies Ficci and Nasscom.

Internet of Things (IoT), Machine Learning (ML) and Artificial intelligence (AI) ranked as the top technological trends that would drive business for IT organisations in advanced markets as felt by 97 per cent of the survey respondents. This was closely followed by Big Data and Cloud and Robotics/Automation at 90 per cent which underlining the fact that the sector is being driven by the three A's – Automation, Analytics and Artificial Intelligence.


"AI and machine learning will be integrated into the enterprise-software systems that form the heart of most organisational IT infrastructures. We can only guess at the level of automation that will result, but the impact on business – and society – will be significant," said Neeraj Athalye, SAP Leonardo India Head.

The report recommends the government to bring about large reforms in general, technical and vocational education systems and create a fund to promote joint technology or business model proposals between industry and academia.

Deloitte's 50 fastest growing technology companies in 2017 have seen massive growth from analytics and robotic sectors. "Whilst the overall technology sectors are witnessing global changes and disruptions, both on the technology developments and also regulatory impacts, we continue to be positive about capabilities and eminence of technology businesses in India," said Rajiv Sundar, Partner and Program Director-Technology Fast50 India 2017, Deloitte India.

"The growing opportunities in the digital technology arena including government initiatives like Digital India will add jobs in digital technologies, AI, User interface, robotics. In fact, Artificial intelligence (AI) alone will create 2.3 million jobs globally by 2020," said Alka Dhingra, General Manager, IT staffing, Team Lease Services.

Some of the sectors that are expected to hire are mobile manufacturing, fintech, and start-ups. These companies are looking to acquire candidates at both junior and mid-levels, she added.

As a part of the drive to boost efficiency and reduce costs, already half of the larger companies, particularly in telecommunications, Media, and technology (TMT), and banking, financial services and insurance (BFSI), have implemented AI, said a report by Intel and IDC in December.

Almost 71 per cent organisations are looking at increased process automation as a key benefit and almost equal number of firms (69 per cent) are looking at increased employee productivity across several business functions, said the report.

As per the EY report, close to 80 per cent of the survey respondents believe that creation of highly optimised supply chains and rapid adoption of exponential technologies by global enterprises are the two primary trends that will redefine the IT-BPM sector.

However, 72 per cent still feel that the lack of talent for technology enablement could pose as a key barrier to automation. Jobs that are based on routine processes like software testing are likely to be most impacted by automation in the software development value chain.

Cyber security will constitute one of the larger applications of AI and IoT related skill sets as employers look to fortify their newfound technology.

"As the digital ecosystem grow and technologies progress, the skills needed to deal with cyber-security needs are changing. The challenge is to train cyber-security professionals so that they can deal with threats as quickly as possible and also adapt their skills as needed. There will be some 3.5 billion unfilled cyber-security roles by 2021, so it's up to governments, universities, schools and businesses to collaborate in order to bridge this substantial skills gap," said Srinivasan CR, Senior Vice President, Global Product Management & Data Centre Services at Tata Communications.

Research firm Gartner has noted that while AI will eliminate millions of middle and low-level positions in the coming years, it will also create millions more new positions of highly skilled, management and even the entry-level and low-skilled variety. However, some industries, such as outsourcing, are seeing a fundamental change in their business models, whereby the cost reduction from AI and the resulting productivity improvement must be reinvested to allow reinvention and the perusal of new business model opportunities said Gartner.
Hindustan Petroleum Corp enters into a long-term agreement with HMEL
Posted on 22nd September 2018
Hindustan Petroleum Corporation (HPCL) on Friday entered into a long-term agreement with HMEL (HPCL-Mittal Energy) for operations and maintenance of its newly-commissioned bitumen terminal at Bathinda.

HMEL recently set up a bitumen blowing unit with a capacity of 550 million tonne per annum different grades of bitumen plant at Guru Gobind Singh Refinery, Bathinda. The agreement is for storing, handling and dispatching the product.
---
Amazon India to soon sell cow urine and dung based soaps, face packs made by RSS-backed centre
Posted on 22nd September 2018
Soaps, face packs, shampoos and medicinal products made from cow urine and dung may soon be just a click away as an RSS-backed centre says it is set to sell these on e-commerce major Amazon India.

Deen Dayal Dham, a centre run by the RSS in Farah town of Mathura in Uttar Pradesh, will first put up a dozen products related to health, beauty and apparel on the website for sale, a manger at the centre said.
---
Sensex witnesses flash crash
Posted on 22nd September 2018
Mumbai: The shares of housing finance companies (HFC) and other financial service firms were battered badly on Friday causing a flash crash on the domestic bourses as rumours about default by certain entities amidst rising delinquencies and cost of capital triggered panic selling in the market.
---
Infosys to offer cloud solutions to global enterprises on Google Clouds
Posted on 22nd September 2018
Software major Infosys would offer scalable services and solutions on demand to global enterprises on search engine's Google cloud platform, the IT major said on Saturday.

"We are partnering with Google to develop cloud transformation and migration services for enabling enterprises transform their businesses on scalable and on-demand model," said the city-based company in a statement.
---
RIL closes KG-D6 oilfield
Posted on 22nd September 2018
Reliance Industries has permanently shut down its only oilfield (MA field) in the KG-D6 block on the back of dwindling output from the reserve. This was the company's first foray into oil and gas exploration that began in September 2008 when the field started producing oil.

"The MA (D26) field in Block KG-DWN-98/3 (KGD6), which is being operated by RIL as an operator of the joint venture consisting of RIL (60 per cent), BP (30 per cent) and Niko (10 per cent)
---
Be the first person to write a business review for Increasing digital adoption to impact 65% jobs in next 4 years: E&Y