Chidambaram slams govt on GDP forecast, says 'worst fears have come true'
Posted on 6th January 2018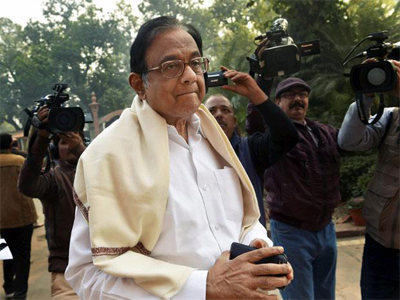 Senior Congress leader P Chidambaram on Saturday hit out at the government over lower growth estimates for the current fiscal, saying the worst fears of an imminent economic slowdown have come true.

There is a decline in new projects and fresh investment, Chidambaram claimed in a statement.


The informal sector is reeling under the ill effects of demonetisation. Job creation is abysmal, exports are plunging, and manufacturing sector growth has slowed down. The agriculture sector has been hit hard and rural despair is abundant, he claimed.

Job creation remained the "single biggest failure" of the BJP government. The bank credit growth was extremely sluggish and it did not bode well for the economy, he said.

"The worst fears of an imminent economic slowdown have come true. The Modi governments tall claims of India growing at a robust growth rate have evaporated into thin air," Chidambaram said.

"No amount of sugar coating, false bravado and rhetoric along with headlines management can conceal the stark reality. Our fears and warnings have proved true," the Congress leader said.

He said the recent social discontent could be a "direct manifestation of this economic slowdown, which the government was conveniently hiding".

It was the time the government stopped making tall claims and did some solid work, he said.

Citing government data, the former finance minister said the GDP growth rate was 8 per cent in 2015-16, 7.1 per cent in 2016-17. It is estimated at 6.5 per cent in 2017-18, "which proves there is a slowdown".

A decline in economic activity and growth meant loss of millions of jobs, he said.

While the GDP growth is estimated at 6.5 per cent during 2017-18 as compared to 7.1 per cent in 2016-17, the anticipated growth of real GVA at basic prices in 2017-18 is 6.1 per cent as against 6.6 per cent in 2016-17, he said.

Retail inflation soared to a 15-month high of 4.88 per cent in November and industrial output hit a three-month low of 2.2 per cent in October, he pointed out.

"The investment picture remains bleak... The manufacturing sector has seen the sharpest fall and fiscal deficit is likely to overshoot the budget estimates of 3.2 per cent of GDP," the Congress leader said.
Hindustan Petroleum Corp enters into a long-term agreement with HMEL
Posted on 22nd September 2018
Hindustan Petroleum Corporation (HPCL) on Friday entered into a long-term agreement with HMEL (HPCL-Mittal Energy) for operations and maintenance of its newly-commissioned bitumen terminal at Bathinda.

HMEL recently set up a bitumen blowing unit with a capacity of 550 million tonne per annum different grades of bitumen plant at Guru Gobind Singh Refinery, Bathinda. The agreement is for storing, handling and dispatching the product.
---
Amazon India to soon sell cow urine and dung based soaps, face packs made by RSS-backed centre
Posted on 22nd September 2018
Soaps, face packs, shampoos and medicinal products made from cow urine and dung may soon be just a click away as an RSS-backed centre says it is set to sell these on e-commerce major Amazon India.

Deen Dayal Dham, a centre run by the RSS in Farah town of Mathura in Uttar Pradesh, will first put up a dozen products related to health, beauty and apparel on the website for sale, a manger at the centre said.
---
Sensex witnesses flash crash
Posted on 22nd September 2018
Mumbai: The shares of housing finance companies (HFC) and other financial service firms were battered badly on Friday causing a flash crash on the domestic bourses as rumours about default by certain entities amidst rising delinquencies and cost of capital triggered panic selling in the market.
---
Infosys to offer cloud solutions to global enterprises on Google Clouds
Posted on 22nd September 2018
Software major Infosys would offer scalable services and solutions on demand to global enterprises on search engine's Google cloud platform, the IT major said on Saturday.

"We are partnering with Google to develop cloud transformation and migration services for enabling enterprises transform their businesses on scalable and on-demand model," said the city-based company in a statement.
---
RIL closes KG-D6 oilfield
Posted on 22nd September 2018
Reliance Industries has permanently shut down its only oilfield (MA field) in the KG-D6 block on the back of dwindling output from the reserve. This was the company's first foray into oil and gas exploration that began in September 2008 when the field started producing oil.

"The MA (D26) field in Block KG-DWN-98/3 (KGD6), which is being operated by RIL as an operator of the joint venture consisting of RIL (60 per cent), BP (30 per cent) and Niko (10 per cent)
---
Be the first person to write a business review for Chidambaram slams govt on GDP forecast, says 'worst fears have come true'