Chidambaram slams govt on GDP forecast, says 'worst fears have come true'
Posted on 6th January 2018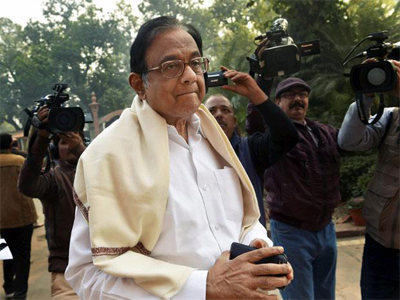 Senior Congress leader P Chidambaram on Saturday hit out at the government over lower growth estimates for the current fiscal, saying the worst fears of an imminent economic slowdown have come true.

There is a decline in new projects and fresh investment, Chidambaram claimed in a statement.


The informal sector is reeling under the ill effects of demonetisation. Job creation is abysmal, exports are plunging, and manufacturing sector growth has slowed down. The agriculture sector has been hit hard and rural despair is abundant, he claimed.

Job creation remained the "single biggest failure" of the BJP government. The bank credit growth was extremely sluggish and it did not bode well for the economy, he said.

"The worst fears of an imminent economic slowdown have come true. The Modi governments tall claims of India growing at a robust growth rate have evaporated into thin air," Chidambaram said.

"No amount of sugar coating, false bravado and rhetoric along with headlines management can conceal the stark reality. Our fears and warnings have proved true," the Congress leader said.

He said the recent social discontent could be a "direct manifestation of this economic slowdown, which the government was conveniently hiding".

It was the time the government stopped making tall claims and did some solid work, he said.

Citing government data, the former finance minister said the GDP growth rate was 8 per cent in 2015-16, 7.1 per cent in 2016-17. It is estimated at 6.5 per cent in 2017-18, "which proves there is a slowdown".

A decline in economic activity and growth meant loss of millions of jobs, he said.

While the GDP growth is estimated at 6.5 per cent during 2017-18 as compared to 7.1 per cent in 2016-17, the anticipated growth of real GVA at basic prices in 2017-18 is 6.1 per cent as against 6.6 per cent in 2016-17, he said.

Retail inflation soared to a 15-month high of 4.88 per cent in November and industrial output hit a three-month low of 2.2 per cent in October, he pointed out.

"The investment picture remains bleak... The manufacturing sector has seen the sharpest fall and fiscal deficit is likely to overshoot the budget estimates of 3.2 per cent of GDP," the Congress leader said.
Made-in-India electric cars from Mercedes-Benz soon as it bets big on EVs
Posted on 20th June 2018
German automaker, Mercedes-Benz is betting big on electric cars globally and also believes that electric cars will play a crucial role as India gets ready to adapt to future of mobility. A report on TOI confirmes that Mercedes-Benz has plans to manufacture electric cars from its plant in Chakan, Pune. The company has already confirmed that it will launch on BSVI compliant diesel engine cars and SUVs in India and now expect many a range of hybrid and electric cars from Mercedes-Benz in India soon.
---
India shelves Air India sale plan after failing to attract buyers – reports
Posted on 20th June 2018
India has shelved its sale of Air India after failing to attract buyers, local media quoted a government minister as saying – a decision that could exacerbate the carrier's financial woes and representing a setback for government efforts to cut debt. Civil Aviation Minister Suresh Prabhu said plans to privatise the carrier have been dropped for now due to factors such as the looming election and high oil prices, according to Times of India which cited news agency PTI.
---
Merger-bound Idea Cellular completes VoLTE expansion
Posted on 20th June 2018
Idea Cellular on Tuesday said it has completed the rollout of VoLTE services in all its 20 4G circles with the country's third largest telecom operator announcing the launch of VoLTE in five circles — Himachal Pradesh, Odisha, Assam, North East Service Area (NESA) and Jammu & Kashmir.

"With the completion of the last phase of VoLTE rollout, Idea is now the only operator to offer pan India integrated 2G, 3G, 4G and VoLTE services.
---
Former RBI Deputy Governor Rama Subramaniam Gandhi joins Paytm as Advisor
Posted on 20th June 2018
One97 Communications, which runs Paytm, has appointed former RBI Deputy Governor Rama Subramaniam Gandhi as an advisor. Gandhi will bring his years of knowledge and experience on payment systems, regulations, compliance and corporate governance, the company said in a statement. Gandhi was a member of the first Monetary Policy Committee.
---
Sensex opens in green, up 130 points in early trade
Posted on 20th June 2018
The BSE Sensex rebounded over 130 points in opening trade today, reversing its two-session losing streak on value-buying in select blue-chips amid a strengthening rupee.

Overseas, mixed trend at other Asian markets also influenced trading sentiments here. The rupee recovered from its nearly one-month low by strengthening 32 paise to 68.06 against the US dollar in early trade today. The 30-share BSE index was trading higher by 130.41 points, or 0.37%, to 35,417.15 in early trade today.
---
Be the first person to write a business review for Chidambaram slams govt on GDP forecast, says 'worst fears have come true'