Chidambaram slams govt on GDP forecast, says 'worst fears have come true'
Posted on 6th January 2018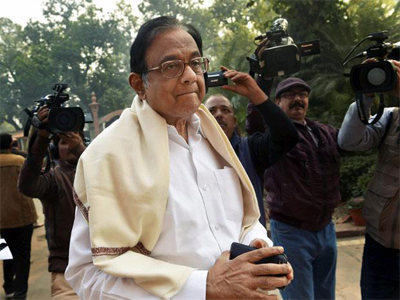 Senior Congress leader P Chidambaram on Saturday hit out at the government over lower growth estimates for the current fiscal, saying the worst fears of an imminent economic slowdown have come true.

There is a decline in new projects and fresh investment, Chidambaram claimed in a statement.


The informal sector is reeling under the ill effects of demonetisation. Job creation is abysmal, exports are plunging, and manufacturing sector growth has slowed down. The agriculture sector has been hit hard and rural despair is abundant, he claimed.

Job creation remained the "single biggest failure" of the BJP government. The bank credit growth was extremely sluggish and it did not bode well for the economy, he said.

"The worst fears of an imminent economic slowdown have come true. The Modi governments tall claims of India growing at a robust growth rate have evaporated into thin air," Chidambaram said.

"No amount of sugar coating, false bravado and rhetoric along with headlines management can conceal the stark reality. Our fears and warnings have proved true," the Congress leader said.

He said the recent social discontent could be a "direct manifestation of this economic slowdown, which the government was conveniently hiding".

It was the time the government stopped making tall claims and did some solid work, he said.

Citing government data, the former finance minister said the GDP growth rate was 8 per cent in 2015-16, 7.1 per cent in 2016-17. It is estimated at 6.5 per cent in 2017-18, "which proves there is a slowdown".

A decline in economic activity and growth meant loss of millions of jobs, he said.

While the GDP growth is estimated at 6.5 per cent during 2017-18 as compared to 7.1 per cent in 2016-17, the anticipated growth of real GVA at basic prices in 2017-18 is 6.1 per cent as against 6.6 per cent in 2016-17, he said.

Retail inflation soared to a 15-month high of 4.88 per cent in November and industrial output hit a three-month low of 2.2 per cent in October, he pointed out.

"The investment picture remains bleak... The manufacturing sector has seen the sharpest fall and fiscal deficit is likely to overshoot the budget estimates of 3.2 per cent of GDP," the Congress leader said.
Amazon India reportedly closing in on Flipkart
Posted on 22nd March 2018
BENGALURU: Amazon has almost closed the gap with Flipkart's standalone sales in 2017, behind in GMV marketshare by less than 1percentage point in 2017 from 5 percentage points in 2016, as per Forrester. However, Flipkart still leads as a group with Myntra and Jabong.

While Flipkart leads in fashion and smartphones, Amazon has taken lead in categories such as appliances, consumer electronics, and more importantly, groceries, which builds platform stickiness, said Satish Meena, a senior forecast analyst at Forrester.
---
Air India may give promotions to 100 pilots with pay hike of up to Rs 12 lakh: Report
Posted on 22nd March 2018
Amidst the privatisation talks, it has been reported that the national carrier Air India might gove promotion to its 100 pilots with a pay hike of Rs 12 lakh per head.

"The 100 deputy general manager rank pilots are narrow-body and widebody pilots. These pilots are likely to be promoted to executive despite the fact that the airline is being privatised," a source told the Economic Times.
---
Opening bell: Sensex opens stronger after fed rates hike
Posted on 22nd March 2018
Key indices on Thursday gained strength after the federal reserve hiked rates as widely expected.

The 30-share BSE Sensex was up 138.34 points at 33,274.52 and the 50-share NSE Nifty rose 49.40 points to 10,204.70.
---
Sebi may impose trading curbs on cos undergoing insolvency proceedings
Posted on 22nd March 2018
The Securities and Exchange Board of India (Sebi) may impose trading restrictions on shares of companies that are undergoing insolvency proceedings. The move, which is also a demand by industry players, is aimed at reducing volatility in stock prices and curbing manipulation or misuse of price-sensitive information.

Sources said the market regulator would lay down a compliance framework for listed companies undergoing insolvency resolution. The announcement will likely be made at Sebi's board meeting next week.
---
Essar Steel set for rebid as lenders reject Arcelor, Numetal offers
Posted on 22nd March 2018
The State Bank of India-led consortium of lenders called for a second round of bidding for Essar Steel on Wednesday. All the six companies that had submitted expressions of interest (EoIs) earlier have to submit their bids by April 2.

Lenders rejected bids by Numetal and ArcelorMittal after both companies failed the legal eligibility test. The legal advisors cited one of the clauses of Section 29A of the Insolvency and Bankruptcy Code (IBC) for rejecting the bids.
---
Be the first person to write a business review for Chidambaram slams govt on GDP forecast, says 'worst fears have come true'