Chidambaram slams govt on GDP forecast, says 'worst fears have come true'
Posted on 6th January 2018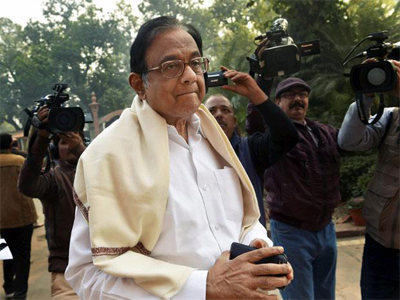 Senior Congress leader P Chidambaram on Saturday hit out at the government over lower growth estimates for the current fiscal, saying the worst fears of an imminent economic slowdown have come true.

There is a decline in new projects and fresh investment, Chidambaram claimed in a statement.


The informal sector is reeling under the ill effects of demonetisation. Job creation is abysmal, exports are plunging, and manufacturing sector growth has slowed down. The agriculture sector has been hit hard and rural despair is abundant, he claimed.

Job creation remained the "single biggest failure" of the BJP government. The bank credit growth was extremely sluggish and it did not bode well for the economy, he said.

"The worst fears of an imminent economic slowdown have come true. The Modi governments tall claims of India growing at a robust growth rate have evaporated into thin air," Chidambaram said.

"No amount of sugar coating, false bravado and rhetoric along with headlines management can conceal the stark reality. Our fears and warnings have proved true," the Congress leader said.

He said the recent social discontent could be a "direct manifestation of this economic slowdown, which the government was conveniently hiding".

It was the time the government stopped making tall claims and did some solid work, he said.

Citing government data, the former finance minister said the GDP growth rate was 8 per cent in 2015-16, 7.1 per cent in 2016-17. It is estimated at 6.5 per cent in 2017-18, "which proves there is a slowdown".

A decline in economic activity and growth meant loss of millions of jobs, he said.

While the GDP growth is estimated at 6.5 per cent during 2017-18 as compared to 7.1 per cent in 2016-17, the anticipated growth of real GVA at basic prices in 2017-18 is 6.1 per cent as against 6.6 per cent in 2016-17, he said.

Retail inflation soared to a 15-month high of 4.88 per cent in November and industrial output hit a three-month low of 2.2 per cent in October, he pointed out.

"The investment picture remains bleak... The manufacturing sector has seen the sharpest fall and fiscal deficit is likely to overshoot the budget estimates of 3.2 per cent of GDP," the Congress leader said.
No relief for Kotak Bank on promoter shareholding, shares fall
Posted on 17th December 2018
Mumbai: Kotak Mahindra Bank shares fell over 3% on Monday after the Bombay high Court refused to grant stay on 31 December deadline given by the Reserve Bank of India for promoter stake dilution. The next hearing will be on 17 January, Bloomberg reported. In intraday, Kotak Mahindra Bank shares declined as much as 3.6% to hit a low of ₹1,209.30 apiece. The Kotak Bank stock closed at 1,223.90 per share, down 2.50% from its previous close, while the Sensex rose 0.85% to 36,270.07 points.
---
ONGC, OIL spent over Rs 13,000 crore on 115 discoveries sold to private companies: Pradhan
Posted on 17th December 2018
ONGC, OIL spent Rs 13,000 cr on 115 discoveries govt took away from them: Pradhan

New Delhi: State-owned Oil and Natural Gas Corp (ONGC) and Oil India Ltd (OIL) spent over Rs 13,000 crore on 115 oil and gas discoveries which were taken away from them by the government for auctioning to private companies, Oil Minister Dharmendra Pradhan said Monday.
---
NHAI projects likely to fall short by 33-37% of its FY19 target, says Icra
Posted on 17th December 2018
Despite the pace of highways projects undertaken by state-run National Highways Authority of India (NHAI) picking up in the last three years, it is likely to remain short by 33-37 per cent of its FY19 target of completing 6,000 km, says Icra.

With a strong unexecuted pipeline and concerted efforts on right of way, the NHAI is on a strong footing and is set to witness sustained growth in execution in FY2019, the highest ever over the last one decade (FY2010- FY2019), the agency said in a statement issued on Monday.
---
HC rejects IDBI officers' plea against LIC move to acquire stake in bank
Posted on 17th December 2018
The Delhi High Court on Monday dismissed a plea challenging the LIC move to acquire 51 per cent stake in the Industrial Development Bank of India (IDBI).

Justice Vibhu Bakhru rejected the petition by the All India IDBI Officers Association, which had opposed the move of Life Insurance Corporation (LIC) on the ground that change in shareholding could take away the public sector bank status of IDBI.
---
NTPC rallies to near 1-month high after Jefferies raises share price target
Posted on 17th December 2018
Shares of state-run major NTPC surged in early trade Monday after global brokerage Jefferies said that the PSU will benefit from Central Electricity Regulatory Commission (CERC) latest decision. NTPC share price rallied 5.8 per cent to hit the day's high at Rs 151.35. The CERC, in its draft, allowed energy charges per unit of power to be calculated with a variation of 85 kilocalorie to billing on actual gross calorific value of coal received, giving NTPC the benefit of about 2.7 per cent on its coal cost, Jefferies noted.
---
Be the first person to write a business review for Chidambaram slams govt on GDP forecast, says 'worst fears have come true'