PMLA case: ED files second charge sheet against Lalu Prasad's daughter Misa Bharti
Posted on 6th January 2018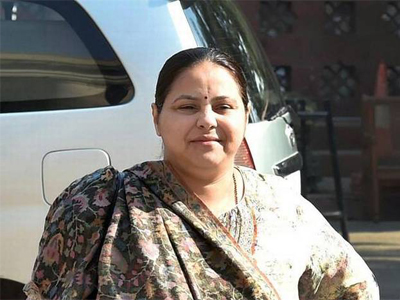 The Enforcement Directorate has filed a second charge sheet against RJD chief Lalu Prasad's daughter Misa Bharti and her husband in a money laundering case before a Delhi court, which on January 6 kept both charge sheets for consideration on February 5.

Irked over the repeated filing of charge sheets by the ED in connection with its money laundering probe against Ms. Bharti and her husband Shailesh Kumar, Special Judge N.K. Malhotra criticised the agency for not letting the trial begin.

"Will you let the trial begin or keep filing complaints? How many supplementary charge sheets will you file? You are a premier investigating agency. You cannot behave like this. It is an ill-drafted complaint," the judge said.

The court, which could not take cognisance of the charge sheet filed on December 23, 2017 against Ms. Bharti and Mr. Kumar, posted the matter for February 5 for considering both the charge sheets after ED special counsel Atul Tripathi sought time to make further submissions in the matter.

Advocate Vijay Aggarwal, representing chartered accountant Rajesh Agrawal, who was also arrested by the ED in connection with the case, sought adjournment citing pendency of bail plea of brothers Surendra Kumar Jain and Virendra Jain, who have been accused of laundering crores of rupees using shell companies.

Mr. Rajesh Agrawal was arrested by the ED following allegations that he mediated and provided ₹90 lakh in cash to the Jain brothers in advance to invest in Ms. Bharti's firm Ms Mishail Packers and Printers Pvt Ltd "as share premium".

The probe agency had earlier attached a Delhi farmhouse in connection with its probe against Ms. Bharti and her husband.

The farmhouse, located at 26, Palam Farms in south Delhi's Bijwasan area was attached provisionally under the Prevention of Money Laundering Act. It belongs to Ms. Bharti and Mr. Kumar and is "held in the name of Ms Mishail Packers and Printers Private Limited", the central probe agency had said. "It was purchased using ₹1.2 crore involved in money laundering in the year 2008-09," it had alleged.

The agency had in July 2017 raided several locations, including the farmhouse, as part of its probe against the Jain brothers and others. The Jain brothers were arrested by the ED under the PMLA.

One of the firms that the arrested duo were linked with was Ms Mishail Printers and Packers Private Limited.

The ED had alleged that Ms. Bharti and her husband had served as directors of this firm in the past.

"The company, Ms Mishail Packers and Printers, was registered at the address 25, Tuglak Road, New Delhi till the shares were bought by Bharti.

"It was only during the year 2009-10 that the address was changed to farm no 26 Palam Farms, VPO Bijwasan, New Delhi. Bharti and Kumar were the directors of the company during the relevant period," the probe agency had said.

The couple were also interrogated and their statements were recorded by the agency in this probe case.

The agency said the Jain brothers, Mr. Rajesh Agrawal and the daughter and the son-in-law of the former Bihar Chief Minister were the "key persons behind the money laundering of ₹1.2 crore".
Hindustan Petroleum Corp enters into a long-term agreement with HMEL
Posted on 22nd September 2018
Hindustan Petroleum Corporation (HPCL) on Friday entered into a long-term agreement with HMEL (HPCL-Mittal Energy) for operations and maintenance of its newly-commissioned bitumen terminal at Bathinda.

HMEL recently set up a bitumen blowing unit with a capacity of 550 million tonne per annum different grades of bitumen plant at Guru Gobind Singh Refinery, Bathinda. The agreement is for storing, handling and dispatching the product.
---
Amazon India to soon sell cow urine and dung based soaps, face packs made by RSS-backed centre
Posted on 22nd September 2018
Soaps, face packs, shampoos and medicinal products made from cow urine and dung may soon be just a click away as an RSS-backed centre says it is set to sell these on e-commerce major Amazon India.

Deen Dayal Dham, a centre run by the RSS in Farah town of Mathura in Uttar Pradesh, will first put up a dozen products related to health, beauty and apparel on the website for sale, a manger at the centre said.
---
Sensex witnesses flash crash
Posted on 22nd September 2018
Mumbai: The shares of housing finance companies (HFC) and other financial service firms were battered badly on Friday causing a flash crash on the domestic bourses as rumours about default by certain entities amidst rising delinquencies and cost of capital triggered panic selling in the market.
---
Infosys to offer cloud solutions to global enterprises on Google Clouds
Posted on 22nd September 2018
Software major Infosys would offer scalable services and solutions on demand to global enterprises on search engine's Google cloud platform, the IT major said on Saturday.

"We are partnering with Google to develop cloud transformation and migration services for enabling enterprises transform their businesses on scalable and on-demand model," said the city-based company in a statement.
---
RIL closes KG-D6 oilfield
Posted on 22nd September 2018
Reliance Industries has permanently shut down its only oilfield (MA field) in the KG-D6 block on the back of dwindling output from the reserve. This was the company's first foray into oil and gas exploration that began in September 2008 when the field started producing oil.

"The MA (D26) field in Block KG-DWN-98/3 (KGD6), which is being operated by RIL as an operator of the joint venture consisting of RIL (60 per cent), BP (30 per cent) and Niko (10 per cent)
---
Be the first person to write a business review for PMLA case: ED files second charge sheet against Lalu Prasad's daughter Misa Bharti