PMLA case: ED files second charge sheet against Lalu Prasad's daughter Misa Bharti
Posted on 6th January 2018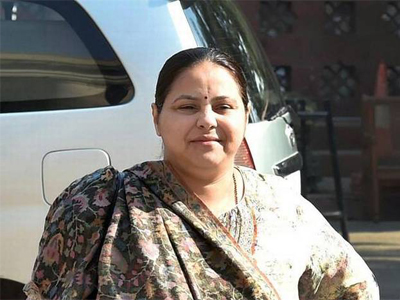 The Enforcement Directorate has filed a second charge sheet against RJD chief Lalu Prasad's daughter Misa Bharti and her husband in a money laundering case before a Delhi court, which on January 6 kept both charge sheets for consideration on February 5.

Irked over the repeated filing of charge sheets by the ED in connection with its money laundering probe against Ms. Bharti and her husband Shailesh Kumar, Special Judge N.K. Malhotra criticised the agency for not letting the trial begin.

"Will you let the trial begin or keep filing complaints? How many supplementary charge sheets will you file? You are a premier investigating agency. You cannot behave like this. It is an ill-drafted complaint," the judge said.

The court, which could not take cognisance of the charge sheet filed on December 23, 2017 against Ms. Bharti and Mr. Kumar, posted the matter for February 5 for considering both the charge sheets after ED special counsel Atul Tripathi sought time to make further submissions in the matter.

Advocate Vijay Aggarwal, representing chartered accountant Rajesh Agrawal, who was also arrested by the ED in connection with the case, sought adjournment citing pendency of bail plea of brothers Surendra Kumar Jain and Virendra Jain, who have been accused of laundering crores of rupees using shell companies.

Mr. Rajesh Agrawal was arrested by the ED following allegations that he mediated and provided ₹90 lakh in cash to the Jain brothers in advance to invest in Ms. Bharti's firm Ms Mishail Packers and Printers Pvt Ltd "as share premium".

The probe agency had earlier attached a Delhi farmhouse in connection with its probe against Ms. Bharti and her husband.

The farmhouse, located at 26, Palam Farms in south Delhi's Bijwasan area was attached provisionally under the Prevention of Money Laundering Act. It belongs to Ms. Bharti and Mr. Kumar and is "held in the name of Ms Mishail Packers and Printers Private Limited", the central probe agency had said. "It was purchased using ₹1.2 crore involved in money laundering in the year 2008-09," it had alleged.

The agency had in July 2017 raided several locations, including the farmhouse, as part of its probe against the Jain brothers and others. The Jain brothers were arrested by the ED under the PMLA.

One of the firms that the arrested duo were linked with was Ms Mishail Printers and Packers Private Limited.

The ED had alleged that Ms. Bharti and her husband had served as directors of this firm in the past.

"The company, Ms Mishail Packers and Printers, was registered at the address 25, Tuglak Road, New Delhi till the shares were bought by Bharti.

"It was only during the year 2009-10 that the address was changed to farm no 26 Palam Farms, VPO Bijwasan, New Delhi. Bharti and Kumar were the directors of the company during the relevant period," the probe agency had said.

The couple were also interrogated and their statements were recorded by the agency in this probe case.

The agency said the Jain brothers, Mr. Rajesh Agrawal and the daughter and the son-in-law of the former Bihar Chief Minister were the "key persons behind the money laundering of ₹1.2 crore".
Amazon India reportedly closing in on Flipkart
Posted on 22nd March 2018
BENGALURU: Amazon has almost closed the gap with Flipkart's standalone sales in 2017, behind in GMV marketshare by less than 1percentage point in 2017 from 5 percentage points in 2016, as per Forrester. However, Flipkart still leads as a group with Myntra and Jabong.

While Flipkart leads in fashion and smartphones, Amazon has taken lead in categories such as appliances, consumer electronics, and more importantly, groceries, which builds platform stickiness, said Satish Meena, a senior forecast analyst at Forrester.
---
Air India may give promotions to 100 pilots with pay hike of up to Rs 12 lakh: Report
Posted on 22nd March 2018
Amidst the privatisation talks, it has been reported that the national carrier Air India might gove promotion to its 100 pilots with a pay hike of Rs 12 lakh per head.

"The 100 deputy general manager rank pilots are narrow-body and widebody pilots. These pilots are likely to be promoted to executive despite the fact that the airline is being privatised," a source told the Economic Times.
---
Opening bell: Sensex opens stronger after fed rates hike
Posted on 22nd March 2018
Key indices on Thursday gained strength after the federal reserve hiked rates as widely expected.

The 30-share BSE Sensex was up 138.34 points at 33,274.52 and the 50-share NSE Nifty rose 49.40 points to 10,204.70.
---
Sebi may impose trading curbs on cos undergoing insolvency proceedings
Posted on 22nd March 2018
The Securities and Exchange Board of India (Sebi) may impose trading restrictions on shares of companies that are undergoing insolvency proceedings. The move, which is also a demand by industry players, is aimed at reducing volatility in stock prices and curbing manipulation or misuse of price-sensitive information.

Sources said the market regulator would lay down a compliance framework for listed companies undergoing insolvency resolution. The announcement will likely be made at Sebi's board meeting next week.
---
Essar Steel set for rebid as lenders reject Arcelor, Numetal offers
Posted on 22nd March 2018
The State Bank of India-led consortium of lenders called for a second round of bidding for Essar Steel on Wednesday. All the six companies that had submitted expressions of interest (EoIs) earlier have to submit their bids by April 2.

Lenders rejected bids by Numetal and ArcelorMittal after both companies failed the legal eligibility test. The legal advisors cited one of the clauses of Section 29A of the Insolvency and Bankruptcy Code (IBC) for rejecting the bids.
---
Be the first person to write a business review for PMLA case: ED files second charge sheet against Lalu Prasad's daughter Misa Bharti