PMLA case: ED files second charge sheet against Lalu Prasad's daughter Misa Bharti
Posted on 6th January 2018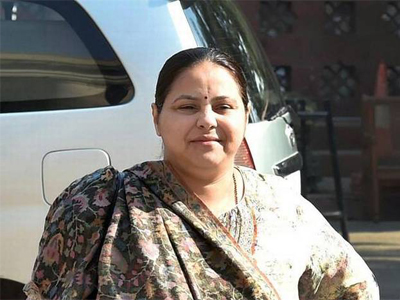 The Enforcement Directorate has filed a second charge sheet against RJD chief Lalu Prasad's daughter Misa Bharti and her husband in a money laundering case before a Delhi court, which on January 6 kept both charge sheets for consideration on February 5.

Irked over the repeated filing of charge sheets by the ED in connection with its money laundering probe against Ms. Bharti and her husband Shailesh Kumar, Special Judge N.K. Malhotra criticised the agency for not letting the trial begin.

"Will you let the trial begin or keep filing complaints? How many supplementary charge sheets will you file? You are a premier investigating agency. You cannot behave like this. It is an ill-drafted complaint," the judge said.

The court, which could not take cognisance of the charge sheet filed on December 23, 2017 against Ms. Bharti and Mr. Kumar, posted the matter for February 5 for considering both the charge sheets after ED special counsel Atul Tripathi sought time to make further submissions in the matter.

Advocate Vijay Aggarwal, representing chartered accountant Rajesh Agrawal, who was also arrested by the ED in connection with the case, sought adjournment citing pendency of bail plea of brothers Surendra Kumar Jain and Virendra Jain, who have been accused of laundering crores of rupees using shell companies.

Mr. Rajesh Agrawal was arrested by the ED following allegations that he mediated and provided ₹90 lakh in cash to the Jain brothers in advance to invest in Ms. Bharti's firm Ms Mishail Packers and Printers Pvt Ltd "as share premium".

The probe agency had earlier attached a Delhi farmhouse in connection with its probe against Ms. Bharti and her husband.

The farmhouse, located at 26, Palam Farms in south Delhi's Bijwasan area was attached provisionally under the Prevention of Money Laundering Act. It belongs to Ms. Bharti and Mr. Kumar and is "held in the name of Ms Mishail Packers and Printers Private Limited", the central probe agency had said. "It was purchased using ₹1.2 crore involved in money laundering in the year 2008-09," it had alleged.

The agency had in July 2017 raided several locations, including the farmhouse, as part of its probe against the Jain brothers and others. The Jain brothers were arrested by the ED under the PMLA.

One of the firms that the arrested duo were linked with was Ms Mishail Printers and Packers Private Limited.

The ED had alleged that Ms. Bharti and her husband had served as directors of this firm in the past.

"The company, Ms Mishail Packers and Printers, was registered at the address 25, Tuglak Road, New Delhi till the shares were bought by Bharti.

"It was only during the year 2009-10 that the address was changed to farm no 26 Palam Farms, VPO Bijwasan, New Delhi. Bharti and Kumar were the directors of the company during the relevant period," the probe agency had said.

The couple were also interrogated and their statements were recorded by the agency in this probe case.

The agency said the Jain brothers, Mr. Rajesh Agrawal and the daughter and the son-in-law of the former Bihar Chief Minister were the "key persons behind the money laundering of ₹1.2 crore".
Made-in-India electric cars from Mercedes-Benz soon as it bets big on EVs
Posted on 20th June 2018
German automaker, Mercedes-Benz is betting big on electric cars globally and also believes that electric cars will play a crucial role as India gets ready to adapt to future of mobility. A report on TOI confirmes that Mercedes-Benz has plans to manufacture electric cars from its plant in Chakan, Pune. The company has already confirmed that it will launch on BSVI compliant diesel engine cars and SUVs in India and now expect many a range of hybrid and electric cars from Mercedes-Benz in India soon.
---
India shelves Air India sale plan after failing to attract buyers – reports
Posted on 20th June 2018
India has shelved its sale of Air India after failing to attract buyers, local media quoted a government minister as saying – a decision that could exacerbate the carrier's financial woes and representing a setback for government efforts to cut debt. Civil Aviation Minister Suresh Prabhu said plans to privatise the carrier have been dropped for now due to factors such as the looming election and high oil prices, according to Times of India which cited news agency PTI.
---
Merger-bound Idea Cellular completes VoLTE expansion
Posted on 20th June 2018
Idea Cellular on Tuesday said it has completed the rollout of VoLTE services in all its 20 4G circles with the country's third largest telecom operator announcing the launch of VoLTE in five circles — Himachal Pradesh, Odisha, Assam, North East Service Area (NESA) and Jammu & Kashmir.

"With the completion of the last phase of VoLTE rollout, Idea is now the only operator to offer pan India integrated 2G, 3G, 4G and VoLTE services.
---
Former RBI Deputy Governor Rama Subramaniam Gandhi joins Paytm as Advisor
Posted on 20th June 2018
One97 Communications, which runs Paytm, has appointed former RBI Deputy Governor Rama Subramaniam Gandhi as an advisor. Gandhi will bring his years of knowledge and experience on payment systems, regulations, compliance and corporate governance, the company said in a statement. Gandhi was a member of the first Monetary Policy Committee.
---
Sensex opens in green, up 130 points in early trade
Posted on 20th June 2018
The BSE Sensex rebounded over 130 points in opening trade today, reversing its two-session losing streak on value-buying in select blue-chips amid a strengthening rupee.

Overseas, mixed trend at other Asian markets also influenced trading sentiments here. The rupee recovered from its nearly one-month low by strengthening 32 paise to 68.06 against the US dollar in early trade today. The 30-share BSE index was trading higher by 130.41 points, or 0.37%, to 35,417.15 in early trade today.
---
Be the first person to write a business review for PMLA case: ED files second charge sheet against Lalu Prasad's daughter Misa Bharti