PMLA case: ED files second charge sheet against Lalu Prasad's daughter Misa Bharti
Posted on 6th January 2018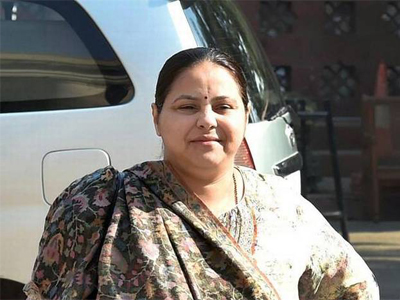 The Enforcement Directorate has filed a second charge sheet against RJD chief Lalu Prasad's daughter Misa Bharti and her husband in a money laundering case before a Delhi court, which on January 6 kept both charge sheets for consideration on February 5.

Irked over the repeated filing of charge sheets by the ED in connection with its money laundering probe against Ms. Bharti and her husband Shailesh Kumar, Special Judge N.K. Malhotra criticised the agency for not letting the trial begin.

"Will you let the trial begin or keep filing complaints? How many supplementary charge sheets will you file? You are a premier investigating agency. You cannot behave like this. It is an ill-drafted complaint," the judge said.

The court, which could not take cognisance of the charge sheet filed on December 23, 2017 against Ms. Bharti and Mr. Kumar, posted the matter for February 5 for considering both the charge sheets after ED special counsel Atul Tripathi sought time to make further submissions in the matter.

Advocate Vijay Aggarwal, representing chartered accountant Rajesh Agrawal, who was also arrested by the ED in connection with the case, sought adjournment citing pendency of bail plea of brothers Surendra Kumar Jain and Virendra Jain, who have been accused of laundering crores of rupees using shell companies.

Mr. Rajesh Agrawal was arrested by the ED following allegations that he mediated and provided ₹90 lakh in cash to the Jain brothers in advance to invest in Ms. Bharti's firm Ms Mishail Packers and Printers Pvt Ltd "as share premium".

The probe agency had earlier attached a Delhi farmhouse in connection with its probe against Ms. Bharti and her husband.

The farmhouse, located at 26, Palam Farms in south Delhi's Bijwasan area was attached provisionally under the Prevention of Money Laundering Act. It belongs to Ms. Bharti and Mr. Kumar and is "held in the name of Ms Mishail Packers and Printers Private Limited", the central probe agency had said. "It was purchased using ₹1.2 crore involved in money laundering in the year 2008-09," it had alleged.

The agency had in July 2017 raided several locations, including the farmhouse, as part of its probe against the Jain brothers and others. The Jain brothers were arrested by the ED under the PMLA.

One of the firms that the arrested duo were linked with was Ms Mishail Printers and Packers Private Limited.

The ED had alleged that Ms. Bharti and her husband had served as directors of this firm in the past.

"The company, Ms Mishail Packers and Printers, was registered at the address 25, Tuglak Road, New Delhi till the shares were bought by Bharti.

"It was only during the year 2009-10 that the address was changed to farm no 26 Palam Farms, VPO Bijwasan, New Delhi. Bharti and Kumar were the directors of the company during the relevant period," the probe agency had said.

The couple were also interrogated and their statements were recorded by the agency in this probe case.

The agency said the Jain brothers, Mr. Rajesh Agrawal and the daughter and the son-in-law of the former Bihar Chief Minister were the "key persons behind the money laundering of ₹1.2 crore".
No relief for Kotak Bank on promoter shareholding, shares fall
Posted on 17th December 2018
Mumbai: Kotak Mahindra Bank shares fell over 3% on Monday after the Bombay high Court refused to grant stay on 31 December deadline given by the Reserve Bank of India for promoter stake dilution. The next hearing will be on 17 January, Bloomberg reported. In intraday, Kotak Mahindra Bank shares declined as much as 3.6% to hit a low of ₹1,209.30 apiece. The Kotak Bank stock closed at 1,223.90 per share, down 2.50% from its previous close, while the Sensex rose 0.85% to 36,270.07 points.
---
ONGC, OIL spent over Rs 13,000 crore on 115 discoveries sold to private companies: Pradhan
Posted on 17th December 2018
ONGC, OIL spent Rs 13,000 cr on 115 discoveries govt took away from them: Pradhan

New Delhi: State-owned Oil and Natural Gas Corp (ONGC) and Oil India Ltd (OIL) spent over Rs 13,000 crore on 115 oil and gas discoveries which were taken away from them by the government for auctioning to private companies, Oil Minister Dharmendra Pradhan said Monday.
---
NHAI projects likely to fall short by 33-37% of its FY19 target, says Icra
Posted on 17th December 2018
Despite the pace of highways projects undertaken by state-run National Highways Authority of India (NHAI) picking up in the last three years, it is likely to remain short by 33-37 per cent of its FY19 target of completing 6,000 km, says Icra.

With a strong unexecuted pipeline and concerted efforts on right of way, the NHAI is on a strong footing and is set to witness sustained growth in execution in FY2019, the highest ever over the last one decade (FY2010- FY2019), the agency said in a statement issued on Monday.
---
HC rejects IDBI officers' plea against LIC move to acquire stake in bank
Posted on 17th December 2018
The Delhi High Court on Monday dismissed a plea challenging the LIC move to acquire 51 per cent stake in the Industrial Development Bank of India (IDBI).

Justice Vibhu Bakhru rejected the petition by the All India IDBI Officers Association, which had opposed the move of Life Insurance Corporation (LIC) on the ground that change in shareholding could take away the public sector bank status of IDBI.
---
NTPC rallies to near 1-month high after Jefferies raises share price target
Posted on 17th December 2018
Shares of state-run major NTPC surged in early trade Monday after global brokerage Jefferies said that the PSU will benefit from Central Electricity Regulatory Commission (CERC) latest decision. NTPC share price rallied 5.8 per cent to hit the day's high at Rs 151.35. The CERC, in its draft, allowed energy charges per unit of power to be calculated with a variation of 85 kilocalorie to billing on actual gross calorific value of coal received, giving NTPC the benefit of about 2.7 per cent on its coal cost, Jefferies noted.
---
Be the first person to write a business review for PMLA case: ED files second charge sheet against Lalu Prasad's daughter Misa Bharti