Maruti Suzuki Ciaz sales hit big hurdle; reason is a big surprise
Posted on 7th November 2017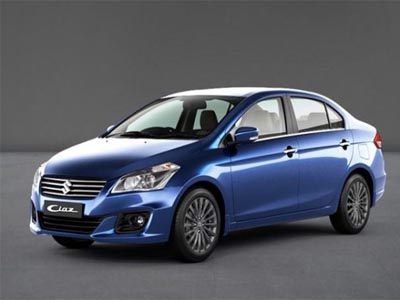 Sales of Maruti Suzuki's mid-size sedan Ciaz seem to have come under pressure with 43% tax (28% GST plus 15% cess) getting levied on hybrid cars. Launched in 2014, Maruti unleashed Ciaz's mild hybrid variant last year, which attracted just 12.5% excise duty compared to a 28% on any other car in the segment. Hence, Ciaz became most popular choice of customers in the segment. However, after the GST roll-out, taxes on hybrid cars were hiked to the same level – 28% GST plus 15% cess as any other car with a more than 4-metre chassis and this has substantially impacted the fortune of the sedan. Going by the July to October sales data, Ciaz's volumes slid though it still managed to retain leadership in the segment. In July, Maruti dispatched 6,377 units of Ciaz; in August, it was flat at around 6,457 units; volumes dipped to 5,603 units in the festive month of September; and in October, it further fell to 4,107 units – a decline of 35% y-o-y, though on a high base. Maruti Suzuki, as a company though, will continue to invest in the mild hybrid technology (SHVS) and is expected to launch a hybrid version of its popular hatchback Swift. The new version is expected to be launched by the end of the fiscal. "Maruti as a company will continue to invest in smart hybrid technology in future since it is much more cleaner in terms of emissions. Customers who buy vehicles with hybrid engines also understand that. Hence, we will continue to invest," said RC Bhargava, chairman, Maruti Suzuki, in a press conference.

In the first six months of the current fiscal, Ciaz's volumes increased by just 7.9% y-o-y to 34,135 units. After the introduction of the GST, prices of Ciaz jumped by Rs 80,000 to Rs 1,00,000 depending in the state in which it is being bought. In FY17, volumes of Ciaz increased by 18.8% y-o-y to 64,448. In FY16, too, volumes of the premium offering from Maruti spiked by a whopping 67% y-o-y 54,233 units.

"The implementation of the goods and services tax has discouraged purchase of hybrid vehicles among car buyers. For instance, while earlier about 70% of the total Ciaz's sales came from the hybrid variant, after the GST implementation, it has come down to a mere 32%. Meanwhile, sales of the hybrid variant of Ertiga came down to 50% from 70% of overall Ertiga sales earlier," said Ajay Seth, chief financial officer, Maruti Suzuki, in a conference call with analysts.
Fastest bookings: Maruti Suzuki's Swift cross 90,000 units in less than 2 months
Posted on 17th March 2018
MUMBAI: Maruti SuzukiBSE -1.61 %'s premium hatchback Swift is close to earning the tag of the Indian car that logged 100,000 bookings in the shortest time — just a little over two months — trumping compact sedan stablemate 'Dzire', which had touched the milestone in 12-14 weeks.

Bookings for the third-generation Swift had opened on January 18. By end of business hours on Friday, its pan-India bookings crossed 90,000 units, according to data shared by Maruti Suzuki, India's largest passenger carmaker which is the largest volume contributor for Japan's Suzuki Motor.
---
Tata Motors may begin exporting Tata Ace to Myanmar through Bangladesh JV
Posted on 17th March 2018
Tata Motors' joint venture in Bangladesh is considering exports of the small commercial vehicle, Tata Ace to Myanmar and north-east India.

While Tata Motors currently has an assembling plant in Myanmar which has the capability to manufacture small commercial vehicles and the company currently caters to north-east India from its Indian plants, exports from Bangladesh is considered to be logistically more viable for the region and can be cheaper than exports from India.
---
Sebi wants bourses to charge higher for illiquid stocks
Posted on 17th March 2018
Mumbai: In an effort to discourage the common public from investing in potentially shell companies in the listed space, the Securities and Exchange Board of India (Sebi) wants exchanges to charge higher transaction fees for trading in stocks of firms that are illiquid (thinly-traded) or not held by too many shareholders.

Two persons, including a regulatory official confirmed this.
---
This big update will change how you use WhatsApp groups; here's what it is
Posted on 17th March 2018
WhatsApp has begun rolling out a new feature that will change the way you use and interact with the groups. The new feature allows you to add a group description so that the group members know what the group is about. Besides, WhatsApp has introduced one more feature for the groups – you can now search a participant in a group. Moreover, the update also includes an easier way to switch from a voice call to video call by the tap of a button.
---
After PNB scam, RBI issues corrective framework for PSBs
Posted on 17th March 2018
Amid the multiple scams unearthed recently in the banking sector, the Reserve Bank of India (RBI) has issued a Prompt Corrective Action (PCA) framework to maintain the sound financial health of banks.

The framework facilitates banks in breach of risk thresholds for identified areas of monitoring, such as capital, asset quality (tracked in terms of the net Non-Performing Assets ratio) and profitability, to take corrective measures in a timely manner, in order to restore their financial health.
---
Be the first person to write a business review for Maruti Suzuki Ciaz sales hit big hurdle; reason is a big surprise