Maruti Suzuki Ciaz sales hit big hurdle; reason is a big surprise
Posted on 7th November 2017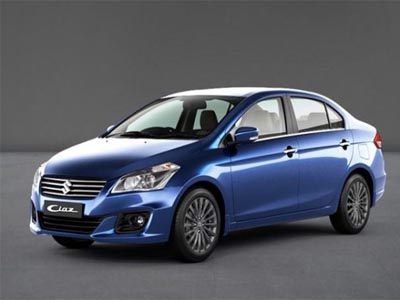 Sales of Maruti Suzuki's mid-size sedan Ciaz seem to have come under pressure with 43% tax (28% GST plus 15% cess) getting levied on hybrid cars. Launched in 2014, Maruti unleashed Ciaz's mild hybrid variant last year, which attracted just 12.5% excise duty compared to a 28% on any other car in the segment. Hence, Ciaz became most popular choice of customers in the segment. However, after the GST roll-out, taxes on hybrid cars were hiked to the same level – 28% GST plus 15% cess as any other car with a more than 4-metre chassis and this has substantially impacted the fortune of the sedan. Going by the July to October sales data, Ciaz's volumes slid though it still managed to retain leadership in the segment. In July, Maruti dispatched 6,377 units of Ciaz; in August, it was flat at around 6,457 units; volumes dipped to 5,603 units in the festive month of September; and in October, it further fell to 4,107 units – a decline of 35% y-o-y, though on a high base. Maruti Suzuki, as a company though, will continue to invest in the mild hybrid technology (SHVS) and is expected to launch a hybrid version of its popular hatchback Swift. The new version is expected to be launched by the end of the fiscal. "Maruti as a company will continue to invest in smart hybrid technology in future since it is much more cleaner in terms of emissions. Customers who buy vehicles with hybrid engines also understand that. Hence, we will continue to invest," said RC Bhargava, chairman, Maruti Suzuki, in a press conference.

In the first six months of the current fiscal, Ciaz's volumes increased by just 7.9% y-o-y to 34,135 units. After the introduction of the GST, prices of Ciaz jumped by Rs 80,000 to Rs 1,00,000 depending in the state in which it is being bought. In FY17, volumes of Ciaz increased by 18.8% y-o-y to 64,448. In FY16, too, volumes of the premium offering from Maruti spiked by a whopping 67% y-o-y 54,233 units.

"The implementation of the goods and services tax has discouraged purchase of hybrid vehicles among car buyers. For instance, while earlier about 70% of the total Ciaz's sales came from the hybrid variant, after the GST implementation, it has come down to a mere 32%. Meanwhile, sales of the hybrid variant of Ertiga came down to 50% from 70% of overall Ertiga sales earlier," said Ajay Seth, chief financial officer, Maruti Suzuki, in a conference call with analysts.
Hindustan Petroleum Corp enters into a long-term agreement with HMEL
Posted on 22nd September 2018
Hindustan Petroleum Corporation (HPCL) on Friday entered into a long-term agreement with HMEL (HPCL-Mittal Energy) for operations and maintenance of its newly-commissioned bitumen terminal at Bathinda.

HMEL recently set up a bitumen blowing unit with a capacity of 550 million tonne per annum different grades of bitumen plant at Guru Gobind Singh Refinery, Bathinda. The agreement is for storing, handling and dispatching the product.
---
Amazon India to soon sell cow urine and dung based soaps, face packs made by RSS-backed centre
Posted on 22nd September 2018
Soaps, face packs, shampoos and medicinal products made from cow urine and dung may soon be just a click away as an RSS-backed centre says it is set to sell these on e-commerce major Amazon India.

Deen Dayal Dham, a centre run by the RSS in Farah town of Mathura in Uttar Pradesh, will first put up a dozen products related to health, beauty and apparel on the website for sale, a manger at the centre said.
---
Sensex witnesses flash crash
Posted on 22nd September 2018
Mumbai: The shares of housing finance companies (HFC) and other financial service firms were battered badly on Friday causing a flash crash on the domestic bourses as rumours about default by certain entities amidst rising delinquencies and cost of capital triggered panic selling in the market.
---
Infosys to offer cloud solutions to global enterprises on Google Clouds
Posted on 22nd September 2018
Software major Infosys would offer scalable services and solutions on demand to global enterprises on search engine's Google cloud platform, the IT major said on Saturday.

"We are partnering with Google to develop cloud transformation and migration services for enabling enterprises transform their businesses on scalable and on-demand model," said the city-based company in a statement.
---
RIL closes KG-D6 oilfield
Posted on 22nd September 2018
Reliance Industries has permanently shut down its only oilfield (MA field) in the KG-D6 block on the back of dwindling output from the reserve. This was the company's first foray into oil and gas exploration that began in September 2008 when the field started producing oil.

"The MA (D26) field in Block KG-DWN-98/3 (KGD6), which is being operated by RIL as an operator of the joint venture consisting of RIL (60 per cent), BP (30 per cent) and Niko (10 per cent)
---
Be the first person to write a business review for Maruti Suzuki Ciaz sales hit big hurdle; reason is a big surprise