Maruti Suzuki Ciaz sales hit big hurdle; reason is a big surprise
Posted on 7th November 2017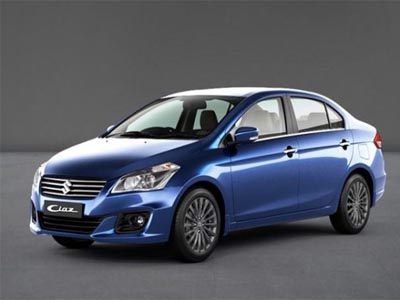 Sales of Maruti Suzuki's mid-size sedan Ciaz seem to have come under pressure with 43% tax (28% GST plus 15% cess) getting levied on hybrid cars. Launched in 2014, Maruti unleashed Ciaz's mild hybrid variant last year, which attracted just 12.5% excise duty compared to a 28% on any other car in the segment. Hence, Ciaz became most popular choice of customers in the segment. However, after the GST roll-out, taxes on hybrid cars were hiked to the same level – 28% GST plus 15% cess as any other car with a more than 4-metre chassis and this has substantially impacted the fortune of the sedan. Going by the July to October sales data, Ciaz's volumes slid though it still managed to retain leadership in the segment. In July, Maruti dispatched 6,377 units of Ciaz; in August, it was flat at around 6,457 units; volumes dipped to 5,603 units in the festive month of September; and in October, it further fell to 4,107 units – a decline of 35% y-o-y, though on a high base. Maruti Suzuki, as a company though, will continue to invest in the mild hybrid technology (SHVS) and is expected to launch a hybrid version of its popular hatchback Swift. The new version is expected to be launched by the end of the fiscal. "Maruti as a company will continue to invest in smart hybrid technology in future since it is much more cleaner in terms of emissions. Customers who buy vehicles with hybrid engines also understand that. Hence, we will continue to invest," said RC Bhargava, chairman, Maruti Suzuki, in a press conference.

In the first six months of the current fiscal, Ciaz's volumes increased by just 7.9% y-o-y to 34,135 units. After the introduction of the GST, prices of Ciaz jumped by Rs 80,000 to Rs 1,00,000 depending in the state in which it is being bought. In FY17, volumes of Ciaz increased by 18.8% y-o-y to 64,448. In FY16, too, volumes of the premium offering from Maruti spiked by a whopping 67% y-o-y 54,233 units.

"The implementation of the goods and services tax has discouraged purchase of hybrid vehicles among car buyers. For instance, while earlier about 70% of the total Ciaz's sales came from the hybrid variant, after the GST implementation, it has come down to a mere 32%. Meanwhile, sales of the hybrid variant of Ertiga came down to 50% from 70% of overall Ertiga sales earlier," said Ajay Seth, chief financial officer, Maruti Suzuki, in a conference call with analysts.
No relief for Kotak Bank on promoter shareholding, shares fall
Posted on 17th December 2018
Mumbai: Kotak Mahindra Bank shares fell over 3% on Monday after the Bombay high Court refused to grant stay on 31 December deadline given by the Reserve Bank of India for promoter stake dilution. The next hearing will be on 17 January, Bloomberg reported. In intraday, Kotak Mahindra Bank shares declined as much as 3.6% to hit a low of ₹1,209.30 apiece. The Kotak Bank stock closed at 1,223.90 per share, down 2.50% from its previous close, while the Sensex rose 0.85% to 36,270.07 points.
---
ONGC, OIL spent over Rs 13,000 crore on 115 discoveries sold to private companies: Pradhan
Posted on 17th December 2018
ONGC, OIL spent Rs 13,000 cr on 115 discoveries govt took away from them: Pradhan

New Delhi: State-owned Oil and Natural Gas Corp (ONGC) and Oil India Ltd (OIL) spent over Rs 13,000 crore on 115 oil and gas discoveries which were taken away from them by the government for auctioning to private companies, Oil Minister Dharmendra Pradhan said Monday.
---
NHAI projects likely to fall short by 33-37% of its FY19 target, says Icra
Posted on 17th December 2018
Despite the pace of highways projects undertaken by state-run National Highways Authority of India (NHAI) picking up in the last three years, it is likely to remain short by 33-37 per cent of its FY19 target of completing 6,000 km, says Icra.

With a strong unexecuted pipeline and concerted efforts on right of way, the NHAI is on a strong footing and is set to witness sustained growth in execution in FY2019, the highest ever over the last one decade (FY2010- FY2019), the agency said in a statement issued on Monday.
---
HC rejects IDBI officers' plea against LIC move to acquire stake in bank
Posted on 17th December 2018
The Delhi High Court on Monday dismissed a plea challenging the LIC move to acquire 51 per cent stake in the Industrial Development Bank of India (IDBI).

Justice Vibhu Bakhru rejected the petition by the All India IDBI Officers Association, which had opposed the move of Life Insurance Corporation (LIC) on the ground that change in shareholding could take away the public sector bank status of IDBI.
---
NTPC rallies to near 1-month high after Jefferies raises share price target
Posted on 17th December 2018
Shares of state-run major NTPC surged in early trade Monday after global brokerage Jefferies said that the PSU will benefit from Central Electricity Regulatory Commission (CERC) latest decision. NTPC share price rallied 5.8 per cent to hit the day's high at Rs 151.35. The CERC, in its draft, allowed energy charges per unit of power to be calculated with a variation of 85 kilocalorie to billing on actual gross calorific value of coal received, giving NTPC the benefit of about 2.7 per cent on its coal cost, Jefferies noted.
---
Be the first person to write a business review for Maruti Suzuki Ciaz sales hit big hurdle; reason is a big surprise