Maruti Suzuki Ciaz sales hit big hurdle; reason is a big surprise
Posted on 7th November 2017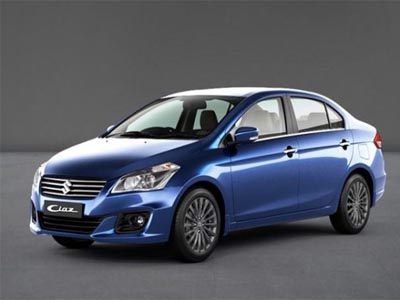 Sales of Maruti Suzuki's mid-size sedan Ciaz seem to have come under pressure with 43% tax (28% GST plus 15% cess) getting levied on hybrid cars. Launched in 2014, Maruti unleashed Ciaz's mild hybrid variant last year, which attracted just 12.5% excise duty compared to a 28% on any other car in the segment. Hence, Ciaz became most popular choice of customers in the segment. However, after the GST roll-out, taxes on hybrid cars were hiked to the same level – 28% GST plus 15% cess as any other car with a more than 4-metre chassis and this has substantially impacted the fortune of the sedan. Going by the July to October sales data, Ciaz's volumes slid though it still managed to retain leadership in the segment. In July, Maruti dispatched 6,377 units of Ciaz; in August, it was flat at around 6,457 units; volumes dipped to 5,603 units in the festive month of September; and in October, it further fell to 4,107 units – a decline of 35% y-o-y, though on a high base. Maruti Suzuki, as a company though, will continue to invest in the mild hybrid technology (SHVS) and is expected to launch a hybrid version of its popular hatchback Swift. The new version is expected to be launched by the end of the fiscal. "Maruti as a company will continue to invest in smart hybrid technology in future since it is much more cleaner in terms of emissions. Customers who buy vehicles with hybrid engines also understand that. Hence, we will continue to invest," said RC Bhargava, chairman, Maruti Suzuki, in a press conference.

In the first six months of the current fiscal, Ciaz's volumes increased by just 7.9% y-o-y to 34,135 units. After the introduction of the GST, prices of Ciaz jumped by Rs 80,000 to Rs 1,00,000 depending in the state in which it is being bought. In FY17, volumes of Ciaz increased by 18.8% y-o-y to 64,448. In FY16, too, volumes of the premium offering from Maruti spiked by a whopping 67% y-o-y 54,233 units.

"The implementation of the goods and services tax has discouraged purchase of hybrid vehicles among car buyers. For instance, while earlier about 70% of the total Ciaz's sales came from the hybrid variant, after the GST implementation, it has come down to a mere 32%. Meanwhile, sales of the hybrid variant of Ertiga came down to 50% from 70% of overall Ertiga sales earlier," said Ajay Seth, chief financial officer, Maruti Suzuki, in a conference call with analysts.
Made-in-India electric cars from Mercedes-Benz soon as it bets big on EVs
Posted on 20th June 2018
German automaker, Mercedes-Benz is betting big on electric cars globally and also believes that electric cars will play a crucial role as India gets ready to adapt to future of mobility. A report on TOI confirmes that Mercedes-Benz has plans to manufacture electric cars from its plant in Chakan, Pune. The company has already confirmed that it will launch on BSVI compliant diesel engine cars and SUVs in India and now expect many a range of hybrid and electric cars from Mercedes-Benz in India soon.
---
India shelves Air India sale plan after failing to attract buyers – reports
Posted on 20th June 2018
India has shelved its sale of Air India after failing to attract buyers, local media quoted a government minister as saying – a decision that could exacerbate the carrier's financial woes and representing a setback for government efforts to cut debt. Civil Aviation Minister Suresh Prabhu said plans to privatise the carrier have been dropped for now due to factors such as the looming election and high oil prices, according to Times of India which cited news agency PTI.
---
Merger-bound Idea Cellular completes VoLTE expansion
Posted on 20th June 2018
Idea Cellular on Tuesday said it has completed the rollout of VoLTE services in all its 20 4G circles with the country's third largest telecom operator announcing the launch of VoLTE in five circles — Himachal Pradesh, Odisha, Assam, North East Service Area (NESA) and Jammu & Kashmir.

"With the completion of the last phase of VoLTE rollout, Idea is now the only operator to offer pan India integrated 2G, 3G, 4G and VoLTE services.
---
Former RBI Deputy Governor Rama Subramaniam Gandhi joins Paytm as Advisor
Posted on 20th June 2018
One97 Communications, which runs Paytm, has appointed former RBI Deputy Governor Rama Subramaniam Gandhi as an advisor. Gandhi will bring his years of knowledge and experience on payment systems, regulations, compliance and corporate governance, the company said in a statement. Gandhi was a member of the first Monetary Policy Committee.
---
Sensex opens in green, up 130 points in early trade
Posted on 20th June 2018
The BSE Sensex rebounded over 130 points in opening trade today, reversing its two-session losing streak on value-buying in select blue-chips amid a strengthening rupee.

Overseas, mixed trend at other Asian markets also influenced trading sentiments here. The rupee recovered from its nearly one-month low by strengthening 32 paise to 68.06 against the US dollar in early trade today. The 30-share BSE index was trading higher by 130.41 points, or 0.37%, to 35,417.15 in early trade today.
---
Be the first person to write a business review for Maruti Suzuki Ciaz sales hit big hurdle; reason is a big surprise