Jio Phone to get big rival? Nokia may bring 4G feature mobiles in India, check details
Posted on 7th October 2017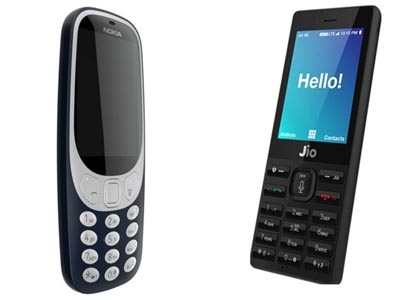 After Reliance launched the Jio Phone, many major players are planning to jump on the bandwagon of low-cost 4G phones. Recently it was reported that Bharti Airtel will soon launch its own cheap 4G smartphones in the market. But now, another big company seems to have set its target in the vast unexplored market of feature mobile with 4G VoLTE capacities. According to a report in The Economic Times, HMD Global may soon enter the 4G feature phone segment in India. HMD Global is a Finnish company which now manufacturers phones under the Nokia brand. In the report, ET quoted Ajey Mehta, India VP for HMD Global as saying that the company will watch the impact of the Jio Phone, and then take a decision on bringing its own devices.

Nokia getting a 4G feature phone in the market can be a big move, since the company has been known for its features phones. Before the smartphone boom, especially after Steve Jobs launched the iPhone, Nokia was arguably the most trusted mobile maker in this space. Nokia used especially popular in India because of its sturdy and low-cost devices. However, Nokia's brand value in the feature phone segment did not help much with its Nokia 3310 (revamped version of the iconic device). But that one does not support 4G. If Nokia is able to bring 4G capabilities to a feature phone and offer close of what the Jio phone is offering, it may see a surge in sales.

The 4G VoLTE feature phone market is a highly untapped area, as the target audience is the people who cannot afford a smartphone. The with which many key players are getting in line with the VoLTE services in the country, especially after the entry of Reliance Jio, surely seems to be good news for the average Indian user. It will be interesting to see how Nokia will go about the network facilities on its mobiles, as most of the service providers seem to be working towards making their own 4G feature phones.

According to a report in Counterpoint Research, almost 2.5 crore 4G enabled feature phones will be shipped y the end of 2017. Another report in 2016 said that 120 million smartphones were sold in India. This means India is currently a huge market, and cheap mobiles with good performance have huge potential. This is evident from the fact that even Airtel is planning to come up with a Rs 2,000 smartphone.
FICCI seeks privatisation of public sector banks
Posted on 19th February 2018
The government should consider privatising public sector banks (PSBs) as over Rs 2.6 lakh crore capital infusion in the past eleven years has had limited impact in improving their health, and the move would also reduce drain on the exchequer, industry body Ficci said today. The suggestion comes in the backdrop of the $1.77 billion (about Rs 11,400 crore) scam in Punjab National Bank involving billionaire jeweller Nirav Modi.
---
Idea now gives unlimited calls, 1GB data at Rs 109; here are all benefits
Posted on 19th February 2018
Idea Cellular has introduced a new pack that offers 1GB data and unlimited calls at Rs 109 to combat the tariff war started by Reliance and later joined by other telcos including Airtel and Vodafone among others. The new Idea Rs 109 recharge pack comes with a validity of 14 days and benefits the customer with 1GB of data, unlimited local, national, and roaming calls, along with 100 SMSes per day.
---
---
Axis Bank follows the trend, raises MCLR by 10 basis points to 8.4%
Posted on 19th February 2018
Axis Bank has raised its Marginal Cost of Funds based Lending Rates (MCLR) by ten basis points across the three and six month, one, two and three year categories with one-year MCLR now standing at 8.4 per cent.

The bank followed other private lenders like HDFC Bank and IndusInd Bank in increasing MCLR — indicating a trend.
---
Microsoft's Bing to gain as Google kills 'view image' button
Posted on 19th February 2018
Following Google's removal of the "view image" button from its image search results last week, several users will move to other browsers like Microsoft's Bing and Startpage that allow download of high-resolution images with a right click, media reported. Google, after signing a multi-year global licensing deal with Getty Images, removed the "view image" button — a move set to curb the lifting of copyrighted images from its platform.
---
Be the first person to write a business review for Jio Phone to get big rival? Nokia may bring 4G feature mobiles in India, check details