Jio Phone to get big rival? Nokia may bring 4G feature mobiles in India, check details
Posted on 7th October 2017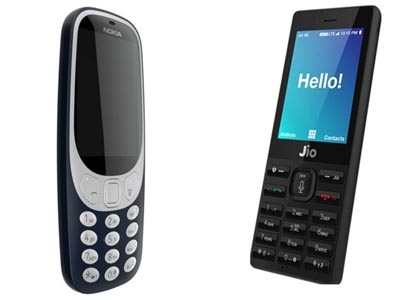 After Reliance launched the Jio Phone, many major players are planning to jump on the bandwagon of low-cost 4G phones. Recently it was reported that Bharti Airtel will soon launch its own cheap 4G smartphones in the market. But now, another big company seems to have set its target in the vast unexplored market of feature mobile with 4G VoLTE capacities. According to a report in The Economic Times, HMD Global may soon enter the 4G feature phone segment in India. HMD Global is a Finnish company which now manufacturers phones under the Nokia brand. In the report, ET quoted Ajey Mehta, India VP for HMD Global as saying that the company will watch the impact of the Jio Phone, and then take a decision on bringing its own devices.

Nokia getting a 4G feature phone in the market can be a big move, since the company has been known for its features phones. Before the smartphone boom, especially after Steve Jobs launched the iPhone, Nokia was arguably the most trusted mobile maker in this space. Nokia used especially popular in India because of its sturdy and low-cost devices. However, Nokia's brand value in the feature phone segment did not help much with its Nokia 3310 (revamped version of the iconic device). But that one does not support 4G. If Nokia is able to bring 4G capabilities to a feature phone and offer close of what the Jio phone is offering, it may see a surge in sales.

The 4G VoLTE feature phone market is a highly untapped area, as the target audience is the people who cannot afford a smartphone. The with which many key players are getting in line with the VoLTE services in the country, especially after the entry of Reliance Jio, surely seems to be good news for the average Indian user. It will be interesting to see how Nokia will go about the network facilities on its mobiles, as most of the service providers seem to be working towards making their own 4G feature phones.

According to a report in Counterpoint Research, almost 2.5 crore 4G enabled feature phones will be shipped y the end of 2017. Another report in 2016 said that 120 million smartphones were sold in India. This means India is currently a huge market, and cheap mobiles with good performance have huge potential. This is evident from the fact that even Airtel is planning to come up with a Rs 2,000 smartphone.
Hindustan Petroleum Corp enters into a long-term agreement with HMEL
Posted on 22nd September 2018
Hindustan Petroleum Corporation (HPCL) on Friday entered into a long-term agreement with HMEL (HPCL-Mittal Energy) for operations and maintenance of its newly-commissioned bitumen terminal at Bathinda.

HMEL recently set up a bitumen blowing unit with a capacity of 550 million tonne per annum different grades of bitumen plant at Guru Gobind Singh Refinery, Bathinda. The agreement is for storing, handling and dispatching the product.
---
Amazon India to soon sell cow urine and dung based soaps, face packs made by RSS-backed centre
Posted on 22nd September 2018
Soaps, face packs, shampoos and medicinal products made from cow urine and dung may soon be just a click away as an RSS-backed centre says it is set to sell these on e-commerce major Amazon India.

Deen Dayal Dham, a centre run by the RSS in Farah town of Mathura in Uttar Pradesh, will first put up a dozen products related to health, beauty and apparel on the website for sale, a manger at the centre said.
---
Sensex witnesses flash crash
Posted on 22nd September 2018
Mumbai: The shares of housing finance companies (HFC) and other financial service firms were battered badly on Friday causing a flash crash on the domestic bourses as rumours about default by certain entities amidst rising delinquencies and cost of capital triggered panic selling in the market.
---
Infosys to offer cloud solutions to global enterprises on Google Clouds
Posted on 22nd September 2018
Software major Infosys would offer scalable services and solutions on demand to global enterprises on search engine's Google cloud platform, the IT major said on Saturday.

"We are partnering with Google to develop cloud transformation and migration services for enabling enterprises transform their businesses on scalable and on-demand model," said the city-based company in a statement.
---
RIL closes KG-D6 oilfield
Posted on 22nd September 2018
Reliance Industries has permanently shut down its only oilfield (MA field) in the KG-D6 block on the back of dwindling output from the reserve. This was the company's first foray into oil and gas exploration that began in September 2008 when the field started producing oil.

"The MA (D26) field in Block KG-DWN-98/3 (KGD6), which is being operated by RIL as an operator of the joint venture consisting of RIL (60 per cent), BP (30 per cent) and Niko (10 per cent)
---
Be the first person to write a business review for Jio Phone to get big rival? Nokia may bring 4G feature mobiles in India, check details