Kotak Mahindra may raise up to Rs 5.5k cr as board OKs equity issue for buyouts, growth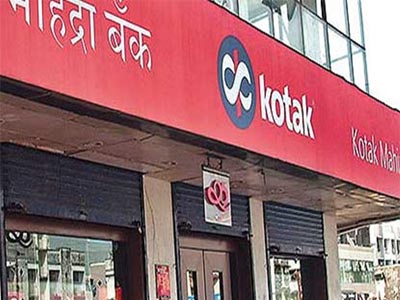 Kotak Mahindra Bank's board on Thursday approved raising capital by issuing 6.2 crore equity shares, amounting to about Rs 5,500 crore at the current market price, to facilitate pursuing acquisition opportunities, tap into the business of stressed assets and support the lender's organic growth.
The company plans to raise the capital through rights issue, public issue or private placement, including QIP (Qualified Institutions Placement) or through any other permissible means, it said in a statement.
The issue of shares would lead to an equity dilution of up to 3.4%, with Chairman Uday Kotak's personal equity stake in the company coming down to 31.2% from the current 31.8%.
The amount of capital to be raised is much less than the expectations doing the rounds in the market about Kotak Mahindra Bank pursuing a possible $2 billion buyout. The lender's shares breathed a sigh of relief at the capital raising plan, and rose over 1%.
Kotak Mahindra Bank outlined four purposes towards which it would use the augmented capital. First, it said the purpose is to pursue consolidation opportunities in the Indian banking and financial services space.
Earlier last month, news reports said that Kotak Mahindra Bank has informally approached the government seeking to buy a stake in Axis Bank, in which the government holds 11.94% equity stake through SUUTI (Specified Undertaking of Unit Trust of India). Uday Kotak had also said in a recent interview to CNBC TV18 that the lender is open to acquisition options across the entire gamut of financial services.
Further, the bank said it would also use capital for pursuing opportunities in acquisition and resolution of stressed assets in the banking sector and participation in the proposed 'bad bank'.
India's Chief Economic Advisor Arvind Subramanian has proposed creating a 'bad bank' that could buy up bad debts from lenders to restructure them, as it has now become imperative to tackle record stressed loans of $133 billion held by Indian banks by last September, or about 12.34% of their total loans.
Kotak Mahindra Bank also said it would use the fresh capital to push the organic growth of its business and its subsidiaries, such as new opportunities in digital expansion, domestic lending, international lending, etc.
Earlier yesterday, Kotak Mahindra Bank unveiled a new digital banking platform called "811", which will offer fully paperless account opening, zero minimum balance requirements, fully free digital transactions, access to popular e-commerce portals, and other user-friendly features, in a quest to double its customer base in the next 18 months. With the new 811 platform, people could open a new account anytime and anywhere, Uday Kotak said, underlining it with an example: "at 2 am from your bedroom".