SC rejects plea on lifting ban on Jallikattu, Tamil Nadu govt seeks Centre's help
Posted on 12th January 2016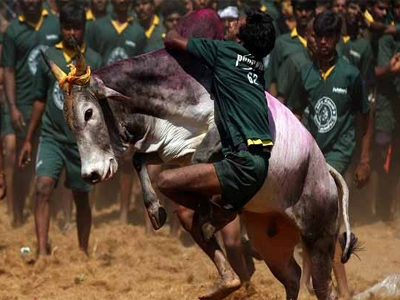 The Supreme Court on Thursday dismissed a plea on lifting the ban on the bull-taming sport of Jallikattu, a day after the AIADMK urged the Prime Minister to immediately issue an ordinance to remove "bulls" from the list of animals that are banned from being exhibited or trained so that there Jallikattu could be held smoothly this year.

The petition had sought the top court's intervention to pass the judgement.

However, the court said that the draft of the Jallikattu judgement had been prepared but it was not possible to deliver it before Saturday, when the festival is to be organised in Tamil Nadu.

With Tamil Nadu asking the Centre to promulgate an ordinance to enable the smooth conduct of the bull taming sport, the government has said "things are ready from our side" but insisted that it would wait for the Supreme Court's decision regarding the issue.

Environment Minister Anil Madhav Dave, who met a delegation led by Deputy Speaker of Lok Sabha M Thambidurai, regarding this issue also blamed the previous Congress-led UPA government for including bulls in the list of animals prohibited from being exhibited or trained as performing animals.

Dave asserted that there was no ill treatment of the bulls during the performance of the sport and expressed confidence that the Supreme Court will look into all these aspects while giving its decision so that the people can celebrate their festivals with full pleasure.

The Supreme Court in November 2016 had dismissed the plea of the state government seeking review of its 2014 judgement which banned the use of bulls for Jallikattu events in the state.
Microsoft India most attractive employer brand, Amazon ranks second: Survey
Posted on 25th April 2018
Technology giant Microsoft India is the most 'attractive employer brand', followed by e-commerce major Amazon India, says a survey.

According to the findings of Randstad Employer Brand Research (REBR) 2018, the other most attractive employer brands in India include Hindustan Unilever, IBM India, ITC Group, Larsen & Toubro, Mercedes-Benz India, Samsung India, Sony India and Tata Consultancy Services.
---
ArcelorMittal, Numetal have pending cases, can't bid for Essar Steel: Kroll
Posted on 25th April 2018
Indian lenders will discuss a forensic audit report prepared by Kroll, a corporate investigations and risk consulting firm, which said bids by both ArcelorMittal and Numetal, a VTB Bank of Russia majority owned company, are ineligible to bid for Essar Steel. If the lenders decide to go ahead with the Kroll report, the first round bids by both ArcelorMittal and Numetal is likely to be rejected on Friday.
---
Wipro Q4FY18 results: Profit falls 20% to Rs 18 bn for the March quarter
Posted on 25th April 2018
Wipro on Wednesday posted over 20 per cent decline in its consolidated profit to Rs 18 billion for the March quarter, 2017-18.

The country's third-largest software services firm had registered a profit of Rs 22.67 billion in the year-ago period, as per Indian accounting norms.
---
SBI Life Insurance, HDFC Standard Life Insurance hit new highs
Posted on 25th April 2018
Shares of life insurance companies were trading higher in otherwise subdued market with SBI Life Insurance Company and HDFC Standard Life Insurance Company hitting their respective new highs on the BSE on Wednesday.

ICICI Prudential Life Insurance Company (IPRU) has surged 11% to Rs 460, extending its Tuesday's 7% gain after the company reported better than expected results for the financial year 2017-18 (FY18).
---
TATA Motors to rev up overseas focus
Posted on 25th April 2018
NEW DELHI: Tata Motors is working on revamping its product portfolio and entering new large markets to strengthen its overseas presence once vehicles developed on its recently-unveiled advanced modular platform start hitting the roads in 2019.

aAs part of its transformation, the automaker, which took the fourth spot in the local passenger vehicle market last year, has made significant changes to its exports strategy.
---
Be the first person to write a business review for SC rejects plea on lifting ban on Jallikattu, Tamil Nadu govt seeks Centre's help