Hardik and Krunal Pandya's father dies of cardiac arrest, Baroda skipper leaves Syed Mushtaq Ali bio-bubble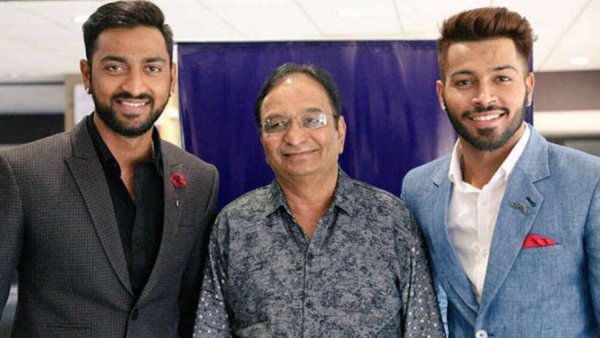 Tragedy struck the Pandya household on Saturday as Hardik and Krunal Pandya's father, Himanshu Pandya died at the age of 71 reportedly due to a cardiac arrest. While Hardik Pandya is not playing any cricket at the moment, it has been reported in ANI that Krunal Pandya has left the bio-bubble to be with his family. Krunal Pandya is currently leading the Baroda side in the Syed Mushtaq Ali tournament and they have won three games in the tournament. Hardik Pandya is preparing for the home series against England while Baroda CEO Shishir Hattangadi confirmed that Krunal Pandya had left the bio-bubble.

During one of the interviews, Himanshu Pandya had said knew that Hardik was going to Dubai with Natasa but he told them nothing about proposing her for marriage.

"Natasa is a very nice girl, and we have met her in Mumbai on a number of occasions. We knew that they were going on a vacation to Dubai, but had no clue that they were going to get engaged. This took us by surprise. We came to know about it after they got engaged," Himanshu was quoted as saying by TOI.

Sacrifices in the face of criticism

Himanshu Pandya has often been appreciated for the sacrifices he made in ensuring Hardik and Krunal Pandya established themselves as big names in cricket. Hardik Pandya is considered one of the best all-rounders in the Indian cricket team as well as in the Mumbai Indians team while Krunal Pandya is a decent all-rounder who has shown his mettle for the Mumbai Indians. In one of the interviews, Himanshu Pandya could not control his tears when he said how proud he was for the success of Hardik Pandya and Krunal Pandya. "Our intentions of letting them play cricket from a very young age was questioned and criticized by many relatives. It is great to see what they have achieved now," Himanshu Pandya told a TV channel several years ago

The BCCI and other individuals have paid their condolences to the Pandya family after this tragedy. The year 2021 has not gotten off to a good start for them.