PM Modi to launch three major projects including Kisan Suryodaya Yojana in Gujarat today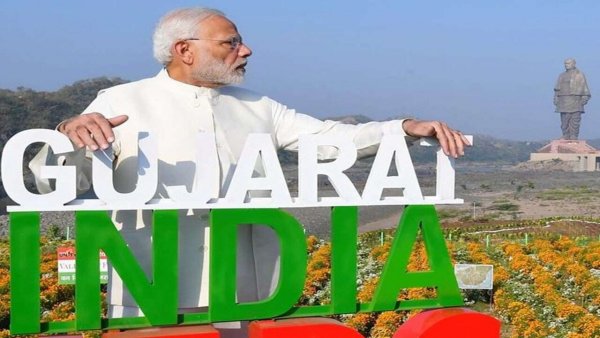 Various schemes are being run to make the country self-reliant and on the path of development. But the country's development is impossible without the farmers who play the main role in the growth and development of agriculture. That is why the Central and State Governments are starting many welfare projects for doubling their state farmers' income and for the development of the state. Under this, PM Modi will inaugurate three significant projects in Gujarat through video conferencing on 24 October. In which the farmer is concerned with health and tourism.

PM Modi will also launch the 'Kisan Suryodaya Yojana' for the farmers of Gujarat. The 'Kisan Suryodaya Yojana' is a scheme to supply electricity for irrigation during the day. Under this scheme, farmers will be able to get electricity from 5 am to 9 pm.

Apart from this, PM Modi will also inaugurate a ropeway project in Girnar, which will emerge on the global tourism map. It will initially have 25-30 cabins with a capacity to carry eight people. This ropeway will cover 2.3 kilometers in just 7.5 minutes. Tourists will be able to see the natural beauty surrounding the Girnar mountain while traveling on this ropeway.

Under the Third Plan, Prime Minister U.N. Mehta will also inaugurate the Pediatric Heart Hospital associated with the Institute of Cardiology and Research Center and inaugurate a mobile application for telecardiology at Civil Hospital, Ahmedabad. The UN Mehta Institute is one of the few hospitals equipped with world-class medical infrastructure and medical facilities.

The UN Mehta Institute of Cardiology is being expanded at the cost of Rs 470 crore. After completion of the project, the number of beds here will increase from 450 to 1251. The institute will also become the largest single super-specialty cardiac educational institution in the country and one of the world's largest single super-specialty cardiac hospitals.

Simultaneously, the institute's building has been made earthquake-resistant. Security facilities like fire hydrant systems and fire mist systems have been provided. Its research center will have the first advanced cardiac ICU in the country with ventilator, IABP, hemodialysis, ECMO, etc. The institute will also have 14 operation centers and seven cardiac catheterization labs.