Panel recommends shifting LG Polymers plant hit by gas leak in Tamil Nadu
Posted on 7th July 2020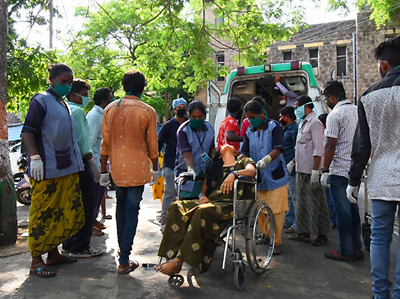 An investigation into a deadly gas leak at a South Korean-owned chemical plant in Tamil Nadu that killed 12 people in May recommended the factory be moved away from inhabited areas, according to its full report released on Tuesday.

The probe at the plant run by LG Polymers, owned by South Korea's LG Chem Ltd, found the company was negligent and warning systems were not working, the state government said on Monday.

The investigation was set up after toxic styrene gas leaked from the chemical plant near Visakhapatnam in the early hours of May 7, choking many people who were sleeping and killing 12.

LG Chem said on Tuesday it had undertaken a host of safety measures.

"We have fully cooperated for the investigation, and we will sincerely respond to the probe result and take corresponding measures," LG Chem said in a statement.

In its report, the committee listed 21 major reasons for the accident including improper storage design, haphazard maintenance of the old storage tank and disregard for red flags. It blamed the company's management for 20 of those causes.

The temperature inside the oldest of the three storage tanks holding styrene monomer, a chemical used in making polystyrene products, rose to more than six times the permitted level due to polymerization, a chemical reaction that generates heat.

"The company management had ignored the rise in polymer content from 4th April 2020 and then the sharp rise on 25th April 2020/28th April 2020," the committee said.

"The management considers polymer content as a quality measure for styrene rather than a safety measure," it said.
ICICI Bank shares gain 3% after setting floor price for QIP issue
Posted on 11th August 2020
Shares of ICICI Bank gained as much as 3 per cent to Rs 374.15 on the BSE on Tuesday after the private lender launched its qualified institutional placement (QIP), setting the floor price at Rs 351.36 per share.

The bank plans to raise up to Rs 15,000 crore to support business growth and create a buffer to absorb any shock from the economic disruption caused by the coronavirus pandemic.
---
Axis Bank raises Rs 10,000 cr via allotment of equity shares to QIBs
Posted on 11th August 2020
Private sector lender Axis Bank on Tuesday said it has raised Rs 10,000 crore through allotment of equity shares to qualified institutional buyers (QIB).

Last week, Axis Bank had set a floor price of Rs 442.19 per equity share for its proposed Rs 15,000-crore qualified institutional placement (QIP).
---
JSW Steel production rises 9% in July at 1.2 million tonnes
Posted on 11th August 2020
JSW Steel, the flagship business of 12 billion dollar JSW Group, on Tuesday reported crude steel production of 12.46 lakh tonnes in July, up 9 per cent from 11.44 lakh tonnes in the previous month.

In July last year, however, it had recorded crude steel production of 13.17 lakh tonnes, it said in a statement. The average capacity utilisation was 83 per cent as against 76 per cent in June.
---
Hyundai Creta's sales milestone, crosses 500,000 mark in domestic market
Posted on 11th August 2020
Hyundai Creta's sales number has touched 5,00,000-mark in the domestic market, the company announced on Tuesday.

Hyundai Creta has been the blockbuster model in the Indian Automobile industry ever since its launch in 2015. Redefining the SUV landscape in India, Creta's supremacy transpires from Hyundai's technological prowess and innovation, outperforming the industry benchmarks in all aspects, said Tarun Garg, Director (Sales, Marketing & Service), Hyundai Motor India Ltd.
---
Dr Reddy's Laboratories launches drug to treat infections in US market
Posted on 11th August 2020
Dr Reddys Laboratories Ltd on Tuesday announced the launch of a generic version of Ciprodex (ciprofloxacin 0.3% and dexamethasone 0.1%) Otic Suspension in the American market, following approval from the US Food and Drug Administration (USFDA).

Ciprodexis used in adults and children 6 months of age or older to treat certain types of infections caused by certain germs called bacteria.
---
Be the first person to write a business review for Panel recommends shifting LG Polymers plant hit by gas leak in Tamil Nadu