Coronavirus Outbreak: With nearly 10,000 cases in a day, India crosses Italy as 6th worst-hit nation; tallest spike yet
Posted on 6th June 2020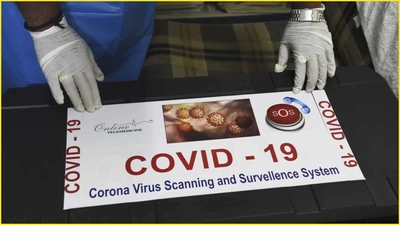 The coronavirus cases in India continue to spread rapidly as the country has marked significant and consecutive highest jumps in the COVID-19 tally over a major part of the last two weeks. With nearly 10,000 new cases reported in the last 24 hours, India's COVID-19 count on Saturday hit a new high - 2,36,657, overtaking Italy to take the sixth spot among countries with the highesr caseload of the virus.

At 9:30 AM on this day, the COVID-19 tally in the country has reached 2,36,657 cases, which includes 1,15,942 active cases; 1,14,073 cured, discharged, or migrated patients, and 6,642 deaths.

According to the Union Ministry of Health and Family Welfare, as many as 9,887 new COVID-19 cases and 294 deaths were reported in the country in the last 24 hours, marking a significant spike. In fact, this is the highest spike in the tally till now.

Notably, the country has witnessed significant and consecutive highest jumps in the country's COVID-19 tally for the major part of these past few weeks.

Maharashtra continues to be the epicenter of the coronavirus spread where the number of cases has witnessed an even large spike recently. According to the Health Ministry, Maharashtra has the highest number of cases with 80,229 positive cases of COVID-19 infection and 2,849 deaths. As many as 2,436 COVID-19 cases were reported from the state in the past 24 hours.

Notably, Mumbai, the financial capital of the country, has become the hotbed of the coronavirus spread in the state where the number of cases has crossed the 46,000-mark and the death toll has topped the 1,500-mark as well. At 9:30 AM on this day, the COVID-19 tally in Mumbai showed 46,080 cases and 1,519 deaths.

One of the real challenges in Mumbai is controlling the disease contamination in Asia's biggest slum -- Dharavi, which is an extremely densely-populated region.

Maharashtra is followed by Tamil Nadu with 28,694 cases, which overtook Delhi due to a recent massive spike in the number of cases. The national capital is third on the list with 26,334 cases.

After Delhi comes Gujarat, where the COVID-19 figure stands at 19,119 with 13,011 patients recovered and 1,190 fatalities. Rajasthan has reported 10,084 cases of which 7,359 have recovered and 218 patients are dead.

Madhya Pradesh has reported 8,996 positive cases so far of which 5,878 patients have recovered and 384 patients have lost their lives due to the virus. In Uttar Pradesh, as many as 9,733 people have confirmed COVID-19, of which 5,648 recovered and 257 people succumbed to it.

In Kerala, which reported the country's first COVID-19 case, 1700 people have been detected positive for coronavirus so far.

Earlier last week, the Centre announced plans to unlock the country and issued guidelines for the opening of various businesses with social distancing norms. India has been under lockdown since March 25, which was to end on April 14, but was later extended till May 3 then further till May 17 and May 31.

The current phase of re-opening, called 'Unlock 1', takes an economic focus. The government intends on being smart about implementing the lockdown in select places so that the economic activity of the country, as a whole, does not take any more hits. The rising number of coronavirus disease cases for the past few weeks in the country has led the Centre to take this call in order to prevent COVID-19 from spreading further.

According to the new guidelines, all activities outside of containment zones have been allowed to resume in a phased manner from June 1. The guidelines will come into effect from June 1 and will be effective till June 30.

The Union Health Ministry on Thursday released the standard operating procedure (SOPs) for malls, restaurants and hotels as they plan to open these establishments under relaxed guidelines from June 8.

The SOPs include measures like allowing only asymptomatic staff and guests inside the premises and proper crowd management.
Gold prices slump to Rs 48,900 per 10 gm, Silver rallying at Rs 51,950 a kg
Posted on 11th July 2020
Gold prices on Saturday fell to Rs 48,900 from Rs 49,100 per 10 gram, while silver climbed to Rs 51,950 from Rs 51,900 per kilogram, according to Good Returns website.

Gold jewellery prices vary across India, the second-largest consumer of the metal, due to excise duty, state taxes, and making charges.
---
Facebook plans to ban political ads before US Presidential election: Report
Posted on 11th July 2020
Facing intense criticism from all quarters, Facebook is planning to ban political ads on its platform like Twitter does as the US inches closer towards the presidential election in November, the media reported on Saturday.

According to a report in CNN Business citing sources, the potential ban on political ads to reduce the spread of disinformation has been under consideration since last fall.
---
RIL closes four Jio stake sale deals, receives Rs 30,062 cr from investors
Posted on 11th July 2020
After Facebook Inc, Reliance Industries has closed deals to sell a minority stake in its digital arm to four other investors, receiving a total of over Rs 30,062 crore.

In a regulatory filing, Reliance said it has closed the sale of 6.13 per cent stake in Jio Platforms with L Catterton, The Public Investment Fund, Silver Lake and General Atlantic.
---
Kolkata: Eden Gardens to be used as COVID-19 quarantine facility for police personnel
Posted on 11th July 2020
Kolkata Police can now use the galleries of Eden Gardens stadium as a makeshift quarantine facility, the Cricket Association of Bengal (CAB) on Friday said.

A meeting at Kolkata Police Headquarter, Lal Bazaar, took place at the Chamber of Special Commissioner Jawed Shamim. It was attended by CAB president Avishek Dalmiya.
---
India sees 27,114 new coronavirus cases, tally crosses 8 lakh-mark
Posted on 11th July 2020
In another highest single-day spike of coronavirus cases, India on Saturday reported 27,114 new cases in the last 24 hours. As many as 519 deaths were reported during this period.

With this, the country's total count has crossed the eight lakh-mark.

The total number of positive cases in the country stands at 8,20,916, including 2,83,407 active cases, 5,15,386 cured/discharged/migrated and 22,123 deaths, according to the Ministry of Health and Family Welfare.
---
Be the first person to write a business review for Coronavirus Outbreak: With nearly 10,000 cases in a day, India crosses Italy as 6th worst-hit nation; tallest spike yet